TechZerg is reader supported. When you purchase through links on our site, we may earn a commission.
The best Chromebooks are more than just low-budget laptops with a few Chrome OS apps; they have become a permanent core of our computing needs today, with demand exploding at a staggering 130% year-over-year. But the best Chromebooks that truly stand out can be hard to find – apart from the Google Pixelbooks and a few others, most Chromebooks are very similar in design and features.
The best Chromebooks for 2023
Just because Chromebooks are more affordable doesn't mean they are necessarily made of low quality. Chromebooks are generally cheaper than regular Windows and macOS laptops because they function with a more lightweight Chrome OS operating system, requiring less power to function and operate well compared to traditional laptops.
In recent years, the quality of the best Chromebooks has been consistently higher, even to the level of many traditional laptops. They have become faster, and sleeker, offering surprising performance, portability, and impressive battery life.
The best Chromebook, among many other things, should deliver good value, have a nice screen, long battery life, be built to quality with solid features, have a good keyboard, and enough power to do your daily computing task. Most Chromebooks can more than meet those requirements, but the ones we've outlined in this guide are the best among the rest. These are the best Chromebooks for every budget and need, whether for your work, school, or just an additional alternative for your computing needs.
Best Chromebook for 2023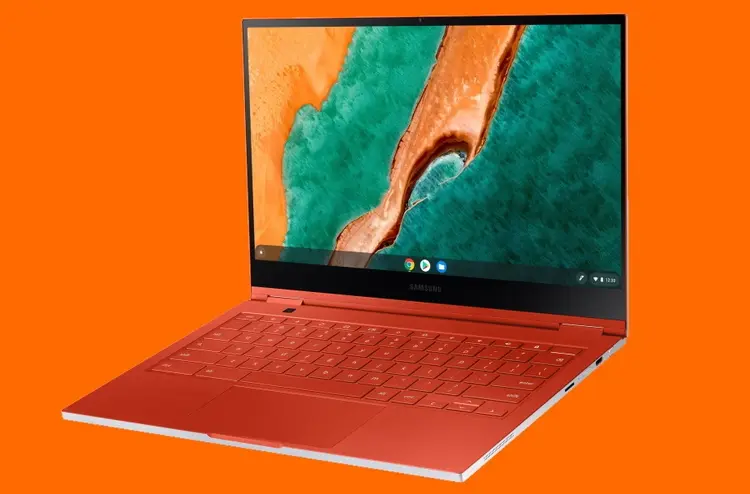 The Samsung Galaxy Chromebook 2 is currently the best Chromebook and a great choice for those seeking a powerful and portable Chromebook. It's equipped with a 128GB SSD and 8GB of RAM (up to 16GB), making it ideal for storing and running multiple Chrome tabs and apps.
The integrated Intel UHD Graphics card also delivers smooth visuals for watching videos and browsing the web. The Chromebook 2 also features a 13.3-inch Full HD display, so you can enjoy clear and bright images. And at just 2.7 pounds, it's easy to take with you on the go.
Specifications:
Configuration: 128GB/8GB RAM | Series: XE530QDA-KA1US | Screen Size: 13.3 | Operating System: Chrome OS | Card Description: Integrated | Graphics Coprocessor: Intel UHD Graphics | Hard Disk Size: 128 GB | CPU Model: Core i3 | Ram Memory: 8 GB | Dimensions:12 x 8 x 0.6 inches | Weight: 2.7 pounds | Processor Brand: Intel
---
The best Chromebook from Google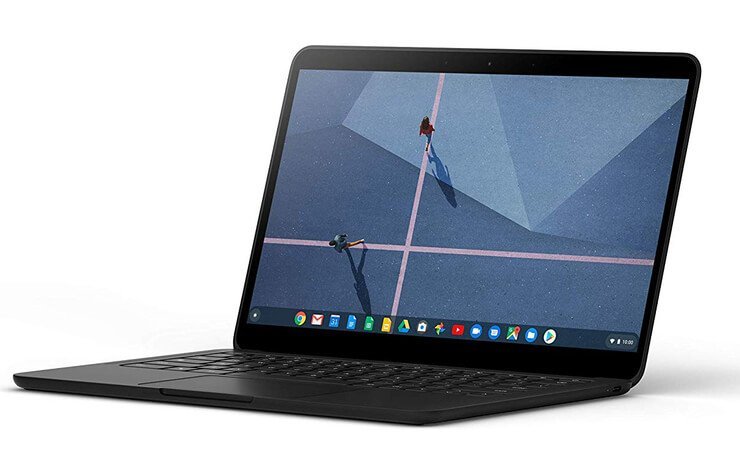 The Google Pixelbook Go is easily one of the best Chromebooks at the moment. It's a powerful alternative to Windows and macOS laptops, especially if you spend most of your time online in the cloud.
The Pixelbook Go offers some features not even available in Apple's best offerings, such as the 1080p webcam, incredible battery life, a bright 13.3-inch display, amazing hush keyboard sound, and overall solid performance, all packed into a superslim sleek chassis.
Starting at a base price of sub $700, you get the 8th Gen Core m3 Y-Series CPU and a 64GB SSD. The $849 version comes with an Intel Core i5-8200Y processor, 8GB RAM, 128GB SSD, and a 1080p display. You also get only one USB Type-C on the right, one USB Type-C port, and a headphone jack on the left side.
The Pixelbook Go is a portable powerhouse lighter and thinner than most of the best 13-inch laptops, measuring just 0.5 inches thick and weighing 2.3 pounds.
The two main outstanding selling points for the Pixelbook Go are the incredible battery life lasting 11 hours on average, and the most astonishing laptop keyboards ever. The keyboard's hush silence and amazing feedback have never been felt or heard of in any laptop to date. The keyboard is very comfortable, perfect for writers or students that do a lot of typing. The Go is quite expensive, though, for most people's budgets.
Specifications:
CPU: 1.3GHz Intel Core i5-8220Y | RAM: 8GB upgradable to 16GB | Hard Drive Type: SSD | Graphics: Intel UHD Graphics 615 (300MHz) | Screen: 13.3-inch Full HD (1,920 x 1,080; 166 ppi) LCD touchscreen (16:9; 72% NTSC) | Storage: 128GB eMMC | Ports: 2 x USB-C 3.1 (charging and display out), 3.5mm headphone jack | Touchpad Size: 4.6 x 2.6 | Connectivity: Wi-Fi 5 (802.11ac, 2×2 MIMO, dual-band); Bluetooth 4.2 | Cameras: 1080p Duo Cam (2MP, 60 fps) | Weight: 2.33 pounds (1,061g) | Size: 12.2 x 8.1 x 0.5 inches (311 x 206.3 13.4mm; W x D x H)
---
Best cheap Chromebook under $250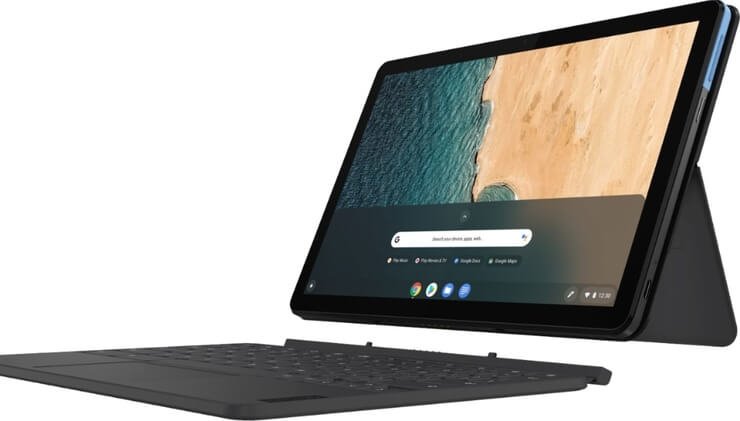 The Lenovo Chromebook Duet deservedly takes the third spot on this list. It's one of the best 2-in-1 Chromebooks out there today that is a tablet, but can also transform into a laptop. It has a detachable keyboard included by default, so you don't need to pay extra for the laptop experience.
What surprises the most about this beautiful device is not just the jaw-dropping price; it's the incredible battery life that lasted almost 13 hours, surpassing the iPad's 10 hours and Surface Go's 11 hours average.
Another plus for the Duet is the sharp and colorful screen with a crisp 1920 x 1200-pixel resolution. You also get ChromeOS tablet optimizations.
The keyboard is somewhat cramped, and the charger and headphones share a single port, but for the price, the Lenovo Chromebook Duet is a steal.
Specifications:
OS: Chrome OS | CPU: 2.0GHz octa-core MediaTek Helio P60T | GPU: ARM G72 MP3 800GHz | RAM: 4GB LPDDR4X | Storage: 128GB eMMC | Weight (Tablet): 0.99 pounds (450 grams); docked: 2.03 pounds (920 grams) | Display: 10.1-inch, 1920×1200 IPS touchscreen, 400 nits | Camera: 2MP fixed-focus (front), 8MP auto-focus (back) | Connectivity: 802.11 AC (2 x 2) wireless, Bluetooth 4.2 | Ports: USB Type-C x 1 | Battery: 7,180mAh/27.6Wh (max)/7,100mAh/0Wh (min) | Size (W x D x H) – Tablet: 9.44 x 6.29 x 0.29 inches (239.8 x 159.8 x 7.35 milometers); docked: 9.64 x 6.66 x 0.71 inches (244.87 x 199.31 x 18.2 milometers)
---
Best 2-in-1 Chromebook 2023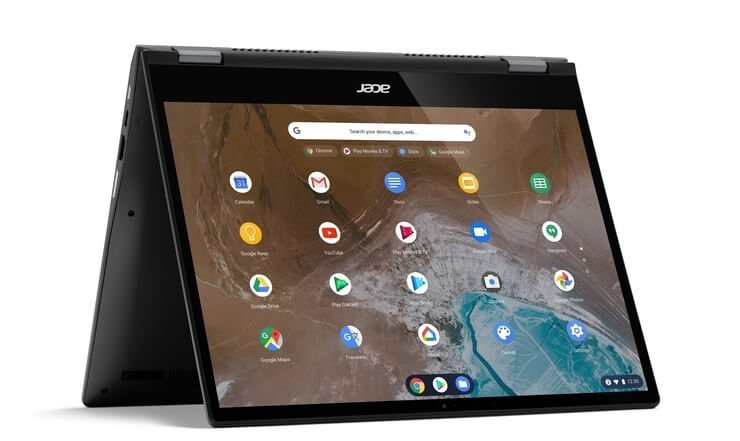 The Acer Chromebook Spin 713 easily fits the triple mix of a great Chromebook: affordability, performance, and quality design. It's a powerful Chromebook in between premium and cheap, making it a perfect midrange Chromebook.
The Spin 713 ranked as one of the best laptops for many reasons, some of which include the incredible battery life that can last a full day, a beautiful 2256 x 1504p 13.5-inch LCD touchscreen display, a comfortable trackpad and keyboard deck. It also comes with an Intel Core i5-10210U CPU, 8GB of RAM, 128GB SSD.
For a small-size Chromebook, the Spin 713 has a decent amount of ports, including a USB 3.2 Gen Type-A and a headphone jack, a microSD slot, and two USB Type-C ports with Thunderbolt 4.
The audio from the speakers is poor. The speakers are located on the underside, making the sound quite disappointing. The sound you get from the Spin 713 will differ depending on where you place it. Another con of the Spin 713 is the lack of a compatible stylus which is not included with the Chromebook. But you're getting great value for the hardware and performance on offer.
Specifications:
CPU: Intel Core i3-10110U | Graphics: Intel Iris Xe | Weight: 3.20 lbs (1.45kg) | RAM: 4GB – 8GB | Battery: 56WHr | Camera: 720p webcam | Screen: 13.5-inch, 2256 x 1504p (3:2) LCD Touchscreen | Connectivity: Wi-Fi 6, Bluetooth 5.0 | Storage: 256GB PCIe SSD | Ports: 2 x USB Type-C Thunderbolt 4, 1 x USB 3.2 Gen Type-A, 1 x HDMI, 1 x microSD | Size (W x D x H): 11.8 x 9.3 x 0.67 inches (299.72 x 236.22 x 17.01mm)
---