TechZerg is reader supported. When you purchase through links on our site, we may earn a commission.
Our recommendation for the best ecommerce platform is Shopify because it's affordable, reliable, easy to use, and perfect for setting up your online store, sell, ship, and process payments anywhere. Try Shopify free for 14 days.
Choosing the best eCommerce platform for your venture will have a long-term effect going forward. However, over 450 eCommerce website builders are out there; that's plenty of options to choose from.
With too many options, it can be difficult to choose the best one that fits your specific needs. To help you decide which option is ideal for your business, we've put together a comprehensive list of the 9 best eCommerce platforms available right now.
The best eCommerce platforms of 2023
Our top picks are based on detailed research, features, performance data, scalability, reliability, user experience, and customer reviews.
Best eCommerce platform 2023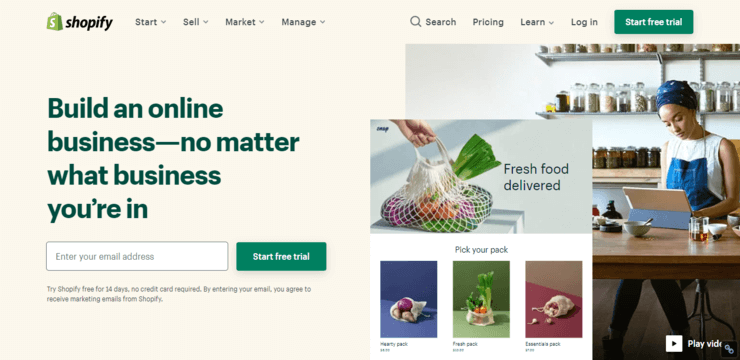 The best eCommerce platform in 2023 is Shopify. It's easy to use, robust, and affordable. Founded in 2006 by Tobias Lütke, Daniel Weinand, and Scott Lake, Shopify is perhaps the most popular e-commerce platform for dropshipping.
With Shopify, you won't need much technical support because it's an all-in-one eCommerce platform that's easy to set up. According to Shopify, it's possible to set up an online store within minutes, even without technical experience. You can sell from your online store, marketplaces such as eBay and Amazon, social media sites like Instagram and Facebook. You can also sell in-person with Shopify's point-of-sale (POS) service.
You can choose from an array of beautiful templates or design your store yourself – there are plenty of eCommerce themes snd templates you can simply drag and drop to get your store up and running within a few minutes. Shopify offers 24/7 phone or email support. It also accepts an extensive range of credit cards and has 256-bit SSL encryption for fraud protection and level 1 PCI compliance.
All Shopify plan comes with unlimited hosting, email marketing, SEO optimization, a discount, coupon and gift card feature, and abandoned cart recovery tools. Shopify has a 14-day free trial with plans starting from $29 per month and a $9 per month Lite plan worth checking out.
---
Ecommerce giant for large businesses
BigCommerce is one of the best e-commerce platforms in 2023. Founded in 2009 as an online shopping cart, they've grown to become one of the world's largest eCommerce platforms, with over 600 employees and $25 billion in merchant sales across 120 countries.
BigCommerce is not only the best choice for startups but also the best eCommerce platform for larger businesses. Its SEO capabilities cannot be compared to any platform on this list – its product search engine is robust and ideal for larger retail brands.
Another reason BigCommerce is a better option than its competitors is in payment processing. BigCommerce lets you choose from a wide range of over 40 payment processors, including PayPal, Stripe, Amazon pay, Klarna, and Square, without extra fees, unlike other platforms that use a one-size-fits-all payment solution and charge 0.5% to 2% per transaction if you decide to choose a third-party payment processor. The Bigcommerce option is great for businesses, having more flexibility and power to choose the solutions that work best without incurring unnecessary transaction charges.
Additionally, BigCommerce makes it very easy to set up an online store with a variety of themes and templates to make your store unique. Another option is to use one of the BigCommerce store designers to build your store.
Bigcommerce is a full-fledged eCommerce platform with a comprehensive and flexible product management system that's optimized for search engines, along with plenty of integrated marketing and analytics features. It's fully responsive, which means it optimizes your online store for both desktop and mobile device visitors. You can always manage your store on the go using mobile apps. Also, there is a live chat feature that you can use for real-time conversations with your customers.
Another impressive feature recently added to Bigcommerce is the ability to sell on marketplaces like Amazon and eBay, and social media platforms like Instagram and Facebook. Other excellent features offered by Bigcommerce include support for multiple currencies, automated order processing, flexible tax rules, and great technical customer support. Bigcommerce has a 15-day free trial with plans starting at $29.95 per month.
---
Top-rated eCommerce website builder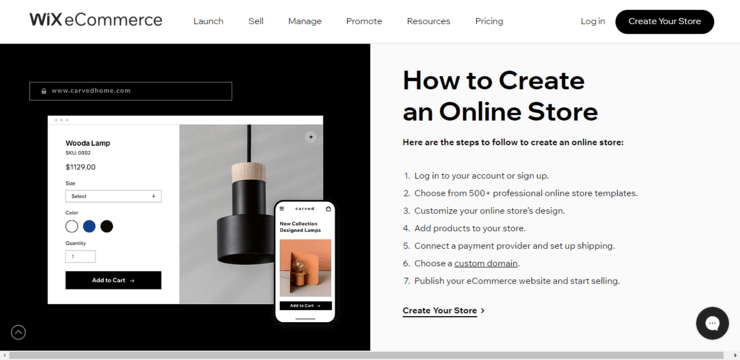 Founded in 2006, Wix is today one of the largest website builders in the world, with over 2700 employees and 150 million users in 200 countries.
We chose Wix as the third best eCommerce platform for its top-notch user experience; it's by far the easiest platform to create an online store and also very affordable.
There are hundreds of beautiful professional templates to choose from and a drag-and-drop editor that makes it super easy to build outstanding e-Commerce sites even if you've never created a site before. You can set up a personal website for free, but you'll want to upgrade to one of the paid plans to enjoy the significant features Wix has on offer.
Wix has three different plans dedicated to eCommerce; the cheapest eCommerce plan is Business Basic which starts at $23 per month, giving you access to a colossal range of features, including unlimited bandwidth, 20GB storage, a free domain, $300 Ad voucher, and more.
The next eCommerce plan is Business unlimited for $27 a month, which gets you an increase in storage to 35GB, a free professional logo worth $50 in value, and so many pro eCommerce features.
Finally, there is Business VIP for $49 per month, which increases your storage to 50GB. You also get an events calendar (worth $48), priority response, and VIP support.
Wix is free as long as you want, but it comes with Wix ads and you only get the basic features. There is a 14-day money-back guarantee for its eCommerce plans, allowing you to get your money back in the unlikely case you are not satisfied with the service.
Additionally, Wix offers add-ons integrations such as Google Analytics and multi-channel sales integrations, meaning you can also sell to your customers on social channels such as Facebook and Instagram.
The excellent eCommerce features you get for the money make Wix the best option compared to other eCommerce platforms on this list, especially for small online sellers.
Here are some other things you can do on the Wix eCommerce platform:
Create amazing digital and physical product pages.
Build a gallery of related products that encourage more purchases.
Add product sorting and filter options that will allow your customers to locate want they want quickly.
Group products into collections and sell them on specific pages on your site using the product widget.
Use promo codes to display product discounts, free shipping, and more. This will help grow your sales and decrease cart abandonment.
Show your customers the shipping and tax estimates before they check out, right on your cart page.
Give shoppers the option to check out fast and easy with a click on a 'Pay' button, which you can add to any page on your eCommerce site.
Give your customers more ways to fill their carts and Increase sales in the process by adding 'Add to Cart' on any page on your site.
Accept payment with solutions and credit card services like Pay Now by Klarna, Giropay, and iDeal. All payments and orders can be managed from your Wix dashboard.
You also have the option to choose how your customers pay using third-party payment services like Paypal and Stripe.
Automatically display different tax rates for different locations depending on where your customer is shopping from, including Europe, the United States, and every part of the world.
Your customers can save payment details, and view shopping history.
Another great reason to choose Wix is if you are into dropshipping, they have direct integration with thousands of reliable US suppliers through the Modalyst platform, no inventory or fulfillment; simply add products you like on your site, sell them and pocket the profits.
Furthermore, you can sell print-on-demand products on your site. Wix integrates easily with Printify and Printful, which allows you to sell products all around the world under your own brand.
When it comes to eCommerce, Wix has plenty of possibilities and power available to build an impressive online store.
---
Best small business option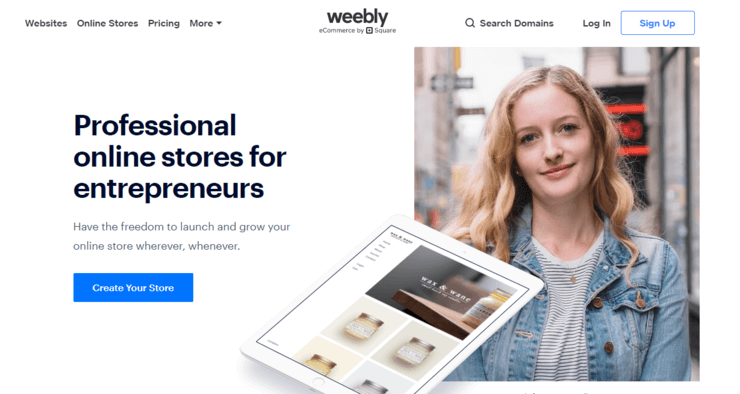 Founded in 2007 as a simple platform for anyone to build a personal website, Weebly is today one of the leading website builder services with a massive 40 million customers worldwide. Weebly was acquired recently by Square, further expanding its eCommerce features.
Weebly has plenty of eCommerce capabilities and more depth than you might expect. Its integrated online store allows users to sell both physical products, digital downloads, and services with supporting features such as social media, SEO, marketing, and more. Weebly built-in marketing feature is another excellent bonus — purchasing an email marketing service on the same functionality level as that of Weebly will cost you an extra $10-20 per month.
Weebly's drag-and-drop editor is intuitive and one of the best on this list. It rivals that of Wix, allowing users to create beautiful online stores within minutes. Weebly's integrated shopping cart is set up automatically once you create your online store so you can start selling immediately.
The initial setup process is simple as Weebly walks you through a step-by-step process, including choosing the layout, selecting fonts and colors, configuring global store settings, taxes, shipping rules, adding products, setting up payments, and more.
Weebly eCommerce basic plan starts at $12 per month, if you need more advanced features, you can upgrade to Business ($25) and Business plus ($38). All Weebly plans come with a free domain and $100 worth of Google Ads credit.
---
Best WordPress based online store builder
WooCommerce is an open-source WordPress-based free plugin with eCommerce capabilities. It currently has over 75 million downloads and powers more than 30% of online stores worldwide. It's by far the best eCommerce platform for WordPress sites; it's flexible and free to use.
There are no limits on products or orders. No limit to what you can sell; you can sell anything from physical products to digital services, drop ship, or print-on-demand, all for free.
And because WooCommerce is based on WordPress, you can scale your online store to any size using SEO. You also have unlimited access to thousands of themes and plugins to extend the functionalities of your store. Choosing your own plugins means you can customize your store the way you want. There are plugins for third-party integrations such as Xero, Mailchimp, and more. However, some of these are paid plugins that may cost a few dollars.
WooCommerce order processing is comprehensive, with shipping options and rates that are customizable. It automatically calculates taxes based on location. Additionally, there are multiple payment options with support for several gateways that include PayPal, Stripe, Sagepay, credit cards, bank transfers, checks, cash on delivery, and more.
Since WooCommerce doesn't provide hosting for you, you'll need a domain name and web hosting for your eCommerce website to be accessed by users worldwide.
We recommend using Bluehost. They are one of the largest web hosting providers in the world and are officially recommended by WooCommerce.
Bluehost is also offering TechZerg readers a free domain name + SSL certificate, and a generous 40% discount on WooCommerce hosting. Basically, you can get started for $12.95 per month. It comes with everything you will ever need to start and run a scalable eCommerce store of any type. Some of the features you get include an online store (Website + Blog), WooCommerce Installed, unlimited Products, Jetpack free installed, store-front theme installed, website traffic analytics, customer product reviews, 24/7 customer support, payment processing (one-click install), discount codes, manual order creation, and many more.
Overall, Bluehost-WooCommerce is an option worth considering if you are looking to ease yourself into starting an online store.
---
Excellent eCommerce software for existing websites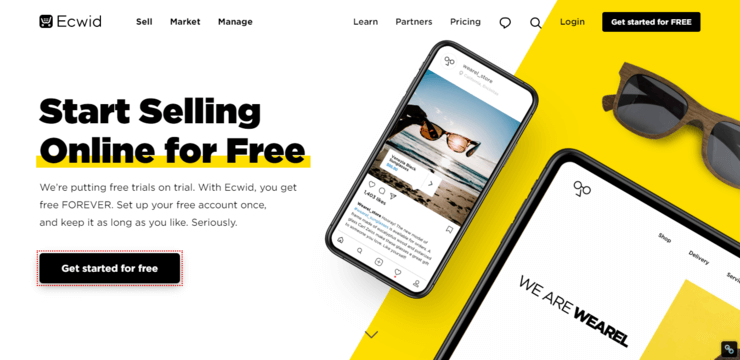 Ecwid is an eCommerce solution built to integrate with websites and platforms, saving an incredible amount of time and know-how for small businesses and website owners who just want to add a simple online store to a thriving business blog or website.
The best part is it's free; you can use Ecwid free forever. There are over 1.6 million small businesses and merchants using Ecwid, with over $4 billion in sales. It's flexible and allows you to reach an unlimited number of buyers across the world through different marketplaces and platforms such as Facebook, Instagram, Amazon, and eBay.
Ecwid is super easy, you just click a few buttons and you are good to go. If your business or website runs on content management systems like WordPress, Joomla, and Drupal, then things become even easier because of Ecwid's seamless in-built integration with them.
The eCommerce service offers plenty of ways to promote products faster. From your dashboard, you can create, manage, and track low-cost advertisements that will bring in targeted customers within minutes. Creating the perfect Facebook, Google, Pinterest, and Snapchat advertisement is so easy with Ecwid, you don't need any experience to do this. You also get a $150 Snapchat Ad credit as an Ecwid user once you spend $50.
Ecwid integrates with over 50 payment gateways like Square, PayPal, First Data, WePay, Stripe, and more via an in-built functionality with top POS systems.
Ecwid is fully secure and a PCI DSS validated Level 1 Service Provider, this ensures end-to-end data encryption and security of merchants and customers' information.
The support is great and available 24/7 with live chat or email. All in all, Ecwid eCommerce solution is an excellent choice for anyone who wants to sell across multiple existing channels.
Ecwid has a free plan enough for most people to get started, the free plan comes with a lot of surprising features including 0% transaction fees, and so many other outstanding features you can see for yourself here. There are 3 paid plans with the cheapest starting at $15 per month.
---
Impressive eCommerce solution for creators
Sellfy is a simple eCommerce platform originally designed for selling digital products like courses, books, videos, and music. It grew quickly and now operates as a fully functional all-in-one eCommerce solution for selling both digital, subscription, and physical products. Over 35,000 creators have sold their work online using Sellfy.
Sellfy is a cloud-based eCommerce platform, developed to work seamlessly on multiple devices like laptops, PCs, tablets, and mobile devices.
Sellfy has a lot of features for selling, such as embedding products and 'Buy Now' buttons on an existing website, or through social media such as Facebook, Youtube, Soundcloud, and Instagram.
Additionally, you get built-in marketing tools to grow your sales, such as using discount codes, upselling, email marketing, live chat, and more all within your dashboard with no need for third-party integrations. Furthermore, you can use Sellfy's built-in marketing and analytics tools, and connect with over 1000 third-party apps through Zapier.
You can start using Sellfy free for the next 14 days, after which you'll need to upgrade to one of the paid plans starting at $19 a month. All plans come with a 0% transaction fee, unlimited products, the ability to give discount codes, add a custom domain, and more.
---
Powerful drag-and-drop builder for photographers & artists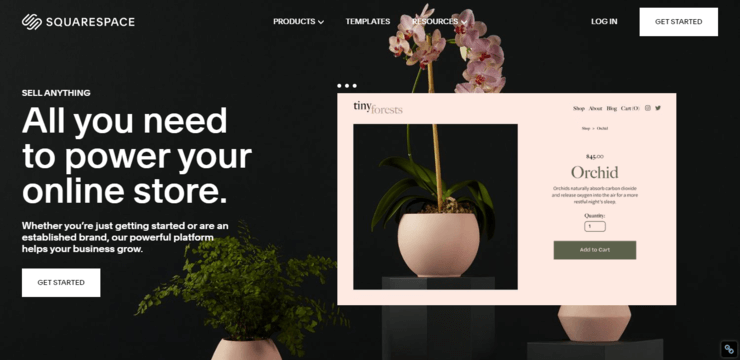 Squarespace started in 2003 as a simple platform for hosting and building blogs but has since added eCommerce features, giving it a lot of appeal alongside Wix and Weebly. The platform has plenty of power and tools to boast about such as social media integration, free fonts, high-performance CDN support, robust blogging platform, professional online store, and many more.
Squarespace made it to this list because it's the best website builder alongside Sellfy for creatives, its sleek and visually-appealing templates make it easy to build portfolio-style sites.
Compared to Wix, Weebly and Bigcommerce, Squarespace has a smaller but stunning selection of online store templates, covering an impressive range of industries from food & drink to fashion and photography.
To create an online store and start selling, you need to at least be on the business plan ($18 per month); you get advanced integrated e-commerce features such as professional email, premium block builder, pop-ups, and banners, plus the ability to sell unlimited products, accept donations and offer gift cards. You'll also get a free domain and a 3% charge on transaction fees.
To get more store management features and avoid the 3% transaction fees, you'll need to upgrade to the Commerce plans ranging from $26 to $40 a month, depending on your level and what you need.
---
Volusion is a full-featured eCommerce solution founded in 1999 by a 16-year old web developer named Kevin Sproles. The platform is today a behemoth with 30,000 merchants processing $28 billion in sales.
Volusion makes it super simple to design a professional online store with powerful options of responsive themes and a drag-and-drop page editor.
The service also allows for selling on social media like Facebook and marketplaces like Amazon and eBay. In addition, Volusion has plenty of add-ons and integrations that compare to BigCommerce and Shopify.
Volusion pricing starts at $26 per month; you get unlimited bandwidth, 100 products, zero transaction fees, online technical support, built-in SEO, social media integrations, and more. For unlimited products and advanced features such as abandoned cart reports and CRM systems, you'll have to upgrade to a higher plan which ranges from $71 to $269 a month, depending on what you need.
Volusion is easy to use and offers a great service. You can try it free for 14 days
---
Selz: announced on April 30, that they "will be closing down the Selz service on June 30, 2022. At that time, there will be no further access to the Selz site."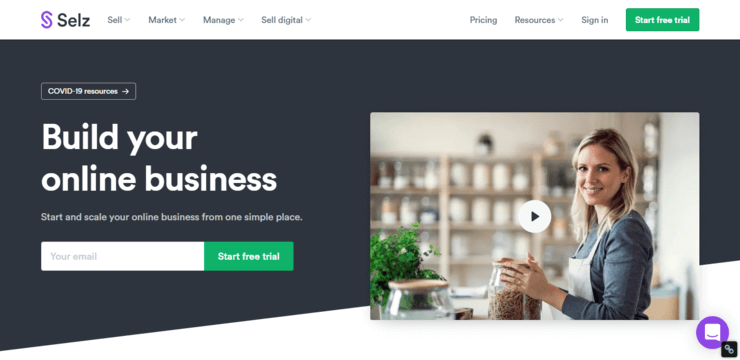 Selz is one of the newer and fastest-growing eCommerce platforms on this list. Founded in 2013 by Martin Rushe, it currently powers over 125,000 stores worldwide.
Selz is an e-commerce builder designed to fit the needs of startups, entrepreneurs, and creatives who want to sell digital, physical, or service products online. The pre-built templates are professional, visually attractive, and feature best design practices for product launches and multi-product stores. You don't need any technical knowledge to use Selz, its ease of use is one of the best on this list — you can set up a new store within minutes with just a few clicks. From customizing your store to adding products and setting up payment gateways, Selz was set up with the beginner in mind.
Selz allows you to create your eCommerce site in multiple languages and sell in over 100 currencies. You can also sell on marketplaces like Google shopping and social media platforms like Facebook and Twitter. Other options for you to sell include embedding a store and adding buy buttons to an existing website.
Selz cheapest pricing plan starts from $26 a month, and comes with everything you will ever need to run a successful eCommerce store.
—-
Also, consider:
---