TechZerg is reader supported. When you purchase through links on our site, we may earn a commission.
Our recommendation for most people is Bluehost VPS because it's affordable, fast, and reliable VPS hosting service. Sign up with Bluehost for as low as $19.99 per month.
The best VPS hosting service is a great choice if you need more hosting resources to scale faster. Standard shared hosting plans are budget-friendly and good enough for a starter website, but they're slow and lack the power or reliability to grow a big website.
If you don't want to splurge on a dedicated server but need more than basic shared hosting, Virtual Private Server (VPS) hosting could be a smart option.
Best VPS hosting providers of 2023
Choosing a VPS package means having your very own hosting environment with full operating system control, apps, add-ons, and extensions. You are still sharing a physical server with multiple other websites, but get dedicated resources like storage space, RAM, and unshared CPU cores. This allows your website to accommodate more traffic and scale quickly.
The price of Virtual Private Server (VPS) hosting varies depending on the specs and requirements you need. In this article, we've done the extensive research necessary to help you narrow down your search and point you to the right solution.
The best VPS hosting 2023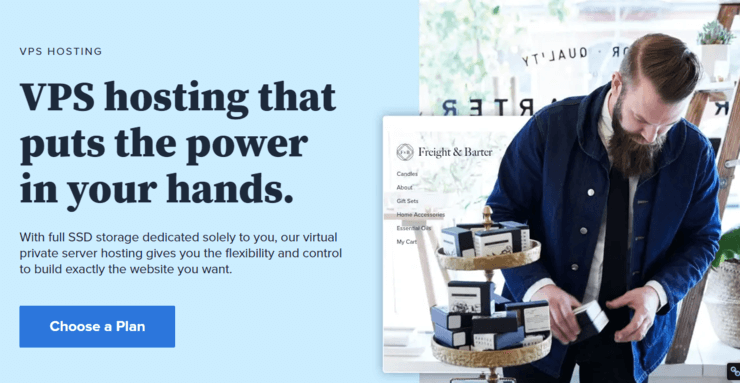 Bluehost is one of the best web hosting services offering various plans with consistent performance, including VPS hosting. They currently power more than 2 million websites in over 150 countries.
You can choose from three VPS plans. All plans come with a 30-day money-back guarantee, a free 1-year domain, free SSL, a cPanel, unlimited email accounts, and subdomains.
Bluehost cheapest VPS plan starts at $19.99 per month, which increases to $29.99 per month on renewal – you get 30GB SSD storage, 1 TB of bandwidth, 2GB RAM, a static IP address, and 2 CPU cores. The middle-tier plan, Enhanced, is priced at $29.99 per month, rising to $59.99 on renewal. With the Enhanced plan, you get 2 CPU cores, 4 GB RAM, 60GB SSD storage, and two static IP addresses. The most expensive plan, called Ultimate, comes with far superior features such as 4 CPU cores, 8GB RAM, 120GB SSD storage, 3 TB bandwidth, and two static IP addresses.
Bluehost is a smart choice for both beginners and advanced users. Should you need any assistance, they have excellent 24/7 customer support you can contact through live chat or give them a call.
---
A close second choice for the best VPS hosting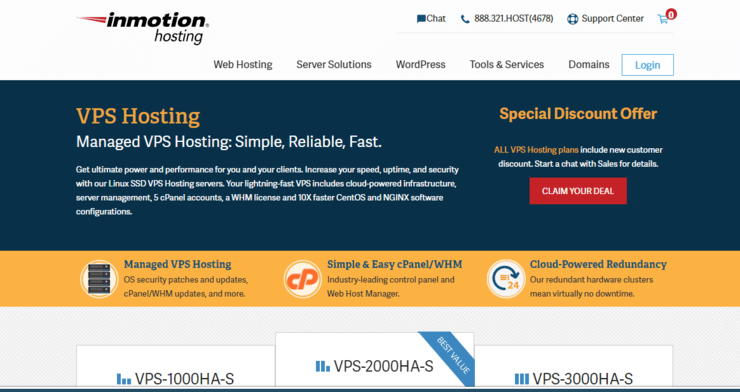 InMotion is easily one of the best VPS hosting providers on this list. Their VPS server is reliable, fast, and secure. You have two VPS plans to choose from, managed VPS, and self-managed VPS hosting.
The self-managed VPS is best for advanced users, system administrators, and developers. We highly recommend the managed VPS option, an excellent choice for business owners, resellers, and agencies. Pricing starts at $29.99 per month on a two-year contract, which may seem expensive at first compared to its competitors. However, it offers much more for the money — 75 GB Storage, 4GB RAM, 4TB bandwidth, 3 dedicated IP addresses, auto-backups, optional root access, an impressive 90-day money-back guarantee, and a cPanel license.
Additionally, InMotion offers an interesting feature you won't find on other hosting providers called 'Unlocked CPU Cores,' which lets you spread your CPU load simultaneously across different servers instead of just one or two cores only. A significant performance boost for tasks that requires a lot of simultaneous processing.
InMotion has a bonus feature called Launch Assist, included for free on all managed VPS plans. The Launch Assist essentially gives you consultation access to server administrators on anything you may need. Whether you need help with migration, access to database files, configure cPanel, or install applications. Whatsoever it is, simply let them know, and they'll get it done for you.
Furthermore, InMotion maintains a 99.999% network uptime. All of this put together, plus a great technical support team and an unbeatable 90-day money-back guarantee, which is currently the highest in the space, makes InMotion an excellent option worth giving a try.
---
Impressive cloud VPS servers
Serverspace is the world's first cloud provider that allows you to create a VPS based on the vStack hyper-converged platform. Users can deploy VPS in the USA, Europe, Russia, and other countries in just 40 seconds. The latest 3.1 Hz Xeon Gold Scalable processors and NVMe SSDs perform better in speed tests.
Serverspace users can customize server configurations using a calculator in the control panel or choose one of the fixed tariffs. Before creating a server, users can choose one of two virtual machine platforms – vStack or VMware.
vStack is an innovative hyper-converged platform based on the lightweight bHyve hypervisor and FreeBSD OS. Thanks to open source technology, vStack-based servers are faster and cheaper to deploy. The cost of the minimum configuration of a Linux server based on vStack, which includes 1 CPU, 1 RAM and 25 GB SSD, is $4.95 per month. The same Windows server configuration is $9.55 per month.
Compare to other cloud providers charging on a per month or hourly basis, Serverspace bills every 10 minutes, meaning you only pay for the actual minutes you use. If you use the service for 30 minutes and delete it, you'll only pay for 30 minutes, allowing you to save money.
Serverspace is one of the few cloud providers that offers Windows-based servers at one of the lowest prices on the market. The price includes the original Windows server license.
You also get 24/7 support consisting of certified experts which you can contact by phone, via the control panel, and live chat.
---
An excellent choice for all users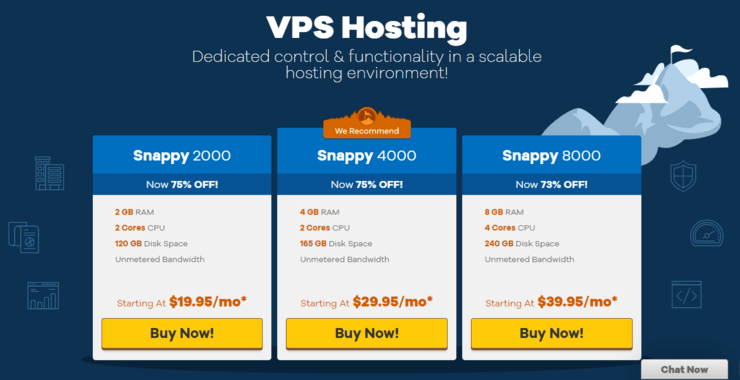 Hostgator is a top web hosting provider that offers an impressive range of services, from dedicated servers to domains, at very affordable prices. Their VPS hosting service is a great option to consider.
They offer three VPS hosting plans, starting with Snappy 2000, a generous entry-level plan that should be enough for most websites – you get 2 cores CPU, 120GB storage, and 2GB RAM.
The next plan is the Snappy 4000, which upgrades disk space to 165GB and RAM to 4GB. Large sites with more demand can choose Snappy 8000, which comes with 240GB storage, 8GB RAM, and 4 cores CPU.
You can get more value for money if you pay yearly instead of monthly. For example, the Snappy 2000 VPS hosting plan costs $19.95/month on a 3-year plan or $23.95/month on a 12-month plan compared to $29.95 if you choose to pay monthly.
All plan comes with unlimited bandwidth backed by a 99.9% uptime, and a 45-day money-back guarantee. Additional benefits include free transfer within the first month of signing up and a free domain. If you are on a budget, Hostgator is definitely one to consider.
---
Best managed VPS hosting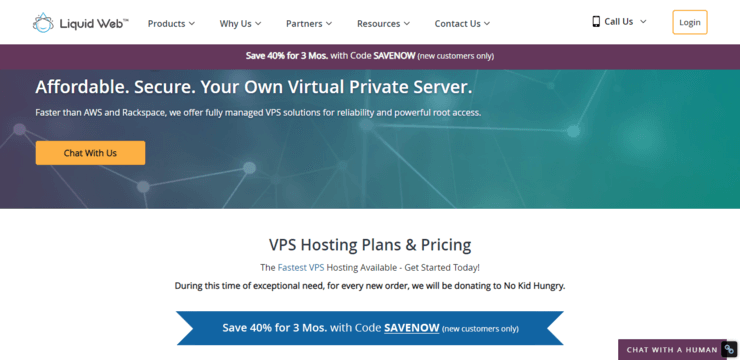 Liquid Web has been a top provider of premium web hosting for more than 20 years, managing over 500,000 websites for over 45,000 customers worldwide.
The company is a bit different. While other web hosts battle it out on price, Liquid Web focuses more on providing comprehensive, high-quality solutions that will deliver outstanding results.
Liquid Web cheapest plan costs $59 ($39 when paid annually). You get 40GB storage, an impressive 10TB bandwidth, 2GB RAM, and 100GB backup.
Liquid Web has plenty of VPS configuration options from Ubuntu 14.04 to Ubuntu 16.04, Debian 8, and CentOS 6, with cPanel, InterWorx, and Plesk, available as choices of control panel.
Additionally, Liquid Web guarantees 100% network uptime and boast of the best customer support in the industry with the fastest response rate of 59 seconds on both live chat and telephone.
---
Best value for long-term VPS plans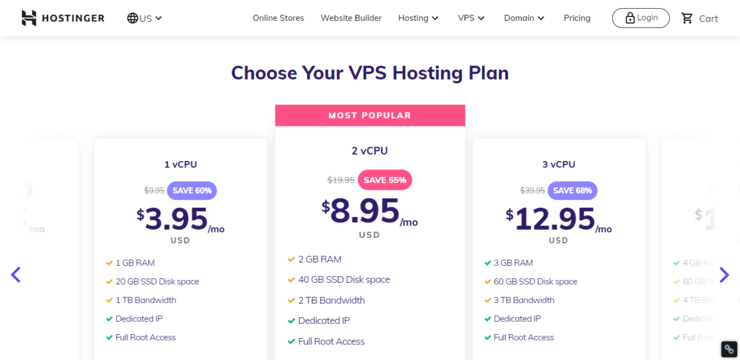 Hostinger is one of the leading web hosting platforms in the world, providing quality service to over 30 million users. Its VPS hosting product is one of the best around, with a good range of plans at cheap prices.
There are six different hosting plans to choose from, with the lowest price at $4.25 per month on a 24-month contract and $3.95 per month on a 48-month contract – you get 20GB storage, 1TB bandwidth, 1GB RAM, dedicated IP address, full root access, and more. Upgrade to the most powerful plan at $29.95 per month, and you get 160GB storage, 2GB RAM, and a generous 8 TB bandwidth.
You'll also have access to a dedicated IP and IPv6 support. Linux users have the option to choose between CentOS, Debian, Fedora, Ubuntu, and SUSE. Hostinger offers Windows VPS hosting too, but at a much higher price than the standard VPS plans.
Additionally, there is a 24/7 customer support live chat should you run into any issues. Hostinger low pricing offers, especially on long-term plans, is too good to ignore, and with a 30-day money-back guarantee, you can give it a try without worry.
---
Most extensive choice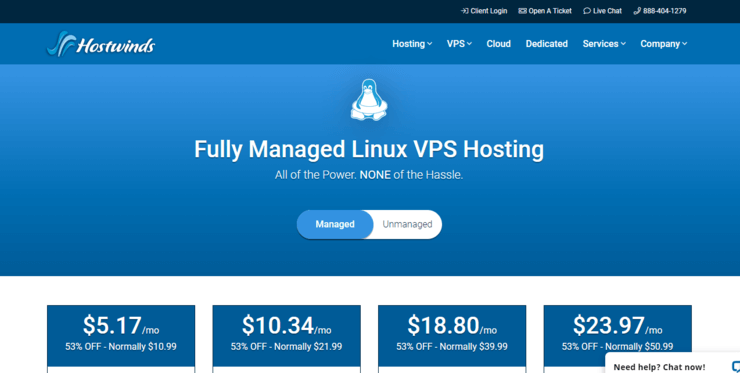 Hostwinds has a wide range of VPS hosting plans with pricing and features that appeal to everyone, from large businesses to first-time users.
Hostwinds entry-level Linux plans have features that are relatively low but good enough for beginner websites. The cheapest plan (Unmanaged Linux) starts from $4.49 per month. For this, you'll get 30GB disk space, 1GB RAM, 1TB bandwidth, and one CPU core. For managed Linux, pricing starts from $5.17 per month for 1 CPU core, 30GB disk space, 1GB RAM, 1TB bandwidth.
More powerful Linux VPS hosting is available with the highest plan offering 750GB storage, 96GB RAM, 9TB bandwidth, and 16 CPU — this is too much for any hosting needs, but it gives you an idea of how massive and scalable Hostwinds VPS is.
Hostwinds also offer Windows VPS hosting with pricing starting from $7.99 per month for Managed Windows and $9.89 per month for Unmanaged Windows. Both options have similar features depending on your needs.
All plans come with nightly backups, real-time monitoring team should any issues arise, 24/7 support staffs, 99.9% uptime, multiple server locations, and security firewalls.
---
Best unlimited bandwidth
DreamHost has been one of the top hosting providers for several years. They've been in the space for over 20 years and currently powers more than 1.5 million websites across 150 countries.
Their VPS plans offer real value for money with a range of features worth checking out. The entry-level VPS basic plan starts at $13.75 per month on a year contract with 30GB storage and 1GB RAM. An upgrade to VPS Business ($27.50 per month) increases RAM to 2GB and SSD storage to 60GB.
There are other VPS packages for large websites and businesses, including VPS professional at $55 per month, you get 120 GB storage and 4GB RAM. DreamHost most powerful plan, VPS Enterprise, comes with an impressive 240GB storage and 8GB RAM.
All VPS plans come with 99.99% uptime, free SSL certificates, free emails, unlimited websites, and bandwidth. Other core features include managed VPS security, such as the latest PHP releases, security upgrades, and patches.
DreamHost has one of the best web hosting in-house experts and technicians available 24/7 to assist you whenever you need any help.
For medium-sized and larger websites, Dreamhost offers tons of value. However, for a smaller website, the price may just be above average for what you need compared to other VPS hosting options.
---