We may earn a commission for purchases through links on our site. Learn more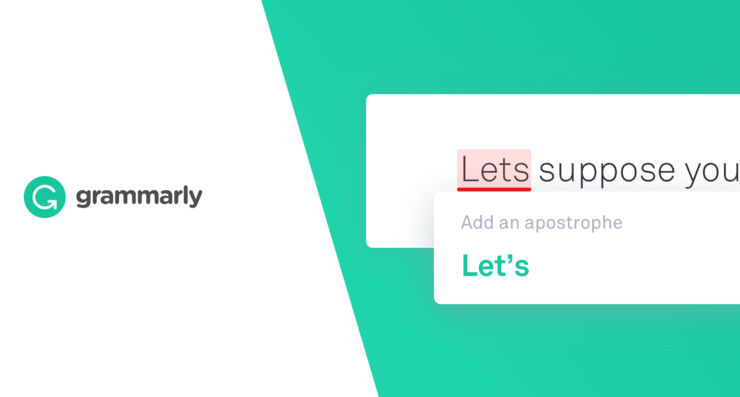 Grammarly is an excellent grammar checker and proofreading tool that can detect punctuation, word choice, and spelling mistakes as you write. It's free, easy to use, and works on all writing platforms.
---
Welcome to our Grammarly review and walkthrough, which details everything you need to know about this free grammar checker. You might be asking, what is Grammarly? Is it worth it? Will it help me avoid embarrassing typos and make your writing easy to read? Read on for answers to these legitimate questions and more.
English grammar can be a challenging language to learn, and it's normal to still have questions about spelling and proper punctuation even if you're a native speaker.
With the Grammarly free Chrome extension, you can fix your grammar on several online platforms such as Gmail, Slack, Google Docs, Twitter, and many more.
JUMP TO:
---
How does Grammarly work?
After you sign up and start typing, Grammarly will alert you on any mistake and suggest the right changes which you are free to ignore.
The free version is useful and offers critical grammar, spelling checks, punctuation, and comma errors. If your work requires plenty of writing or you're a student, upgrading to the premium version will offer you vocabulary enhancement, grammar clarity, delivery, and plagiarism detector.
When you upgrade to Grammarly premium, you'll receive weekly performance reports with updates on how well you're doing, which is great if you have a goal to improve your writing. The report will detail how many words were checked, as well as errors detected. The report may not be essential if your writing level is high, but could be a plus if you intend to improve your writing skill.
Even though Grammarly is better at finding errors as you type compare to any other grammar checker software, there's a little delay in its ability to record mistakes and typos. You'll have to wait to click through the suggestion in other to make corrections. You might also lose your writing flow as you try to make corrections while typing.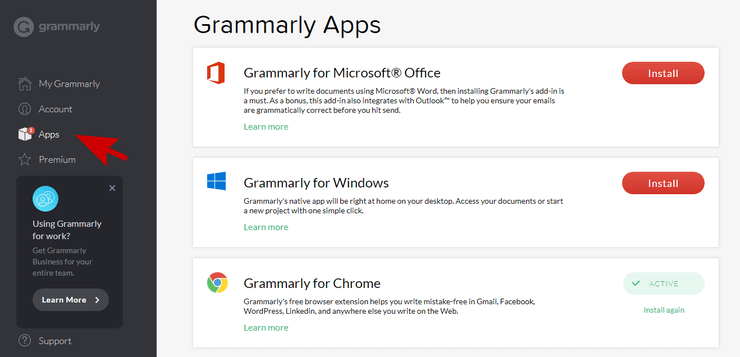 Once you sign up, you'll have your online Grammarly hub, where you can manage all your settings. You can compose, edit and save documents. You can also install the Grammarly desktop app for Windows or Mac or on your phone/iPad so you can write error-free on the go.
Grammarly gives you a choice to select either American or British English. You can decide against its suggestion, which is helpful if the software gets it wrong, which it sometimes does. Additionally, you can add words to your dictionary; this feature is handy for uncommon words intended for personal use.
Installation
One of the reasons why Grammarly is the best online grammar checker is how easy it is to use on different web browsers, apps, and Microsoft Word. It works on Chrome, Firefox, and Safari. Unlike other grammar software that makes it hard to identify the error text correctly, Grammarly's red underlining makes it easy to see where the mistake is.
On the text box, there is an icon at the bottom right that pops up once you click it, so you can see details about errors and the number of corrections Grammarly suggests. Like I noted earlier, there is a short lag between when Grammarly analyzes your content and when it provides you the helpful answers to correct your errors. However, if you don't mind the slight delay, the helpful suggestions could be worth it.
Grammarly works on desktops as well as mobile devices. There's also a keyboard app, which you can install and use on your tablets and phones. Grammarly's add-on works with Twitter, Facebook, LinkedIn, Medium, Jira, Salesforce, Messenger, Outlook, Google Docs, Slack, Gmail, and Yahoo.
Keyboard app
Grammarly keyboard is an app that spellchecks your typing and allows you to edit messages mistake-free. The keyboard app will make sure your words are free of typos before sending it. When you install the app and activate it, you'll see your customizable settings, which include auto-correction, auto-capitalization, Caps Lock, and more. The only language option is English, with a further option to choose either American, British, Canadian, or Australian English. The keyboard can be helpful if you have challenges with grammar, spelling, capitalization, punctuation, and other proofreading difficulties.
Chrome extension
Grammarly offers a free Chrome extension that checks your text for spelling and grammar errors. It works on all apps — Twitter, Linkedin, Facebook, Gmail, Tumblr, WordPress, Google Docs, and other platforms. Once you install the extension, you should see the Grammarly logo icon in the top right of your browser.

When you open your Chrome browser and start typing, Grammarly will vet your text for mistakes and complicated sentences, and once it detects an error, it'll alert you with the right suggestion or answer so you can write error-free every time. The Chrome extension is one of the most popular extensions, a lifesaver for many writers. The extension is also available for Firefox, Safari, and Edge browsers. Get the free Chrome extension here.
Grammarly pricing
While Grammarly is the best Grammar checker, its pricing is on the expensive side, starting from $11.66 per month for the premium version when paid annually (one-time payment of $139.95). The price does sometimes drop, as Grammarly frequently offers subscription discounts. You can also choose to pay monthly ($29.95) or quarterly ($19.98 per month billed as one payment of $59.95). Whatever plan you choose, Grammarly supports payment by card and PayPal. Here is a side by side comparison of free & premium plans:
Discounts and coupons
Grammarly is the most popular grammar checker and proofreader tool online, but it's also the most expensive compare to similar software and indeed for many people. If you are a student on a tight budget, there are two ways you can get Grammarly premium for 46% discount even if you are not a student — it works, whether you're a student or not. This is completely legitimate as you would see, but it requires a little patience. Some websites claim to be in partnership with Grammarly, beware of them as these so-called coupons and discounts might be subject to restrictions and limitations.
Grammarly student discount (method 1)
So how can you get the 46% Grammarly Student Discount? Follow these simple steps below:
Sign up for the free plan.
Continue to use the free plan which is good enough to get you started. It will detect errors and correct your mistakes.
After some days, Grammarly will start sending you weekly performance insight and reports like the screenshot below.
Keep your eye on Grammarly's email because you will receive a discount offer alongside your performance stats.
Take action immediately as it is valid for a limited time. You'll also receive promotional emails like the screenshot below.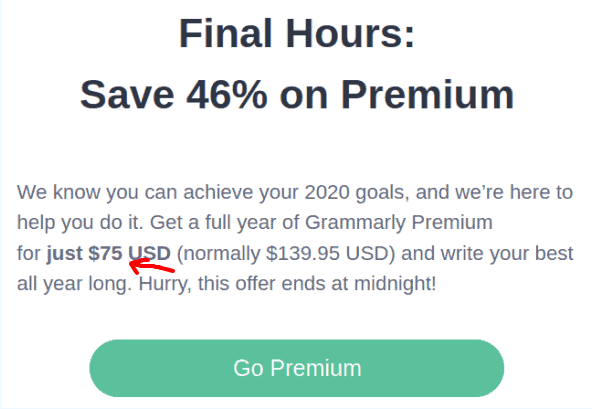 Click on Go Premium or Claim this Offer. Instead of paying $139.95 for the annual plan, you'll only pay $75 — a massive discount of over 40%!
After you sign up for the free version, Grammarly will periodically send discounts and deals offers to your email. During the last Black Friday and Cyber Monday, Grammarly was offering up to 50% discount.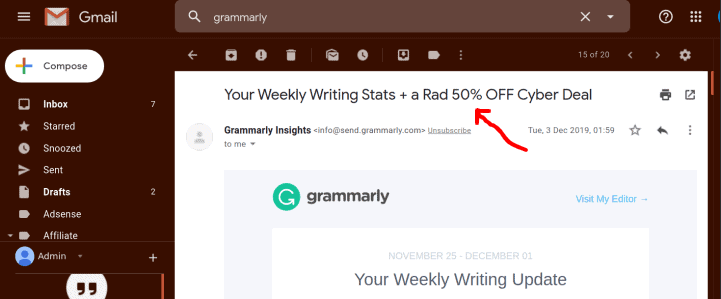 To get similar deals, signup for the free version and keep an eye on Grammarly's email.
Grammarly student discount (method 2)
The second way to get a student discount is through [email protected], which can save you between $40 to $80 per month on annual plans depending on the number of users in your group. More on [email protected] below.
Grammarly for education
There is a program named [email protected], specifically designed for educational institutions, teachers, and students. There are currently more than 1000 educational institutions using Grammarly online writing assistance and plagiarism tool for education.
[email protected] pricing plan depends on the numbers of users:
For more than 20 users, contact Grammarly directly to get a quotation. Each @edu plan comes with excellent 24/7 support.
The @edu plan is also recommended for startups or group of individuals and is cheaper compared to the business plan.
Grammarly premium free trial
As of today, there is no Grammarly premium free trial, there used to be a premium free trial through a referral program, but that was stopped due to reported abuse from users. As it stands, the only legit way to get a premium free trial is to request directly and present a convincing reason why they should allow you to try the premium version for free before you decide to upgrade or use one of the methods discussed above to get a discount.
If you are a writer, content creator, blogger, or influencer, proceed to Grammarly and make a request — your chances of getting a premium free trial is very high. Another avenue you can submit your request is through Grammarly's Twitter and Facebook page.
While getting the premium free trial is a challenge at the moment, the hope is that this is but temporary as Grammarly provides a better solution for users to try the premium version before deciding if they should upgrade or not.
Grammarly business review
Grammarly business can be used by both small and large businesses to manage their in-house content — designed to enhance team collaboration from social media posts to emails and documents. Grammarly business integrates with workplace third-party tools and apps such as Salesforce, Zendesk, Freshdesk, Slack, Google Docs, and more. Grammarly business comes with great features that include priority customer support, enterprise-level admin and user management controls, centralized billing system, analytics for monitoring team usage, and performance statistics. Large corporations such as Dell, Expedia, Cisco, and many more use Grammarly business for communicating effectively.
Grammarly business pricing
Grammarly business costs $25 for each member per month (limited to 149 members). The cost can be reduced to $12.50 for each member per month when paid annually (also limited to 149 members). There is an enterprise plan for unlimited team members.
Grammarly business free trial
The only way to get Grammarly business free trial is to first upgrade to the premium version. Check your email after two weeks, you will receive an email like the screenshot below which you can activate whenever you are ready by clicking on Claim My Free Trial: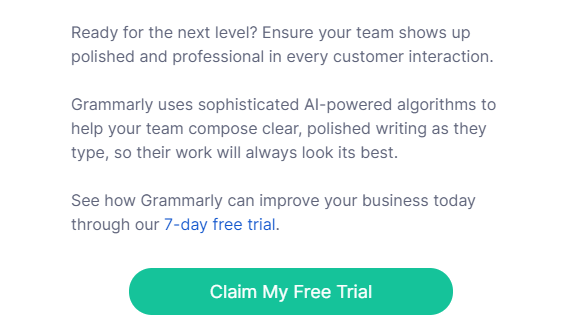 How to cancel Grammarly and get a refund
If you decide to upgrade to Grammarly premium and found out you don't like it, you can get a refund — but it must be within ten days of subscription. Go to the support page and submit a ticket. Below is a screenshot from Grammarly's term of service page dated August 19, 2019:
Customer support
Grammarly has a support team spread across the globe. Users can get 24/7 support from Grammarly's website through a request feature. If you can't find the answer to your need on their FAQs page, the system will prompt you to submit a ticket.
Is Grammarly safe?
The Grammarly software requires internet access in other to function best because it needs to connect to servers. Your transferred data is encrypted — according to Grammarly, it uses SSL/TLS encryption meaning your work is private and cannot be seen on the network. However, all internet data is susceptible to compromise. Internet safety is relative and cannot be 100% guaranteed in today's world. Personally, I've used Grammarly for years without any safety issues whatsoever.
How does Grammarly make money?
Grammarly makes money by operating on a freemium based business model, meaning there is the basic version that provides critical grammar and spelling checks which everyone can use for free, and a premium version which users will have to pay for more advanced features such as vocabulary enhancement suggestions, plagiarism detector, and more.
Is Grammarly worth it?
As a blogger that publishes volumes of content, I can't imagine writing without Grammarly. It fixes my errors, saves me time, and has improved my writing. If you are a student or a professional writer that wants to write the best possible content, then give it a try, you don't have to upgrade to the premium version yet– use the free version first and see the significant improvement in your writing. So yes, Grammarly is definitely worth it.
---
Grammarly Alternatives
These are the two best Grammarly alternative:
1. Ginger
Ginger is another handy grammar checker tool capable of correcting typos, improve writing skills, and boost productivity. It has a free Chrome plugin and mobile application to catch and fix grammar on the go. You can use it on Windows, Mac, Android, and iOS. Ginger offers so many features, including translation to over 50 different languages, sentence rephrases, text reader, and more. Pricing: Free to $4.99 per month when paid annually.
2. ProWritingAid
ProWritingAid is quite similar to Grammarly in terms of features and capabilities. It can correct grammar errors, add punctuation where necessary, and offer tone suggestions to help you write better. ProWritingAid works on Chrome, Safari, Firefox, and Edge browsers extension. Also, you can use it on Microsoft outlook, Word, and google docs. Pricing: Free to $7 per month when you pay annually. There is also a lifetime plan of $299.
Are you a student? Get 20% off ProWritingAid!
Grammarly review: Final verdict
We've finally come to the end of our Grammarly review! Should you use Grammarly? For free, It's a useful tool for proofreading, checking punctuation, and avoiding typos when working online, an all-round grammar tool that will detect any error in seconds and improve your work. I particularly love the level of functionality available in the free version, plus the wide range of integrations Grammarly offers.
It's always helpful to have great support tools for your work. Students and professionals who want to produce the best writing piece in emails and correspondence will benefit from the free version before deciding if they're going to upgrade.
Want to try Grammarly? Sign up for free here.
---
We put our readers first and carefully choose what products and services we cover. TechZerg is supported by its audience – when you buy through links on our site, we may earn a commission.
If you found this article helpful, you may also want to check out our other reviews as well as more helpful articles below.
Sign up for our Newsletter to get the best tech deals, product advice, helpful tips, and more! Follow us on Facebook, Twitter, LinkedIn, and Reddit.
---
About King Osaghae
King Osaghae is a technology researcher and writer who's been writing about tech-related topics and trends since 2018. He covers everything tech from computers to cameras to online business software. He is the managing editor at TechZerg, meaning that he oversees all the articles TechZerg produces.
---