TechZerg is reader supported. When you purchase through links on our site, we may earn a commission.
The most complete and easy-to-use podcast hosting right now is Buzzsprout. Its one-click distribution, multiple show hosting, private podcasts, and robust monetization options make Buzzsprout a great fit for beginners and established podcasters.
The second best podcast hosting is Captivate for its simplicity, storage, and industry-leading support. Ranking third and fourth positions respectively are Transistor, whose downright easy-to-use interface and built-in calls to action feature make it a really appealing option, and PodBean – a close third contender with impressive features such as unlimited hosting and private podcast.
---
The best podcast hosting platform is crucial when planning to start a successful podcast. A good podcast hosting site will help you grow your brand, build an audience faster, make it easy for you to manage your files, and share your content across the internet. But with many options out there, it can be difficult to decide which one to pick.
A number of these podcast hosting companies have been around for some time, while new ones are popping up all the time with similar features, making it time-consuming to choose the best one.
After thorough market research and diving deep into customer reviews, we decided to write this comprehensive overview to help you simplify your decision. The best podcast hosting platforms in this article were carefully researched, reviewed, and put together so you can choose only from the top options. Some of them are free, and others charge a small fee in other to provide better support and tools.
Some of the factors we took into consideration while conducting our research on each of the hosting platforms are the pros & cons, ease of use, price, third-party integrations, monetization, customer support, flexibility in file sizes, storage, uptime, and reliability.
Best podcast hosting platforms 2023
The competition to be crowned the best podcast host gets tougher every day, but some providers are clearly ahead of the pack, such as Buzzsprout – the hosting and monetization platform provides newcomers and podcast publishers with a robust set of options for them to manage and monetize their entire content in a very user-friendly interface. Buzzsprout is easily the best podcast hosting service out there at the moment.
Here are our picks for the best podcast hosting services:
Best podcast hosting – 90 days free plan, $12/month (plus a free $20 Amazon gift card)
Buzzsprout is our #1 recommendation. They are the best podcast hosting platforms for beginners, boasting a well-designed, easy-to-use dashboard. They've been around since 2009 and currently host some of the world's top podcasters.
If you are just starting, Buzzsprout should be at the top of your list for podcast hosting; you can use it for free the very first time with no upfront cost. Plus, their free plan allows you to upload up to 2 hours of content each month and host for a whopping 90 days. They have three paid plans ranging from $12 to $24 per month; all plans include unlimited storage and 250GB of bandwidth, which covers between 20,000 and 40,000 episode downloads per month (this is more than enough, especially if you are just starting). Buzzsprout is highly endorsed and recommended by many podcasters.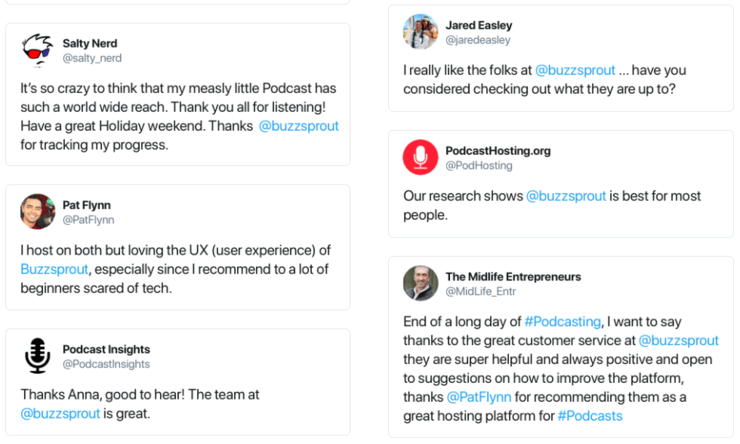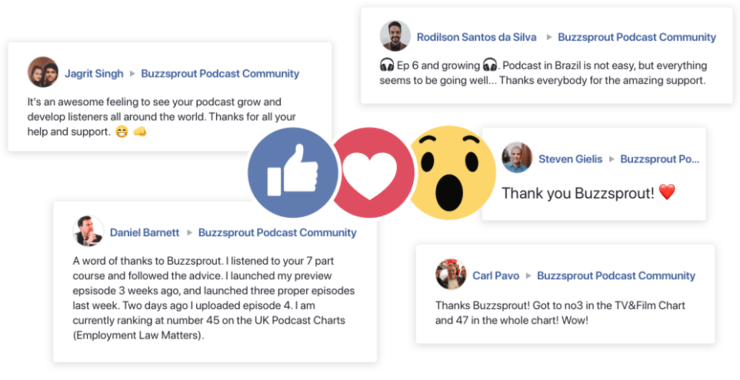 Buzzsprout is incredibly easy to use — once you upload your media file and change the episode title and description, they are automatically optimized and submitted to all important podcast directories upon publishing.
If you don't want to spend extra money to create a website for your podcast, then Buzzsprout can make one for you. They will make a mobile-friendly podcast website in which you can customize its design and use your custom domain name. If you are using WordPress — Buzzsprout has a WordPress podcast plugin that can easily pull your episodes from Buzzsprout straight to your website.
Additionally, you can easily embed a podcast player to your very own WordPress website – thanks to their free WordPress integration plugin, all you need to do is add a snippet of code to your site. The Buzzsprout Wave podcast player can also work with Wix, Squarespace, and other content management systems. You can choose whether to feature just one podcast episode or a playlist of episodes. You also have the choice to filter multiple episodes by tag, guest, or past episodes.
Buzzsprout easy to use analytics dashboard has a helpful algorithm feature that shows you detailed stats to understand your audience, including the number of impressions and listeners for each episode, what apps your listeners are using, and their various countries.
Another benefit of using Buzzsprout as your podcast host is that you can easily schedule the day and time you'd like each podcast episode to go live. Buzzsprout is also one of the very few podcast hosting platforms with built-in transcription integrated directly into their dashboard; you can quickly transcribe your podcast episodes ($0.25 per minute) — making it more accessible to search engines such as Google and people looking for content like yours.
If you are currently with a different podcast hosting company, switching over to Buzzsprout is easy — just enter your existing feeds URL, and they'll import all your podcast episodes for you. Their stellar customer support is always at your service 24/7 to help you with everything you need to create, upload, promote, and track your podcast without any technical knowledge.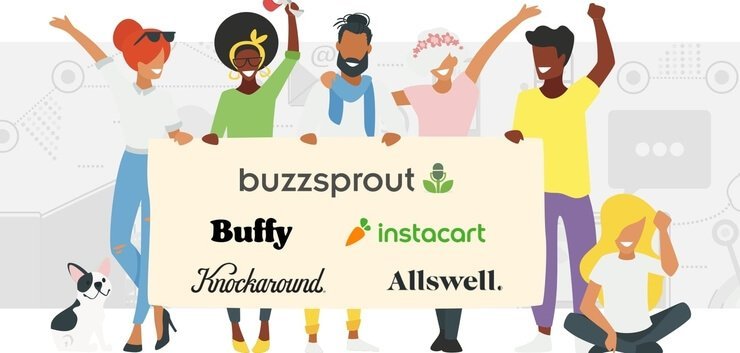 Another advantage of using Buzzsprout is that you can monetize your podcast with great brands they've partnered with. Their affiliate marketplace makes it easy for you to generate income with your podcast episodes even if you are just getting started.
Buzzsprout also works with leading third-party tools to save you time and simplify your work. Some of the tools Buzzsprout can integrate include Chartable, Alitu, Podtrac, Hindenburg, and more.
With Buzzsprout, you can create as many podcasts as you like under the same account. You can also add unlimited team members to manage your podcast (admin or editor access levels).
TechZerg readers will Get a free $20 Amazon gift card when they sign up. Your bonus will be sent to you if you stay for 2 months. You can use Buzzsprout hosting free for 90 days.
Buzzsprout also boast of other great features some of which include:
Chapter Markers: This great tool allows you to outline each chapter of your audio files and makes it easy for your listeners to see, understand, and navigate sections of your episode. They can also select segments of your episode that's most exciting to them.
Video Soundbite: With this simple tool, you can create a 'short video trailer' based on your podcast episode to share on social media sites like Facebook. This great feature makes it easy to attract clicks and views from the internet. You can also set your start time and duration, select the size, customize the colors, text, and artwork to fit your brand.
Magic Mastering: This is an advanced tool that Buzzsprout uses to optimize your audio files automatically. It will help you level out noises and correct volume differences, thereby saving you much needed time to focus on creating great content.
Podcast app (Android and iOS): Buzzsprout not only creates a podcast website for you but can also create a mobile app for your podcast. Here is how it works: while you were creating your Buzzsprout podcast website, Buzzsprout automatically created a mobile version built to look and work like a regular app without you doing anything!
Creator Program: This is a platform created by Buzzsprout to help podcasters grow their brand and influence. All podcasters in the program will get a free podcast hosting, one yearly conference ticket, monthly allowance, and more. You can apply to join the program if you can publish a minimum of two podcast episodes per month, and your episodes get at least 500 downloads within the first 30 days.
Ultimately, with these great features and the fact that you can simply start for free for 90 days, makes Buzzsprout our #1 choice. You can cancel anytime due to their month-to-month pricing feature. They are also one of the very few podcast hosting services constantly coming out with new features and updates.
Buzzsprout pricing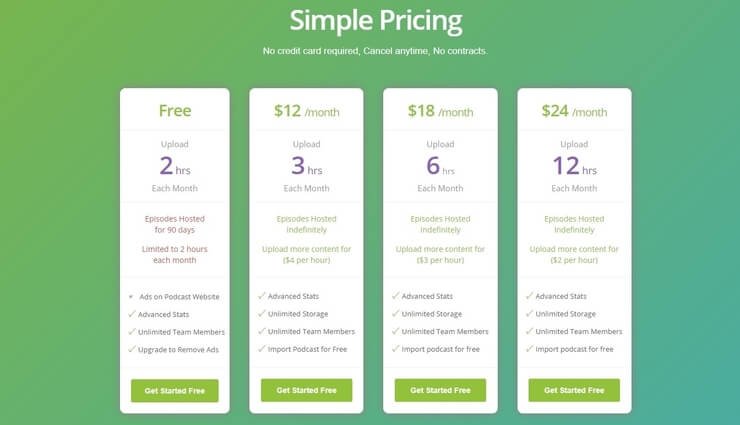 I will recommend their $24/month plan which allows you to upload 12 hours of content each month, saving you money. There is also an $18/month plan which lets you upload 6 hours of new content each month. All your podcast episodes are hosted indefinitely as long as you're on any of the paid plans. Plus, you get a free $20 Amazon gift card when you sign up for one of their paid plans.
---
Best podcast host for audience growth and marketing ($19/month – 7 days free trial)
Captivate.fm is a brand new platform with a particular focus on helping podcasters grow their audiences. Captivate was launched in 2019 by Rebel Base Media, the same industry heavyweights behind Podcast Websites. You can tell just by looking at their dashboard that they carefully considered everything they've learned over the years in the podcast industry. I've been so impressed by their fast growth, great features, and customer feedback.
Every plan comes with an unlimited number of podcasts, unlimited team members, advanced analytics, marketing tools, and a new podcast player.
Captivate boast of some standout features such as their built-in podcast player calls to action, which you can add anywhere you want on your embed player. You can use it to build up your email list quickly, generate new leads, embed sponsor links, receive donations to your Patreon and so much more, This simple feature allows anyone listening to your podcast to easily sign-up directly to your email list via an opt-in form. All plan comes with a customizable, mobile-friendly website plus built-in donation support and the ability to add Facebook pixels or Google Analytics.
One of Captivate's latest features is the Sponsor Kit, which makes it easy for you to partner with potential sponsors — just enter your audience avatar, and it will automatically create a PDF with your latest episodes, download stats, contact info, and social media. Switching from another podcast host is very easy with their simple import tool.
They also have a WordPress plugin called CaptivateSync that auto-publish new episodes to your WordPress website. What's even more captivating is you can publish episodes from your WordPress dashboard and they will sync to your Captivate dashboard!
Their analytics dashboard shows you insightful details and stats to monitor the performance of your episodes such as listeners device & app stats, downloads each day and over time, listeners' location info, and more. All of which are made possible through their partnership with the Interactive Advertising Bureau (IAB).
One area where Captivate stands out compared with other podcast hosting platforms is in its marketing section. Their podcast marketing tool allows you to automatically generate links with buttons to apps like Pocket Casts and Overcast, which helps new subscribers find your show easily.
Captivate.fm pricing
Captivate has three paid plans you can choose from depending on your monthly download. All plans have a 7-day free trial:
Podcaster Plan: 12,000 downloads per month ($19/month).
Audio Influencer Plan: 60,000 downloads per month ($49/month).
Podcast Brand Plan: 150,000 downloads per month ($99/month).
With a very easy-to-use interface even for a complete beginner, great marketing features, and simple pricing plans to help you scale, Captivate is no doubt one of the best podcast hosting platforms to consider.
---
Best hosting for private podcasting and analytics – $19/month (2 months free on annual plans) – 14 days free trial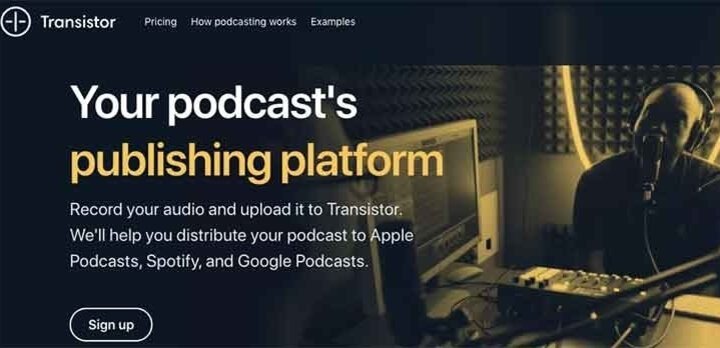 Transistor.fm is no doubt one of the best podcast hosting platforms out there in 2023 – a company that prides itself on being the all-in-one hosting solution for podcasters. They provide all the tools and support you need to grow your audience. Though relatively new (founded July 2017) compared to the other hosting sites on this list, they are growing very fast and currently host some of the biggest podcast shows including Business Dad by Alexis Ohanian (co-founder Reddit), Honeybadger, Laravel, and Cards Against Humanity just to name a few.
One of the main selling points that accounted for their fast growth is unlimited hosting plans; they let you host multiple podcasts on one account for the same monthly price. They don't charge you for hours of upload as some other hosts do; instead, their pricing is based on the number of downloads.
Transistor also has some fantastic hosting features depending on the hosting plan you choose:
Private podcast: One of the great features of Transistor is its private podcast feed feature. Private podcasting is an effective way to give a select number of people access to exclusive podcast feeds; it's like creating a 'special premium podcast content' or an 'advertising-free feed' that your true fans are willing to pay for. A private podcast can also be used by organizations to send weekly podcast messages to employees. Transistor is one of the very few that does services that offer this feature.
Analytics: The Transistor's analytics tools stand out above every other platform on this list.
Transistor.fm in-depth analytics dashboard provides you with rich data and various stats on how each of your podcast episodes is performing, including the average number of downloads weekly or monthly. You also get to see the number of people who are subscribing to your podcast.
Another excellent Transistor's analytics feature is the listener's breakdown of your podcast; you can see your listener trends and most popular episodes in the last day, month, or year. You can also see which location your listeners are from, the percentage in each country and which app they are using to listen to your podcast — the Podcast Player chart will show you if most of your listeners are using Google Podcasts, Apple Podcasts, Web player, Spotify or any other app player. You can export all of your data as a CSV file to Google Sheets, Microsoft Excel, or Apple Numbers.
Other Transistor features include:
Create unlimited podcast shows: Transistor allows you to experiment and host multiple shows with no added cost — the pricing is the same regardless of how many podcasts you have. Creating multiple podcast shows will allow you to express the different verticles of your ideas and try out new concepts. You can also easily double or triple the number of listeners to your podcast shows each month.
Invite additional team members: You can add other team members with different levels of admin access, control, and privileges — to collaborate and manage your podcast.
A brand new website for your podcast: If you don't have a website, Transistor can quickly create one for you — that updates automatically on its own every time you add a new episode. Furthermore, websites on Transistor can easily integrate with email providers such as Drip, ConvertKit, and MailChimp — making it easy to collect email signups right from your podcast's homepage and episode pages.
Embed your podcast on your website: Their embeddable audio player makes it easy to add each of your podcast episodes to your website, landing page, or in a tweet.
Podcast distribution: Transistor makes it incredibly easy to simply upload and distribute your show on social media and all the major podcast directories upon publishing.
Additionally, if you are currently using another podcast hosting platform and would like to switch to Transistor, you can import your existing feed with their simple migration tools. Transistor also allows you to automatically add your Patreon link to your podcast's show notes.
Another feature worth writing about is the recently released multi-episode player, which allows you to showcase your past episodes — you can showcase your recent episode alongside your last 25 episodes, thereby enticing your audience with your older episodes, which increases downloads and brand loyalty.
Transistor.fm pricing
Starter hosting plan ($19/month): Limited to 10,000 downloads per month, unlimited podcasts, 24/7 support, a website, analytics, and 2 team members.
Professional hosting plan ($49/month): Limited to 50,000 downloads per month, unlimited podcasts, 24/7 support, a website, analytics, 5 team members, 1 private podcast, allows up to 500 private subscribers (per podcast).
Business hosting plan ($99/month): 150,000 downloads per month, unlimited podcasts, 24/7 customer support, a website, analytics, 10 team members, 3 private podcasts, and up to 1000 private subscribers (per podcast).
The good thing about Transistor hosting plans is it allows you to scale your podcast as your audience increase based on the number of your downloads. You can start with the Starter plan and upgrade as you grow.
---
Best host for unlimited storage and video podcasting – $0/month (free forever) – First month free on paid plans ($9/month)
PodBean is the #4 best podcast hosting platform for many good reasons, you can start for free and it's always free – you don't have to pay if you don't need to. They provide hosting services for individuals and enterprises alike with unlimited hosting plans and unlimited bandwidth.
PodBean has been in the podcast hosting space since 2006 with over 450,000 podcasters in almost every niche hosted on its platform, they've managed 11 million podcast episodes with more than 7.2 billion downloads. They are one of the oldest platforms with consistent growth and result.
PodBean dashboard is easy to use without the need for any technical knowledge; they make it simple for you to create and manage your podcast, the best part is you can get started for free — their free plan allows you to upload up to 5 hours of content per month, limited to 100GB of bandwidth per month.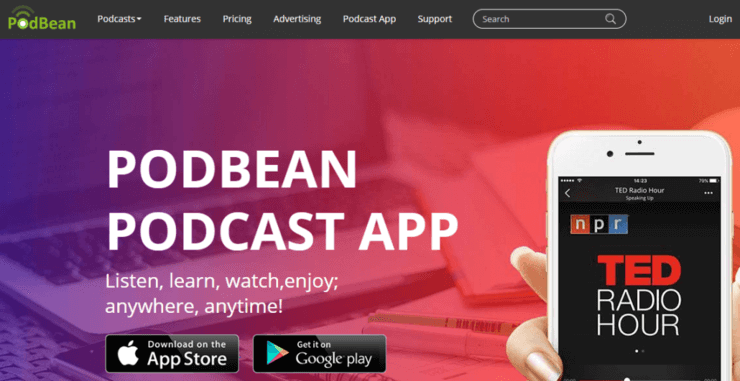 All PodBean plans, including the free plan, comes with an iPhone/Android app that allows your listeners to connect with you on the go, you can also manage your podcast episodes using the app. You also get a free professional-looking website — choose from a large selection of beautiful well-designed themes and customize it to fit your brand. You can also embed the Podbean podcast player directly to your website. The free plan also allows you access to RSS feed and some basic podcast stats.
Additionally, you get 24/7 support and can promote your podcast episodes on major directories such as Google Podcasts, Spotify, Apple podcasts, and Amazon Alexa. Switching over to Podbean can be done in one click without impacting your existing subscribers and reviews.
To get more advanced features, you would need to upgrade to their paid plans starting at $9/month. With it, you get unlimited storage and unmetered bandwidth of audio podcasting. This plan also lets you make money from your podcast with sponsored ads, which is one of the best ways to run a profitable podcast.
If there's one thing PodBean is exceptionally good at, it's making money for podcasters hosted on their platform. Their advertising marketplace makes it easy to start generating revenue from programmatic ads campaigns even as a beginner. They also have a premium sales program that allows you to get paid for your content through single-episode sales or subscriptions; you can set this up on your Podbean dashboard with just a few clicks, they will handle payments and every technical support you may need.
If you want to run a professional podcast show with great tools to support you, I will recommend the $29/month unlimited plus plan. This plan has much better features than the unlimited audio plan of $9/month. Along with audio hosting and storage, you also get unlimited video hosting and storage. The unlimited plus plan also allows for a Patreon program to accept recurring revenue from loyal listeners so you can continue to deliver great podcast content without financial constraints.
Another PodBean unlimited plus feature is PodAds, a nifty SaaS tool that allows you to use PodBean's ad insertion technology to add sponsored ad campaigns into your podcast episodes. This simple ad insertion tool has helped podcasters hosted on PodBean to monetize their content faster.
PodBean also has promotional tools that automatically post your podcast episodes to all top directories and social networks such as Facebook and Twitter. They can create video versions of your podcast for you to use on Youtube, Facebook, and more. Once you sync your YouTube channel with PodBean, your episodes will be auto-uploaded to your Youtube channel.
Other excellent PodBean features include its Mailchimp integration, which allows you to collect email addresses and automatically post your episodes to your email list. Another great feature worth mentioning is the PodBean Alexa skill that automatically posts your new episodes on Alexa devices.
PodBean comprehensive analytics dashboard gives you all the information you need to track how each of your podcast episodes is performing. It tracks the numbers of downloads you have, your top 10 most successful episodes for different dates, the location of your listeners such as which countries they are from, and other relevant insights that allow you to target specific sponsors and more.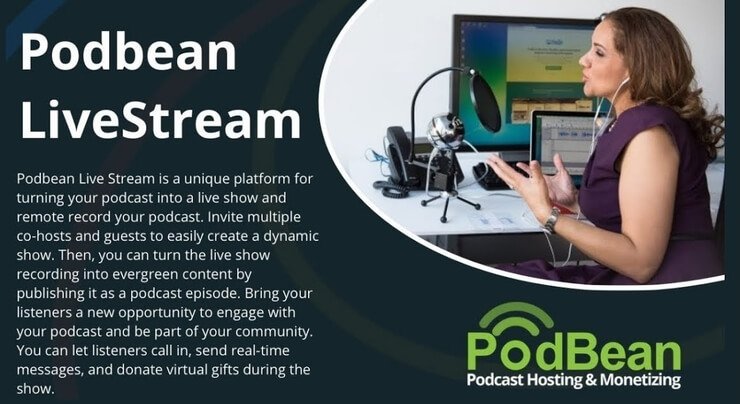 Additionally, PodBean has a live streaming feature you can use to engage your audience with live audio shows – your listeners can message and call-in to your live shows, Also, you can have a co-host or guests on your live stream call in remotely from any location. Make money by selling or receiving virtual tickets or gifts through your live stream. You can redeem these virtual gifts for US dollars.
Before I conclude on PodBean, I will like to touch a little bit on their Enterprise solution specifically built for large businesses and organizations. They currently have top corporations like J.P.Morgan, Stripe, DHL, IBM, University of Virginia, Red Hat, and many more hosted on their platform. The Enterprise plan comes with a premium CDN network, Private Podcast with SSO authentication, 99.9% uptime guarantee, unlimited storage, and bandwidth plus so many valuable features worth checking out if you are a business that's looking to branch out into podcasting. Pricing starts from $99/month.
PodBean pricing
Overall, these great features coupled with the free forever plan and the fact that you can get your first month for free on paid plans make PodBean one of the best podcast hosting platforms.
---
Best podcast hosting for WordPress – $19/month (2 months free on annual plans) – 14 days free trial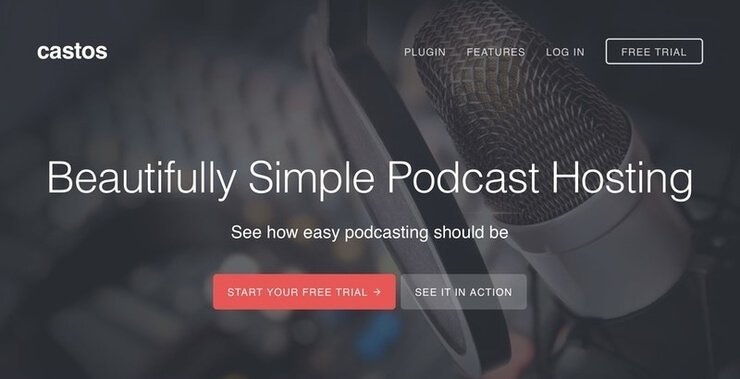 Castos is one of the very few podcast hosting services that offer unlimited storage, bandwidth, downloads, private podcasting, and the ability to host an unlimited number of podcasts on the same account even on its lowest pricing plan, which I found pleasantly surprising!
They own a popular podcast enabled plugin that works seamlessly with WordPress, known as Seriously Simple Podcasting plugin, which is currently being used by over 21,000 podcasters.
The plugin allows you to set up Castos hosting on your website. If you have a WordPress website, all you need to do is simply install the plugin. From then on, you can upload your audio file, type in your description, and publish your episodes directly from your website without logging into Castos.
Additionally, Castos does have a YouTube republishing feature available on the growth and pro pricing tiers. This great feature transforms your podcast episodes into nice-looking videos and auto-publish them on Youtube for you. All you need to do is a one-time easy setting. After that, anytime you publish your episodes, Castos will automatically convert them to videos and post on Youtube with your thumbnail as the image background or upload a personalized image.
Other Castos features include a beautiful unique webpage for each podcast episode, in-depth analytics, and automatic transcriptions ($0.10/minute) to enable this; you need to subscribe to the transcription feature available at the integrations section of your dashboard. You can either download the transcription as a PDF or copy and past it into your WordPress.
Castos pricing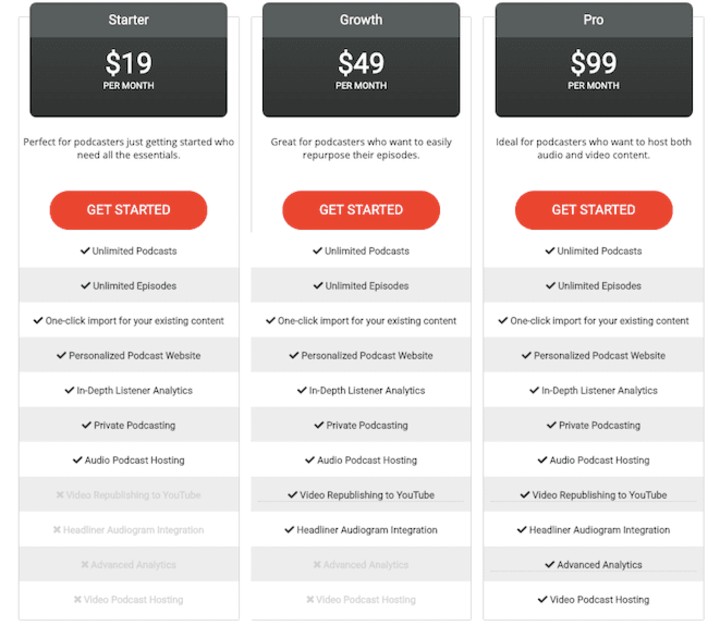 The starter hosting plan ($19/month) is best if you are just starting. The growth hosting plan ($49/month) is great for podcasters who would like to repurpose their episodes on other platforms like Youtube. The higher tier plan is the Pro plan ($99/month) which allows for a Video podcast.
If you're looking for a podcast hosting platform that will integrate seamlessly with your WordPress website, look no further than Castos.
---
Best slick and easy-to-use – $15/month (50% Off first 2 months with promo code: ONSIMPLECAST) – 14 days free trial
Taking the #6 spot in our best podcast hosting charts is Simplecast, an established platform founded in 2013, they currently host some of the biggest brands in the world including Shopify, Slack, Facebook, HBO, Target, Nike, and Twitter just to name a few.
Simplecast has a very clean, well designed, and easy-to-use interface with features and tools to help you grow your podcast. You can start for free for 14 days to get a feel of what they offer and take advantage of the special offer for our readers by using the promo code ONSIMPLECAST for 50% Off your first two months on Simplecast. All plan comes with a mobile-friendly HTTPS secure website, web players, advanced analytics, one-click publishing to Apple Podcasts, Google Podcasts, Spotify, Stitcher, and many more.
One impressive feature they have is their Recast tool, which allows you or your listeners to create, schedule, and share short clips of your podcast episodes on social media.
Other great Simplecast features include unlimited storage, unlimited uploads, and the ability to have multiple podcast managers under one account.
Simplecast pricing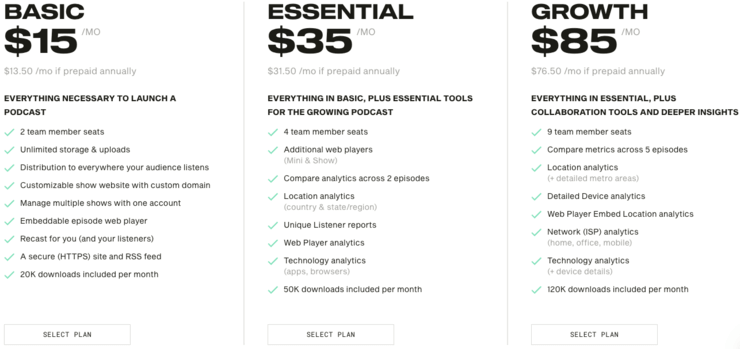 Basic hosting Plan ($15/month): Unlimited storage and uploads, two team members, customizable website, 20,000 total monthly downloads, an embeddable web player, and email support to get you started.
Essential hosting Plan ($35/month): All the features in the basic plan, plus two additional team members (4 in total), 50,000 total monthly downloads, additional web players, location and technology analytics.
Growth hosting Plan ($85/month): All the features in basic and essential plans, plus five additional team members (9 in total), ISP analytics, detailed metro area location and device analytics, 120,000 total monthly downloads, and the ability to compare stats with previous episodes.
Simplecast just updated the look of their entire platform and brand, along with plenty of new features. They are definitely on their way to becoming the best.
---
Fabulous option with WordPress features – $12/month – Your first month is free
Blubrry is a platform built by podcasters for podcasters, they've been in the space since the early days, 2005 to be precise — providing quality hosting to thousands of podcasters. They are also known for developing the free and easy to use PowerPress plugin rated as the #1 WordPress plugin for podcasters, with over 100 features and more than 75,000 active installs.
Despite the big names in the market, Blubrry stands out success has been mainly due to its excellent WordPress plugin. The feature-rich plugin which allows anyone to run a podcast from their website — is continuously being maintained and optimized to run a successful podcast. You can install in one click great features including website and feed SEO, migration/import, video and audio media players, iTunes and Google Play compliant, MP3 tagging, and more.
All Blubrry hosting plan comes with advanced stats, modern web player, 24/7 support, a WordPress website, and a lot more.
Blubrry pricing
Blubrry has five different pricing plans — all plans including the cheapest one at $12/month comes with unlimited bandwidth and 100MB of storage. If you want video capabilities and more storage space anywhere from 250MB to 1,000MB/month, you'll have to upgrade to one of the higher tiers ranging from $20/month to $80/month. For unlimited storage, you can upgrade to their professional plan.
---
90% off the first month on any plans
Spreaker is a podcast hosting provider that has been around since 2010, boasting impressive standout features compared to most hosting providers on this list.
Spreaker allows you to record podcasts with their Spreaker Studio App (available on mobile and desktop versions), and to distribute, manage and monetize your podcast – for us, the CMS (Content Management System) is where Spreaker stands out more!
On the recording side, one of their best features is the ability to conduct a live podcast, allowing you to interact with your listeners live and direct with chatbox included – without any third-party integration.
In regards to distribution and monetization, their easy-to-use Content Management System is another aspect where Spreaker stands out from the competition. The interface is super user-friendly, and you don't need to be a geek to easily upload and manage your audio content. The distribution feature allows for automatic distribution of your episodes to all the major listening apps, like Apple Podcast, Spotify, iHeart Radio, and more, as well as social media networks like Youtube, Twitter, and Facebook. That's right! People can listen to your episodes even on Twitter, isn't that cool? No worries, those listens will count in your stats dashboard.
Spreaker have been kind enough to offer a 90% discount on any of their plans to our readers, including On-Air Talent, Broadcaster, and Anchorman plans for one month. When you use our link, the 90% discount for one month is automatically applied!
Spreaker is one of the few hosting providers that allow you to have multiple podcasts under the same account – as long as you are under the limit of audio storage. Plus, if you are on a paid plan you can easily monetize your podcast with dynamic ad insertion. The monetization happens across all the listening platforms and ads can be inserted even in your past episodes, in case you decide to migrate your existing podcast to Spreaker.
Private episode sharing, which can be a powerful source of monetization for your show, is also possible if you decide to go with the Broadcaster plan.
If you are a big podcast network or a big publisher, you can even access their Campaign Manager and host unlimited hours of audio in the Publisher plan.
Spreaker pricing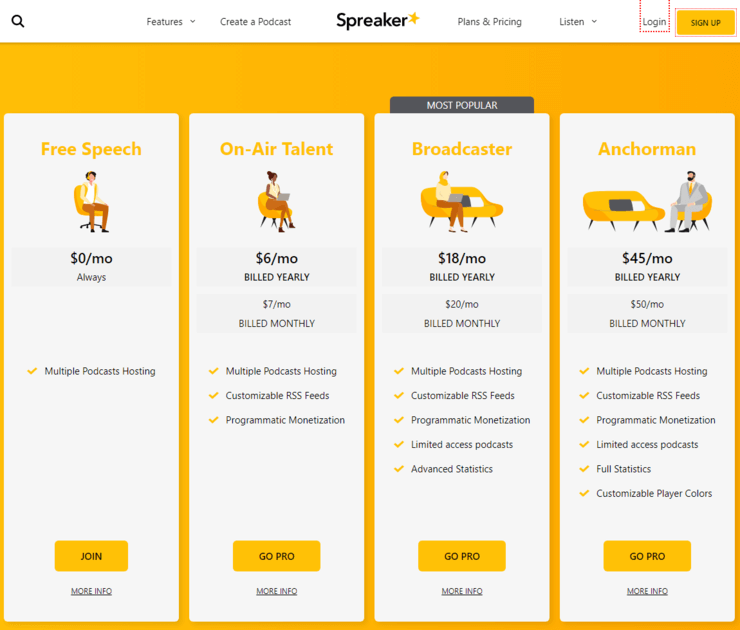 As an added bonus, all TechZerg readers will get a 90% discount on their first month completely free on any plans.
---
$9.99/month – 10 days free trial
RSS.com is a podcast hosting platform that promises easy setup in "One click and you'll be up and running in 3 minutes." It has a simple interface that's intuitive and fully customizable with multi-language support. If you're a first-time podcaster, you'll find RSS very easy to use.
They make it super easy to publish an episode by simply uploading it via a web browser, just like an attachment.
In addition to offering access and support to launch your first podcast, it automatically generates and updates your podcast feed. You also get a website that includes your latest episodes, an archive, plus a streaming media player.
RSS comes with unlimited storage space and a 10-day free trial, after which you can upgrade to its simple plan, starting at $9.99 per month.
RSS is highly recommended for anyone just getting started, and you can start for free.
---
Podcast Websites is owned by the same team behind Captivate. They provide everything you need to launch a professional podcast the right way.
Their hosting package includes a fully responsive WordPress website, web hosting and security, free domain, email address, SSL certificate, SEO support tools, built-in statistics, daily backups, unlimited and unmetered hosting, unlimited monthly visits, unlimited team members, built-in RSS feed, daily support with telephone follow-up if needed and much more.
Podcast Websites have some powerful plugins that can simplify your workflow and help you engage your audience better. If you want to run a successful podcast and grow as fast as possible while someone else takes care of all the technical support required to scale quickly, then look no further than Podcast Websites.
As a Podcast Websites member, you will get comprehensive learning support from their podcast academy to help you grow and scale quickly. You'll have access to video tutorials, a support community with like-minded podcasters, monthly academy sessions featuring the best and most successful marketers and podcasters, plus more.
Additionally, Podcast Websites has a powerful drag-and-drop website builder you can use even without having any previous design skills. The builder has beautiful mobile-friendly designed themes that are unique to podcasters and easy to change in one click. Also, you can quickly and easily create landing pages whenever you need to market your episodes.
Their simple email feature makes it easy to build your email list with built-in integrations to all the top email service providers, including Click funnels, Convertkit, Mailchimp, Infusionsoft, Aweber, and more.
Podcast Websites pricing is straight forward simple with just one premium tier at $97 per month or $77 per month if paid annually (save $240 over the year).
---
Best free podcast hosting for 2023
Buzzsprout
PodBean
Squarespace
Spreaker
Podomatic
Soundcloud
Libsyn
Audioboom
Anchor
There are many options to choose from if you're tight on budget and would prefer to host your podcast for free, at least in the beginning stages. The major downside with most free podcast hosting is that they come with limited features and functionality.
Free podcast hosting often comes at a cost in terms of the support you get, the quality of tools at your disposal, your creative freedom, and brand promotion. Your upload hours and bandwidth are very likely to be limited. Also, advanced stats and opportunities to make money with your podcast could be restricted until you upgrade to a paid plan. In most cases, a free hosting means file hosting, RSS feed, and some other limited features sufficient enough to start a new podcast.
The good news is there is no risk hosting your podcast for free, at least in the early stages of your journey. A free hosting plan or trial can also help you get your feet in the door. With many entry host tiers priced between $10 to $20 per month, you can always upgrade as time goes on, and your podcast outgrows the free hosting levels.
Here are our picks for the best free podcast hosting platforms: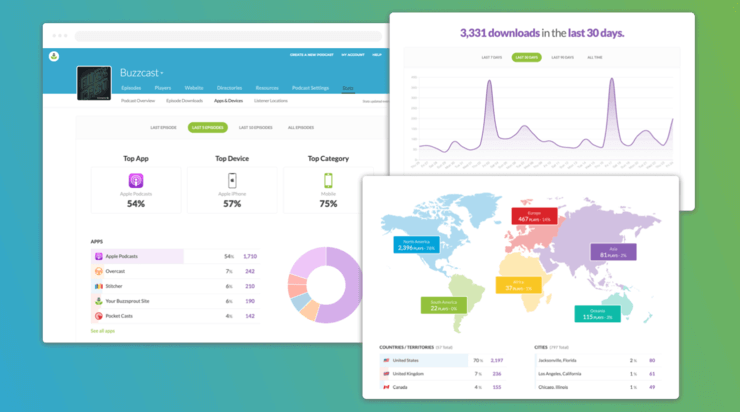 Taking top honors in the best free podcast hosting charts is Buzzsprout, their free plan allows you to upload 2 hours of content each month. You can host your podcast for up to 90 days. You also get a feature-rich dashboard with advanced stats to track your listeners. Additionally, you can add unlimited team members and also add your episodes to all the major podcast directories. No credit card is required to start for free on Buzzsprout.
Another excellent feature of Buzzsprout is the notification of how much upload time remains on your plan.
---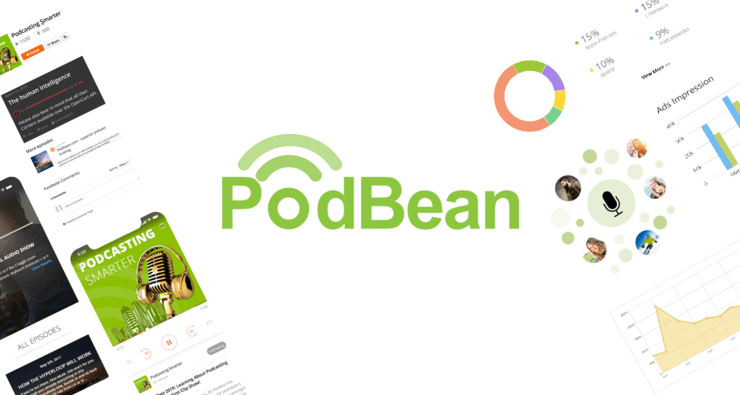 PodBean is one of the best hosting sites to start a podcast for free. Their forever free hosting plan offers you everything you need to get started. Features you get with the free plan include 5 hours of storage space and 100 gigabytes of bandwidth per month, some basic stats to track your audience, support for mp3 file format, embeddable Players, RSS feed, a website, and an iPhone/Android app. You can use their free plan as long as you want or upgrade to one of their paid plans as your podcast grows.
---
Squarespace is one of the best content management systems and a reliable website builder. You can also use it to create, host, and manage your podcast. Though not technically free, if you are already using it to host your website or blog — you can easily add your podcast for free.
Podcasting is not a core feature in Squarespace. Still, you can host your podcast (using a blog page), and they also provide you an RSS feed that lets you publish your episodes to Apple/iTunes Podcasts and other subscription and distribution services. To create an episode, simply add audio blocks to a blog post (upload limited to 160 MB). Read on Squarespace for more details.
Squarespace Pricing
The Personal starter plan of $12 per month should be enough for your podcasting plans. They do offer a 14-day free trial that hosts podcasts, but you won't be able to submit to Apple Podcasts unless you upgrade. Also, note that Squarespace does not offer support for video podcasts.
---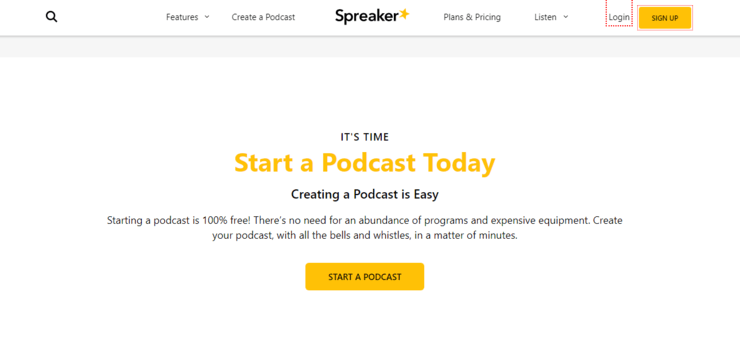 Taking top honors in the best free podcast hosting charts is Spreaker, their 90% off podcast hosting plan for the first month stands out as the best free option on this list. They previously offered a free podcast hosting plan for as long as you want with features like 5 hours of free storage and unlimited bandwidth each month, 15 minutes of live podcast streaming in a single session, scheduling, embedded Player, RSS Feed, iTunes Support, downloads and listeners stats. Additionally, you could host multiple podcasts on the free plan – but they ended the offer and now offers a 90% discount on all plans for the first month. Spreaker offers four different plans that allow you to upgrade as you grow.
One of the reasons why they are promoted as the easiest host to start a podcast for beginners is mainly because of how easy it is to upload and publish an episode. You can easily publish your episodes within minutes of uploading or schedule them for days or weeks in advance.
With thousands of episodes currently hosted on their platform, you can't go wrong starting your podcast journey with Spreaker.
---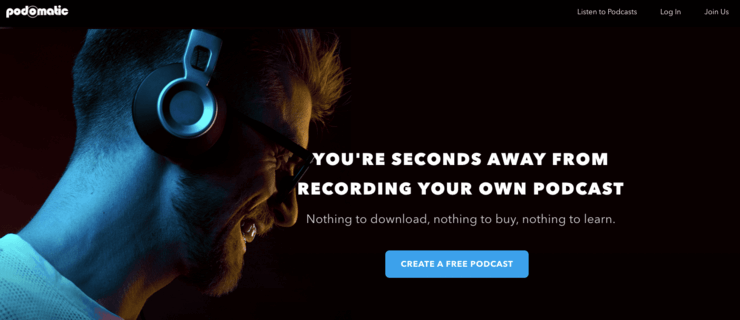 Podomatic is another podcast hosting company that lets you record, upload, and promote your content for free. One great feature they have is the ability for you to make money with your podcast through advertising and crowdsourcing — made possible through their partnership with Patreon. You can earn money directly from your supporters and podcast ad network, Advertisecast.
Podomatic can also access your computer's camera and mic, allowing you to easily record without the costs of expensive podcast tools and equipment.
Additionally, Podomatic has social sharing options that can help spread your podcast across the world. With the social sharing tool, your podcast can be played directly on Facebook and Twitter feeds; you can also embed your content on any other social media network or your website. If you don't want to venture into WordPress, Podomatic has a partnership with Weebly to help you create a website and a free podcast app for iOS and Android. Podomatic free basic plan is limited to 15GB bandwidth per month and a 500MB storage. Pricing: Free to $20.82 per month.
---
SoundCloud is the largest music and audio hosting site with thousands of content hours uploaded to its platform every day and an incredible 175 million unique visitors each month. It's a massive audio hosting platform that can also host your podcast for free, but you're going to be very limited with the tools they offer. Their podcasting features looks more geared towards music and seem more like an afterthought.
With Soundcloud hosting services, you get an embedded player, Twitter cards, and 3 hours of content per month with basic stats such as likes, reposts, comments, plays, and downloads (no access to stats for top listeners, countries or cities, no RSS and third-party apps).
If you want more features such as unlimited upload time, embed controls, priority support, Pro badge, and many more, you'll have to upgrade to Pro Unlimited plan for $144 per year. Pricing: Free to $16 per month ($12/month when paid annually).
---
Other podcast hosting platforms and services to consider
Here's a look at some alternative podcast hosting options which are worth considering:
Libsyn, short for Liberated Syndication, is one of the largest podcast hosting services, they've been around since the early days of podcasting, launching in 2004. They were the official podcast launch partner for popular brands like Pandora and Spotify, just to name a few. Their website and dashboard aren't the easiest to use, especially for new podcasters, but they do make up for their user interface with excellent customer service. Their monthly storage ranges from 50MB (approx 50 minutes) to 3000MB, depending on the pricing plan you are on. Libsyn has six pricing plans starting at $5, going all the way to $150 per month.
Audioboom is a popular platform that lets you host, distribute, and monetize your podcast. You can easily monetize and make money from your podcast content (Once you surpass 10,000 plays per episode) thanks to their dynamic ads/sponsorship expertise, technical support, and production know-how. Some of the features they offer include advanced analytics by device and regions, embeddable players and social media integration, unlimited podcast episodes, a web page, and many more. Audioboom pricing starts at $9.99 per month.
Anchor is a well-known and easy-to-use podcast service that believes hosting costs should never be the reason you don't have a podcast. They disrupted the space by offering unlimited free podcast hosting. However, its free hosting has some restrictions and trade-offs you should consider, such as poor customer support, limited marketing, automated features with little control, lack of video hosting capabilities, and other restrictions worth looking into if you are serious about growing your podcast.
Honorable mention: Wix Podcast Player
Wix is mostly known to be a website builder, and they also offer plenty of apps you can choose from to transform your site. One of these apps is the Wix Podcast Player, which is free to use if you already use their platform.
The Wix Podcast Player is not a traditional podcast hosting platform; it's a player that can connect your website to any of the major hosting platforms using RSS feeds — giving you the ability to stream and showcase your podcast on your website. All you need to do is enter your RSS URL and the player will populate the playlist with your episodes, images, descriptions, etc.
What is a podcast?
A podcast is a series of media files bundled into a single file. Each podcast episodes are large files that require lots of bandwidth and storage space.
What is podcast hosting?
Podcast hosting is a specialized service that stores and distributes your podcast's episodes. Hosting providers upload your audio files and generate a podcast RSS feed, which you submit to directories such as iTunes/Apple Podcasts, Google Podcasts, Spotify, TuneIn, etc. This will allow users to discover, subscribe, and listen to your show.
The best platforms, however, provide much more than just a place to host your podcast — they also offer support services such as social sharing options, advanced analytics reports, technical support, marketing tool, unlimited bandwidth, and more. Most of them also support you with a free website and domain.
In summary, having a good podcast host can make a big difference in the long run, especially if you are just starting.
Which is better Podbean or BuzzSprout?
In short, both platforms are superb choices. However, whichever service you choose should depend on whether you are an experienced podcaster or a beginner. Podbean is excellent for all podcasters, while Buzzsprout is a great choice for beginners.
Which podcast platform is most popular?
Apple Podcasts is the most popular podcast distribution platform, but there are also plenty of other massive sites that will increase your number of listeners. You can also submit your podcast to podcast directories, so you can get found more easily.
What podcast hosting platform does Joe Rogan use?
Respected podcaster and favorite, Joe Rogan previously hosted his podcast with Libsyn before moving exclusively to Spotify in late 2020 at a $100 million deal. "The (Joe Rogan Experience) podcast is moving to Spotify,"… "I signed a multi-year licensing agreement with Spotify," Rogan stated in a video on Spotify's website.
Is there a free podcast host?
Buzzsprout is a podcast hosting service that offers a free basic plan as well as affordable options that require no contracts or credit cards to signup. Buzzsprout works with podcast directories, such as Google PodcastApple/iTunes, Spotify, and Stitcher.
Do Anchor podcasts make money?
Through Anchor Sponsorships, podcasters are partnered with brands to create audio advertisements, allowing you to make money whenever someone listens to your podcast.
How do you choose a podcast host?
There are a couple of things to consider when deciding which podcast hosting platform is best for you. Some hosts are geared toward beginners, brands, or large businesses. So it's worth going through the strengths and weaknesses of each service depending on what hosting solution you need (from the start that will allow you to grow without worrying about switching later on).
From the surface, all podcast hosting sites may appear the same, with each one offering to manage your RSS feed, provide a free website, and integrate with major podcast directories. Ideally, you should look out for more features that can help your podcast grow and become a success. Below are some essential criteria to look out for in a good host:
Storage
Whether you're just starting as a new podcaster or you've been a podcaster for some time, one of the essential considerations is storage needs.
Most podcast hosting platforms have storage limits depending on which plan you are on. As you decide which podcast host is best for you, consider the storage capabilities and what it means for your show both in the near and long term.
Multiple podcasts
If you would like to create multiple podcasts down the road, it's important to consider if the podcast host you are choosing is capable of hosting your shows on a separate RSS feed, and if you're able to manage them under the same account. With some hosts like Buzzsprout, you can produce as many podcasts as you like under one account. Additionally, you can add as many team members as you need to help you manage your podcasts.
Website integration
A website for your podcast is essential — it's the place where listeners can subscribe to your show, listen to your episodes, and know more about your brand. Most services like Buzzsprout can help you create a personalized website that's unique to your brand, all done with just a few clicks.
WordPress is by far the most popular platform used by most podcasters to build their website, so it's also important to consider if the podcast host of your choice can integrate with not just WordPress but other essential third-party tools. The easiest way is to find out if the host has a WordPress podcast plugin. The best podcast hosting services, such as Buzzsprout, have a plugin that makes podcasting with WordPress very easy, allowing you to manage your podcast directly within your WordPress dashboard — the plugin can help you pull your episodes from Buzzsprout straight to your website. You can also integrate and embed the Buzzsprout audio player into your WordPress blog or other website builders like Squarespace.
Audience statistics
To grow your podcast to a successful level, you'll need to know and understand your audience, what apps they are using, where they're listening from, for how long, and total downloads. Vital stats like these can help you track your progress and guide you on what kind of engaging content to create and, more importantly, attract the right sponsors for your podcast. The best podcast hosting sites like Buzzsprout has some of the most detailed audience analytics dashboards powered by an algorithm feature that provides precise data and insights about each of your podcast shows. Robust audience analytics should be a priority when choosing a podcast host.
Monetization
If generating income from your podcast is important to you, you'll have to put it into consideration when deciding which platform to choose. You may not be ready to start making money from your podcast right off the start, but make sure any host you choose has the monetization support in place if you decide to transform your podcast into a source of income. One of the many benefits of using Buzzsprout as your host is the ability to monetize your podcast with the various brands they've partnered with through their affiliate marketplace. For Spreaker, you can make money through Ads impressions that are automatically inserted into both downloaded episodes and stitched onto on-demand streaming. It's hassle-free; you just drop a code where you want your ads placements and you are automatically monetized through Spreaker's trusted ads partners.
Pricing and free trial
On average, pricing for a podcast host ranges from $5/month to $49/month depending on which platform you choose and other factors such as Megabytes (MB), bandwidth, downloads, or hours.
Most new podcasters spent less than $20/month. A more established podcaster could easily pay much more. Also, you could save money with most hosting sites by paying annually instead of monthly, so do your research and compare which option is best for you.
Once you find the right host for you, take advantage of their free trial, so you can test what they have to offer before you buy. Buzzsprout has a 90-day free plan that can get you started. Buzzsprout also has one of the best hosting free trials to learn the ropes of podcasting. You can upload up to 2 hours of content each month and host it for free for a whopping 90 days, plus free access to great features.
Other essential features to consider when choosing a podcast host includes media validation, FTP uploading, no-fault overages, and episode optimization for filetypes, bitrates, or ID3 tags. Buzzsprout automatic episode optimization is the best when it comes to optimizing files. Just upload your audio file, and Buzzsprout will automagically optimize each of your episodes.
How much does podcast hosting cost?
On average, podcast hosting prices range from $5 per month to $40 per month. Hosting costs will vary depending on which platform you choose, and how many episodes and downloads you get.
Can I use a free podcast hosting service?
Yes, you can use a free podcast host, but we don't recommend it. A free service most times means your data is the product; Facebook is an example of this – it's a "free" service but your data is for sale to the highest bidder (advertisers).
Another reason we don't recommend using a free podcast host is the limitations that come with it in terms of tools and features necessary to grow and scale compared to a paid host. Also, there have been cases of free podcast hosting sites going out of service (along with podcasts hosted on them!), so it's better to play it safe and pay for a quality host that can help you grow and scale.
Can I host my podcast on my website?
No, you can't – because audio files are massive compared to pictures you usually upload on your website, an average image might be 250kb. But, the average size of a podcast episode could be 35MB. Then, if you start having multiple thousands of downloads which is possible for new episodes and you multiply your downloads by the average episode MB, your website will literally crash with that load of data, and that's if your web host has not kicked you off already – you'll want to avoid that.
Most web hosting services claim they offer unlimited bandwidth (which is completely not true). They generally have fair use policies that limit that kind of volume usage, or you'll be forced to upgrade at a cost not sustainable.
What are podcast directories?
Podcast directories are services like Apple Podcasts, Google Podcasts, Stitcher, Spotify, TuneIn Radio, iHeartRadio, Pandora, and many more. They are platforms for podcast listeners to find and learn more about your podcast. Once you upload your audio file and the directories detect it through your RSS feeds, they'll automatically download the file from your host server and display it as your latest episode to users.
Which podcast directory should I publish my podcast on?
Getting listed in these podcast directories is one of the most crucial steps of your podcast journey because new listeners are likely to find your podcast through these directories.
After you've created a podcast, chose a host, and uploaded your files, you're ready to decide where to list your show for podcast listeners to find you.
To publish your podcast into these directories, all you'll need is your RSS feed link, which you can get from your hosting provider — you just have to submit it once to each directory, that's it. Every time you publish a new podcast, every directory will update automatically, displaying your latest episode.
Do podcast hosting companies handle distribution?
Not all; some good hosts offer lots of help when it comes to podcast distribution. For example, Buzzsprout, Spreaker, and Captivate do have a distribution section with direct links for submission and auto-submission to Apple Podcasts, Google Podcasts, Spotify, and every other major directory — making your podcast available as much as possible to potential new audiences. For Buzzsprout, you just need to navigate to the directories tab in your dashboard and click on 'Get Listed' under each directory icon, next copy your RSS feed URL, and follow the easy instructions. That's it!
---
The 4 Best podcast hosting recap
Conclusion
Loads of information there; hopefully, this article has helped you find the best podcast hosting platform that's a great fit for your podcast.
When making your choice, think about not only your immediate needs but also your long-term. If you're already using a podcast host but are not happy with their service, look to see if another host would be a better option. We recommend Buzzsprout, but you might have another choice based on your need – switching host isn't as complicated as you'd think; it takes just a couple of clicks.