TechZerg is reader supported. When you purchase through links on our site, we may earn a commission.
The best 75-inch TV offers a home theater cinema-like experience with higher picture quality than what typical 55-inch and even 65-inch TVs can offer. They make for a better Smart TV experience and can easily get the most out of a 4K resolution.
The best 75-inch TVs for 2023
Large-screen smart TVs such as the 75-inch and 77-inch range are also becoming more affordable than ever. So if you are looking to buy one for your home, we've done all the necessary research to help you narrow down your search for the best 75-inch TVs money can buy.
To get you started, we've handpicked the three best 75-inch 4K TVs you can buy in 2023, with Samsung's QN900B Neo QLED 8K TV coming out on top as the best 75 inch TV. The QN900B is currently the benchmark for high-end large-screen TVs.
Best 75-inch TV of 2023 (best 75 inch QLED)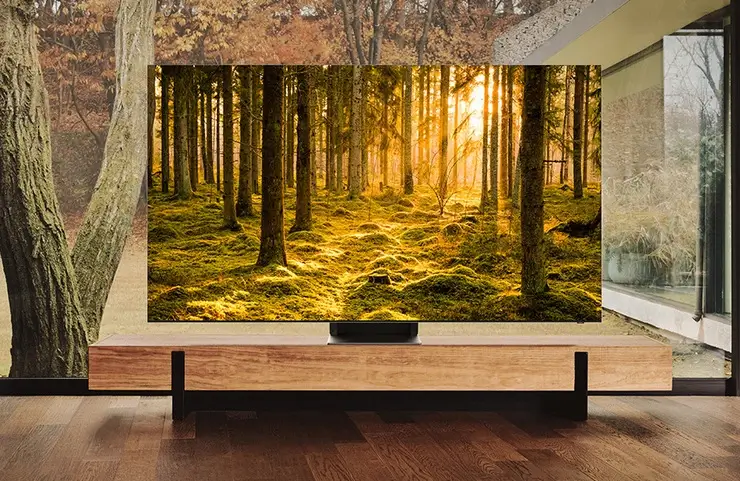 When it comes to TVs, bigger is usually better. But in the case of Samsung's new QN900B Neo QLED 8K TV, it's not just the size that's impressive – it's the technology inside.
The Samsung QN900B Neo QLED 8K TV is the best TV we've ever tested and currently the best 75-inch TV on the market. It offers an unrivaled combination of picture quality, design, and features. The only potential drawback is its price, but if you have the budget, this is the TV to buy right now.
In addition to the impressive picture quality, the Samsung QN900B Neo QLED 8K TV also delivers a fantastic audio experience. The TV is equipped with four up-firing speakers that deliver clear and immersive sound. The sound quality is further enhanced by the built-in Dolby Atmos support, which creates a more three-dimensional soundscape.
The QN900B is the latest TV from Samsung to use the company's proprietary Mini LED technology, and it's a significant improvement over its predecessor. The technology inside this TV's display panel is Samsung's 'Quantum' Mini LED, which is 1/40th the thickness of a regular LED, enabling the TV to deliver an incredible viewing experience. For starters, the QN900B has a noticeable reduction in light blooming – a common issue with LED TVs that can result in halos or "blooming" around bright objects on the screen.
In addition, the QN900B's image processing is much improved, resulting in brighter, more vibrant colors and better contrast. And the audio has been given a boost as well, with Samsung's new Q-Symphony technology providing a richer, more immersive sound.
Even the design of the QN900B is an improvement over previous Samsung TVs, with a sleek, minimalist bezel that makes it look more like a piece of art than a television.
There are a few things we don't love about the QN900B – namely, Samsung's new (but not necessarily improved) user interface and the lack of Dolby Vision support – but overall, it's hard to find a better LCD TV currently on the market.
The Samsung QN900B Neo QLED 8K TV is also a pricey piece of machine, but if you're looking for the best possible home entertainment experience, it's definitely worth every penny.
Pros
Excellent colors
144Hz gaming support
Built-in Dolby Atmos support for immersive sound
Impressive backlighting accuracy
Cable management simplified with the One Connect breakout box
Fantastic HDR images quality
Plays 8K video files and YouTube content
Superbly thin for wall-mounting
Cons
No Dolby Vision support
Expensive without our link
Specifications
Resolution: 8K | Screen size: 65-inch, 75-inch, 85-inch | HDR: HDR10, HLG, HDR10+ | Panel Type: Neo QLED / Mini LED | Smart TV: Samsung / Tizen OS | Dolby Vision: No | Dolby Atmos: Yes | Inputs: 4x HDMI 2.1 (1x eARC), 3xUSB, 1xRF, ethernet | Outputs: 1x optical | Tuner: Freeview Plus
---
One of the best 75-inch TV in 2023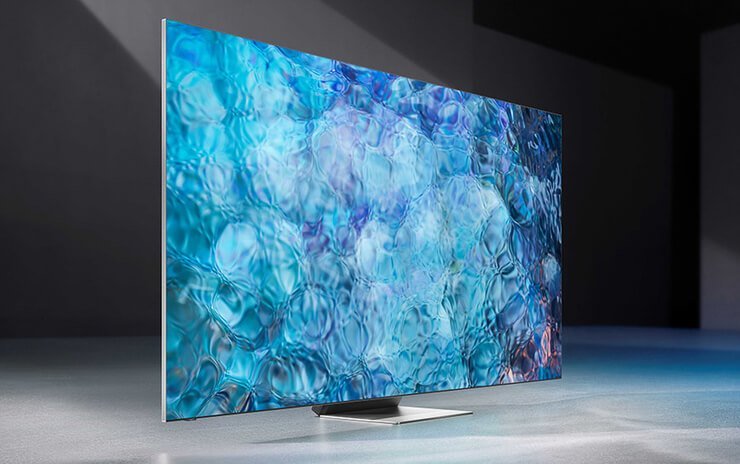 The Samsung QN900A Neo QLED 8K TV is currently one of the best 75-inch TV on the market. It's also one of the most elite QLED TV Samsung has ever produced and among the most technologically advanced LCD television on the market today.
The QN900A is incredible, offering exceptional picture quality, color, brightness, and great sound. It comes with Samsung's 'Quantum' Mini LED technology that's 1/40th the thickness of a regular LED, which is incredible.
The picture quality on this beast is breathtaking, with a stunning 8K resolution display that makes incoming screen pictures look better than their source, thanks to Samsung's Multi-Intelligence AI upscaling technology. The QN900A HDR performance is the best of any 75 inch TV, and it can convincingly make 4K video look better than a typical 4K.
The premium status of the QN900A is very much reflected in its astonishing frameless design with stark minimalism at its finest. Also worth noting is the TV speakers, which are invisible from the front. The speaker grilles housing an 80W 6.2.2 channel system (making it ten speakers in total) are actually located along its right and left edges.
You won't need a wide surface to place the QN900A stand, due to the smartly minimalist design, which is flat, slim, and centered.
HDMI 2.1 is supported on all of the QN900A HDMI ports, with one port offering eARC support. There's also 3x USB 2.0 ports, 1x optical output, an RF antenna input and 1x ethernet port.
One downside to the Samsung QN900A Neo QLED 8K TV is the price. It doesn't come cheap, which means it's not for everybody. The QN900A is one of Samsung's benchmarks for the next generation of high-end televisions, and that's very much reflected in its hefty price. However, if you are looking for the best 75-inch TV to buy and can afford the QN900A, then look no further.
Pros
Phenomenal brightness
Exceptional backlight control
OLED-grade black levels
Near-bezel less design
Colorful HDR pictures performance
Fully optimized for Gaming
Four HDMI 2.1 ports
Cons
No Dolby Vision or full Atmos support
Pricey
Specifications
Screen: 75 inch | Screen type: QLED | 8K ready? Yes | 4K ready? Yes | Smart TV: Tizen OS | HDR type: HDR10+ | HLG: Yes | Audio type: Dolby Digital Plus | Dolby Vision/Atmos: No/No | Tuner: Freeview Plus | HDMI connections: 4 x HDMI 2.1 (1 x eARC) | Panel technology: Mini LED (LCD) | Other connections: 3 x USB, Optical out, Ethernet, ER in, CI slot, eARC, Bluetooth 4.2 | Measurements: 1654.8 x 945.6 x 15.4 mm
---
Best 75-77 inch OLED TV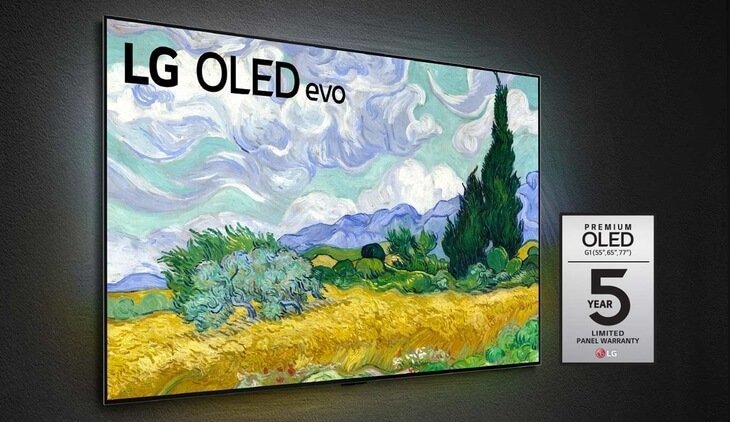 The LG G1 OLED is currently the best 4K OLED TV. It's a 77-inch masterpiece that uses LG's next-gen OLED technology, which is the new 'OLED evo' panel that offers more brightness and contrast prowess. The G1 is the best OLED TV LG has ever made, and that's incredible, given the performance quality of some of LG's previous OLED TVs.
The G1's ultra-slim flat-backed design is well suited to wall mounting. Another plus of the G1, apart from its primary function as a TV, is the ability to display digital artworks on it. The G1 comes with its own wall mount but not a stand. That means if you don't want to hang your TV on the wall, you'll have to spend extra to get a TV stand.
Each of the G1's HDMI ports is outfitted with HDMI 2.1. In addition to frame rates of up to 120Hz with 4K video and an enhanced audio return channel (eARC), HDMI 2.1 supports variable refresh rate and auto low latency mode. These settings take advantage of the next-gen graphic abilities of the PS5 and Xbox Series X. The LG G1 supports NVIDIA G-sync and AMD FreeSync, too.
The G1 has four HDMI ports, all fitted with HDMI 2.1. In addition to cutting-edge frame rates of up to 120Hz at 4K, HDR, and enhanced audio return channel (eARC), plus supports for variable refresh rate and auto low latency mode. These fantastic feature sets make the LG G1 one of the best 75-inch TV for gaming with next-generation graphic capabilities of the Xbox Series and PS5.
Pros
Incredible contrast
Slightly brighter than prior models
Impressive thin design perfect for wall-mounting
Great inputs and gaming features
Outstanding OLED evo panel delivers brighter and sharper colors
Improved new remote and app offering
Cons
More expensive than C1
No feet or stand included
Specifications
Screen: 75 inch | HDR: Dolby Vision IQ, HDR10, and HLG | HDR 10+: No | Smart TV: WebOS 6.0 | Tuner: Freeview HD | Panel technology: OLED | Dimensions(w)x(h)x(d): 1446 x 830 x 19.9mm | Inputs: 4xHDMI (all v2.1), 3xUSB, RF input, CI slot, optical digital audio, headphone output, Ethernet | Weight: 29kg | Resolution: 4K
---
Best 75-inch TV value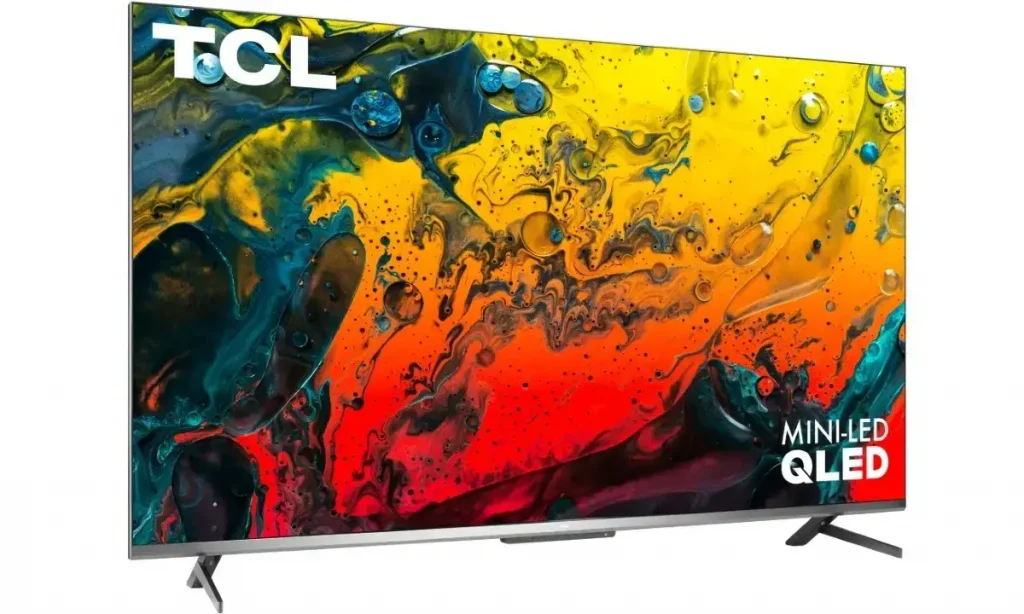 The TCL 75R646 is a great all-around TV. It's especially good for watching movies, TV shows, and sports, but it also has great features for gamers and watching HDR content. The R646's main strength is its picture quality. It displays deep blacks and has a decent Mini LED local dimming feature, which improves the picture quality of movies and TV shows. The only downside is that it has narrow viewing angles, but that's not a big issue for most people.
There are a few key differences between the TCL R646 and R635 models. The R646 has Google TV, while the R635 uses Roku TV. Google TV provides access to a wide range of streaming content and apps, while Roku TV has a more limited selection. Another difference is that the R646 has a built-in Chromecast, while the R635 does not. This means that the R646 can directly cast content from a compatible device (such as a smartphone or tablet) to the TV, while the R635 requires a separate Chromecast device.
The R646 also has a slightly higher resolution than the R635, although both are Full HD 1080p TVs. Finally, the R646 is a bit more expensive than the R635, although both are affordable options.
Pros
Amazing contrast and color performance
4K 120Hz gaming capability
Excellent color accuracy
Impressive mini-LED backlight control
Google TV with Google Cast
Cons
No Apple AirPlay
No AMD FreeSync
The Remote has no input button
No Nvidia G-Sync
---
Best budget 75-inch TV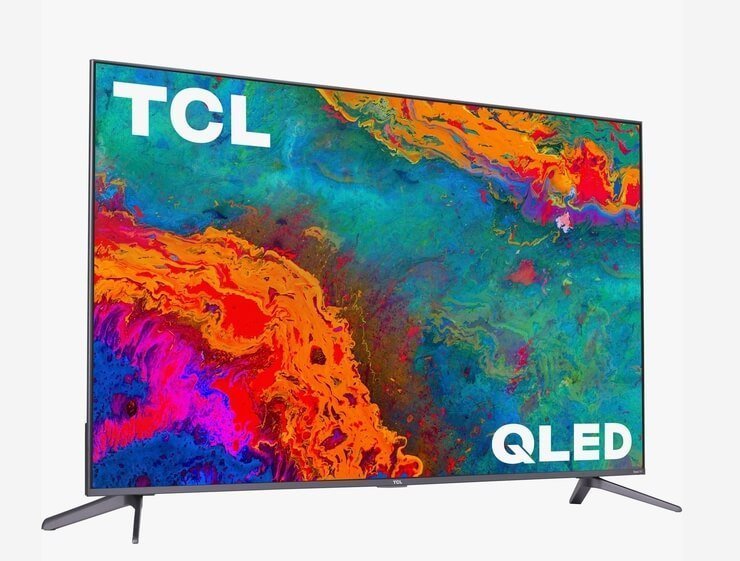 The TCL 6-Series Roku TV (R635) offers great value for money, with premium picture quality and affordability combined to produce an incredible Smart TV experience at a jaw-dropping price. No other 75-inch TV on the market today offers the same value for money as the TCL 6-Series (75R635).
This is one of the most value-packed TV still for 2023, with some of the best features you'll find in a 75-inch TV. It has a beautiful design with a max thickness measuring 2.8 inches but narrows down around the outside bezel to just 1 inch thick.
The TCL 6-Series is a definite great pick if you are looking for a massive TV with maximum value for your money. TLC outfitted the 6-Series with top-of-the-range premium features, offering bright and colorful 4K display, powered with quantum dot enhancement and mini-LED backlighting–technology that makes for rich, well-saturated colors, especially during HDR content.
Avid gamers will love this TV; while most TVs have a low-latency game mode, the TCL 6-Series R635 was one of the first to get THX Certified Game Mode, equipped with a suite of enhancements that also includes Variable Refresh Rate (VRR) support. In addition to the in-built Roku TV streaming support.
Specifications
Screen: 75 inches | HDR: HDR10, HLG, and Dolby Vision | Smart TV Software: Roku TV 8.0 | Ports: 4 HDMI, 1 USB | Refresh Rate: 120 Hz | Audio: 2x 8-watt w/ Dolby Atmos | Resolution: 3840 x 2160
---