TechZerg is reader supported. When you purchase through links on our site, we may earn a commission.
The best gaming laptops are raising the bar every year. Compared to the early days when gaming laptops used to be chunky desktop replacements with less performance, the best gaming laptops today are powerful, fast, sleek, and portable, with top-notch specs that deliver great performance.
Best gaming laptop for 2023
The best gaming laptops are not the same, though, with some more powerful than others depending on their specs and features. The top-of-the-range ones are usually more expensive. However, the best gaming laptops all offer something in common: powerful performance necessary for a great gaming experience, the kind you won't find on lesser-quality gaming laptops.
We've done all the necessary research to help you narrow down your search. The three options in this article are the best gaming laptops money can buy right now.
Best gaming laptop 2023
Asus's ROG Zephyrus G14 was the best gaming laptop for quite a while. It had almost everything you would need in a gaming laptop. Even though Asus had produced some of the best gaming laptops year after year, we weren't sure if the company could ever top the G14. But somehow, Asus managed to best the G14 with a bigger and more powerful machine furnished with the most powerful AMD Ryzen and Nvidia RTX 3000 series, plus a fast 165Hz QHD (1440p) display making it capable of handling the toughest AAA titles at QHD resolution.
The ROG Zephyrus G15 is one of the lightest 15-inch gaming laptops money can buy, Weighing just 1.9kg. The battery life is awesome, lasting 9 hours – this is incredible for a high-end gaming laptop.
The G15 comes with plenty of ports, including two USB Type-C and two USB Type-A inputs. It also has an Ethernet RJ45 port for the best connection possible and HDMI 2.0b output for external monitor support.
The sound you get from the Zephyrus G15 is also fantastic, thanks to the two speakers on either side of the keyboard. Unfortunately, the keyboard is tenkeyless. Another downside to the G15 is the lack of a webcam, which can be significant if you are looking to both play and work on your new gaming machine; you will need a separate camera to do that. But as a high-performing gaming laptop with phenomenal hardware at a great price, the ROG Zephyrus G15 is the best gaming laptop you can buy. It's also the gaming laptop to beat in 2023.
Specifications:
CPU: AMD Ryzen 9 5900HS, 8C/16T | RAM: 32 GB DDR4 3200 MHz (16 GB on board, 1x DIMM, up to 48 GB) | Graphics: Nvidia RTX 3070 | Screen: 15.6-inch QHD (1440p), 165Hz, 3ms, 300 nits | Storage: 1 TB NVMe SSD (2x M.2 PCI x4 slots) | Connectivity: Wifi 6 (Intel AX200) 2×2 with Bluetooth 5.0, Gigabit LAN (Realtek RTL8168/8111) | Ports: 2 x USB Type-C 3.2 Gen 2 (with DisplayPort 1.4, Power Delivery 3.0), 2 x USB Type-A 3.2 Gen 2, 1 x MicroSD card reader, 1 x HDMI 2.0b, 1 x 3.5mm combo jack, 1 x RJ45 Ethernet, 1 x Kensington lock | Camera: Not available | Weight: 4.19lbs (1.9kg) | Size: 355 mm or 13.98" (w) x 243 mm or 9.57″ (d) x 19.9 mm or .78" (h) | Battery: 90 WHr with fast charge, 200 W power adapter + USB-C charging up to 100W
---
Best thin gaming laptop 2023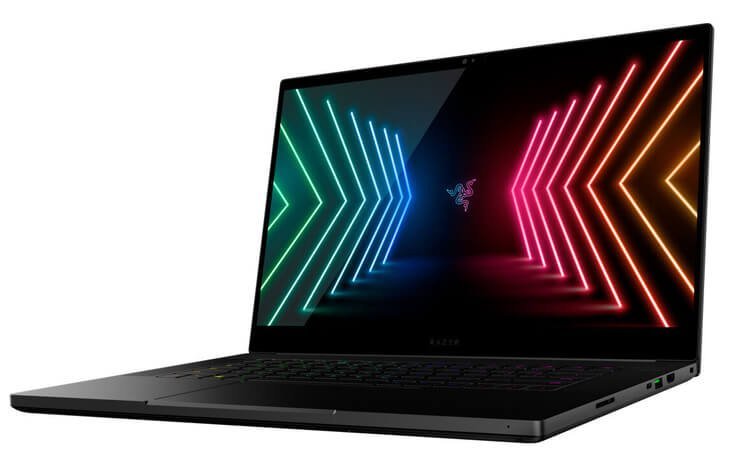 The Razer Blade 15 advanced model (late 2021) is a definite contender for the best gaming laptop in 2023. It's quite expensive but worth the price. This gaming beast of a laptop comes fitted with Microsoft's Windows 11.
The Blade 15 advanced model is a thin, premium gaming masterpiece, well-built with strong performance, weighing just over 2kg (4.4lbs). The screen is impressive with top-of-the-line components, plus a black aluminum chassis with slightly rounded edges that are stiff, tough, and beautiful.
You also get plenty of ports – On the right side, there's an SD card slot, additional USB-A, Thunderbolt 4 ports, and an HDMI 2.1 output, as well as a Kensington lock slot, while the left side has a power jack, two USB Type-A ports, a Thunderbolt 4 port, and the headphone jack.
A plus for the Razer Blade 15 advanced model (late 2021) ahead of the Asus ROG Zephyrus G15 is the 1080p webcam, which makes it the perfect gaming laptop for work and play. The camera is very solid and capable of projecting accurate colors and exact shades. There's also an IR camera that allows you to log in with your face with Windows Hello.
The battery on the Blade 15 advanced model admittedly doesn't last too long, lasting just around 5 hours. In addition, the Blade 15 can get quite warm but also has the capacity for cooling, which is pretty fantastic.
As a powerful ultra-premium package, the Blade 15 advanced model isn't just one of the best gaming laptops to beat in 2023, but also one of the best laptops worth buying for those that can afford it.
Specifications:
CPU: 2.3GHz Intel Core i7-11800H (octa-core, 24MB cache, up to 4.6GHz) | Screen: 15.6-inchs, 2560 x 1440, 240 Hz, Full HD (1,920×1,080) IPS, (360Hz refresh rate) | Power Adapter: 230 W | Camera: Full HD webcam (1080p with IR for Windows Hello) | Operating System: Windows 11 Home | Storage: 1TB M.2 PCIe NVMe 4.0 SSD | Connectivity: Intel Wi-Fi 6E AX210, Bluetooth 5.2 | Battery: 80 Wh | Graphics: Nvidia GeForce RTX 3080 Laptop GPU (8GB GDDR6, Max-Q, 105 W Max graphics power, 1,290 MHz boost clock) | RAM: 32GB DDR4 | Ports: 3x USB 3.2 Gen 2 Type-A, 2x Thunderbolt 4 (USB Type-C), HDMI 2.1, UHS-III SD card reader, 3.5 mm headphone jack, Kensington lock slot | Size(WxDxH): 13.98 x 9.25 x 0.67 inches / 355 x 235 x 16.99 mm
---
Top contender for the best gaming laptop 2023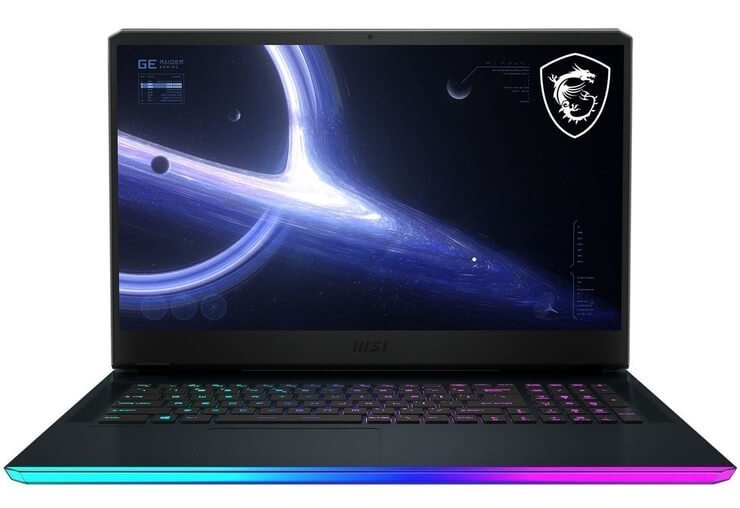 The MSI GE76 Raider is our third pick for the best gaming laptop of 2023. This behemoth is a powerful gaming machine with top-of-the-range hardware that's second to none. It's expensive and heavy but offers strong performance with powerful components such as Nvidia's GeForce RTX 3080 (currently the most powerful graphics card for laptops) and Intel Core i9-11980HK.
The MSI GE76 is a great option if you are looking for a desktop replacement. The laptop comes decked in excess amounts of RGB lighting, including below the trackpad with 30 lighting zones, giving you multiple options to come up with all kinds of fun color combinations.
You also get multiple port options – on the left, you get a combo 3.5mm audio jack, USB-A and a USB-C, while on the right, you get two USB-A ports and a full-sized SD card reader. In addition to more ports hiding on the back of the laptop, including an Ethernet jack mini DisplayPort, Thunderbolt 4, HDMI and the power jack.
The display of the MSI GE76 Raider is amazing, equipped with a 17-inch 1080p display with a blazing 300Hz refresh rate. The battery life lasting about 6 hours isn't the best but still long enough to get through some hours. The laptop measures 15.63 x 10.57 x 1.08 inches, weighs a mammoth 6.39 pounds, and is 1.02 inches thick. It's not the heaviest laptop in the world by any measure, but the weight is not something you'll want in your backpack while moving around.
The MSI GE76 Raider is worth buying if you want a powerful gaming performance able to handle every demand you throw at it.
Specifications:
CPU: Intel Core i9-11980HK | Memory: 32GB DDR4-3200 | Storage: 1TB M.2 NVMe SSD | Graphics: Nvidia GeForce RTX 3080 Laptop GPU (16GB GDDR6, 165W Max graphics power, 1,710 MHz boost clock) | Ports: 2x USB Type-A 3.2 Gen 1, USB Type-A 3.2 Gen 2, Thunderbolt 4, USB Type-C 3.2 Gen 2, 3.5 mm headphone jack, SD card slot, HDMI, Mini DisplayPort 1.4, Ethernet jack | Screen: 17.3 inches, 1920 x 1080, 360 Hz | Connectivity: Killer WiFi 6E AX1675, Bluetooth 5.2 | Camera: HD Webcam, 1080p | Power Adapter: 280W | Operating System: Windows 10 Home | Battery: 99.9 Wh | Weight: 6.39 pounds / 2.9 kg | Size(WxDxH): 15.63 x 10.57 x 1.08 inches / 397 x 268.48 x 27.43 mm
---