TechZerg is reader supported. When you purchase through links on our site, we may earn a commission.
Looking for the best TV worth buying now? You are on the right page. We've researched and put together the six best smart TVs money can buy today.
The best TV you need will depend on many factors, but mostly on how you're going to use it and where you're going to place it. The truth is there's no perfect TV, and working out the best option for you will mostly depend on personal preference.
The best TVs for 2023
You may be unfamiliar with all the modern TV gibberish such as HDR, Ultra HD 4K, 8K, QLED, LED, OLED, 120Hz, and HDMI 2.1. The most important factor to look out for is the best picture quality TV for the money, whether it's Ultra HD, 8K, or OLED.
The only problem is, there are just too many TVs out there that it's almost impossible to choose which one is best for you. This article represents the best and highest-performing televisions based on in-depth research and web reviews, from the best TV with fantastic value for money to the best budget TV.
This guide is a work in progress involving more TVs, so you can always check back for the full list — but for now, we've put together the six best options with exceptionally good value that covers every need and budget.
Best TV of 2023 (best QLED TV)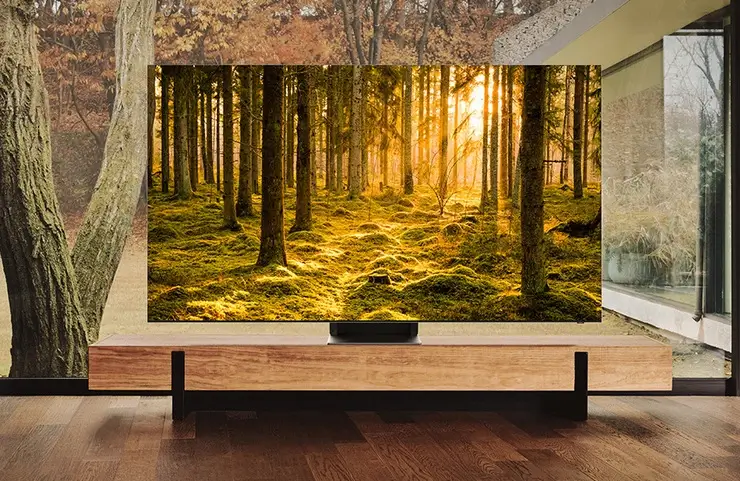 The Samsung QN900B Neo QLED 8K TV is the best TV we've ever tested and currently the overall best smart TV 2023 on the market. It offers an unrivaled combination of picture quality, design, and features. It's hard to imagine how any other TV brand in 2023 might make better television than the QN900B QLED 8K masterpiece. The only potential drawback is its price, but if you have the budget, this is the TV to buy right now.
In addition to the impressive picture quality, the Samsung QN900B Neo QLED 8K TV also delivers a fantastic audio experience. The TV is equipped with four up-firing speakers that deliver clear and immersive sound. The sound quality is further enhanced by the built-in Dolby Atmos support, which creates a more three-dimensional soundscape.
The QN900B is the latest TV from Samsung to use the company's proprietary Mini LED technology, and it's a significant improvement over its predecessor. The technology inside this TV's display panel is Samsung's 'Quantum' Mini LED, which is 1/40th the thickness of a regular LED, enabling the TV to deliver an incredible viewing experience. For starters, the QN900B has a noticeable reduction in light blooming – a common issue with LED TVs that can result in halos or "blooming" around bright objects on the screen.
In addition, the QN900B's image processing is much improved, resulting in brighter, more vibrant colors and better contrast. And the audio has been given a boost as well, with Samsung's new Q-Symphony technology providing a richer, more immersive sound.
Even the design of the QN900B is an improvement over previous Samsung TVs, with a sleek, minimalist bezel that makes it look more like a piece of art than a television.
There are a few things we don't love about the QN900B – namely, Samsung's new (but not necessarily improved) user interface and the lack of Dolby Vision support – but overall, it's hard to find a better LCD TV currently on the market.
The Samsung QN900B Neo QLED 8K TV is also a pricey piece of machine, but if you're looking for the best possible home entertainment experience, it's definitely worth every penny.
SPECIFICATIONS:
Resolution: 8K | Screen size: 65-inch, 75-inch, 85-inch | HDR: HDR10, HLG, HDR10+ | Panel Type: Neo QLED / Mini LED | Smart TV: Samsung / Tizen OS | Dolby Vision: No | Dolby Atmos: Yes | Inputs: 4x HDMI 2.1 (1x eARC), 3xUSB, 1xRF, ethernet | Outputs: 1x optical | Tuner: Freeview Plus
---
One of the best TV in 2023 for the money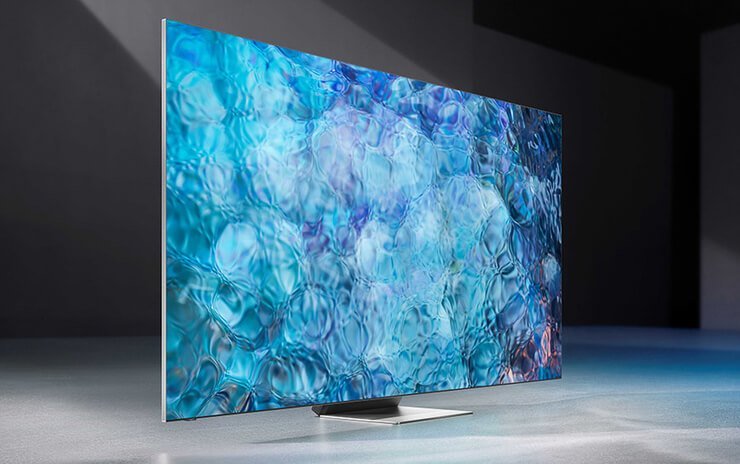 If you have the money to spend, the Samsung QN900A Neo QLED 8K TV is the new pinnacle in top-end televisions. It is the current benchmark with little to no fault.
This stunning 8K masterpiece TV is available in 65, 75, and 85-inch models, boasting a new flatscreen television technology, which means it doesn't come cheap, but worth it if you're looking for the top of the line and also ready for the next generation of video.
The design is mind-blowing, bezel-free with stark minimalism that makes every content seamlessly disperse from view. It also boasts the 'Quantum' Mini LED lighting technology, which is 1/40th the thickness of a regular LED, insane!
Another feature worth talking about is the QN900A's speakers, which are invisible from the front. The speakers (numbering ten in total) grilles can actually be found along the right and left edges on the side.
You don't need a wide surface to place the QN900A's stand as the design is aesthetically pleasing, flat, slim, and centered. The QN900A is also able to deliver stunning quality pictures that look better than their source, thanks to Samsung's Multi-Intelligence AI upscaling. Additionally, it has the latest HDMI 2.1 and eARC features, great for gamers who've recently bought the next-gen console or beastly gaming PC.
The Samsung QN900A Neo QLED 8K TV is the standard to beat in 2023. It's one of the best TVs currently out there on the market. It has no Dolby Vision support though, and the 8K content is limited, but it's awesomely incredible when you access it on this TV. If you are not on a budget and have the money to spend, you can't go wrong with this beast.
SPECIFICATIONS:
Screen Sizes: 65, 75, 85-inches | Tuner: Freeview Plus | Resolution: 8K | Smart TV: Samsung / Tizen OS | HLG: Yes | Dolby Vision/Atmos: No/No | Panel technology: Mini LED (LCD) | Dimensions: 2140 x 1872 x 1053mm | Curved: No | HDR: HDR10, HLG, HDR10+ | Weight: 43kg (without stand) | 3D: No | Outputs: 1x optical | Inputs: 4x HDMI 2.1 (1x eARC), 3xUSB, 1xRF, ethernet
---
Best LG TV 2023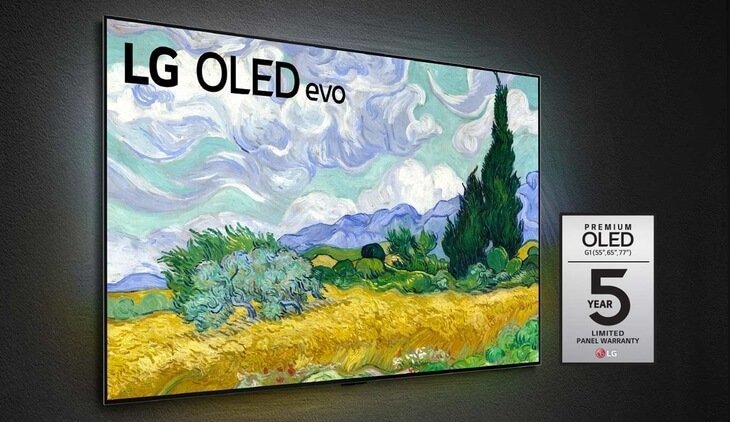 LG G1 OLED is one of the best 4k TV money can buy and easily the best OLED TV from LG. It comes with LG's new Evo panel technology, which aims to increase brightness and contrast prowess compared to typical OLED panels.
The picture quality on this TV is exceptional, with near-infinite contrast ratio and perfect black uniformity.
Gamers are bound to love the LG G1 OLED TV, thanks to several impressive gaming features, including support for HDR, variable refresh rate (VRR), four HDMI 2.1 inputs providing state-of-the-art gaming experience in 4K at 120Hz. Additionally, LG G1 supports all three current variable refresh rate 'variants,' such as AMD Freesync, Nvidia G-Sync, and the standard HDMI 2.1 system.
The TV also offers three USBs for multimedia playback or recording, and wireless connectivity options for Wi-Fi and Bluetooth.
The price of the LG G1 is a big jump from the also impressive LG C1, but there's a significant performance difference between the two, meaning the price difference may be justified. Unfortunately, the LG G1 has no HDR 10+ support. It does come with its own wall mount but not with a stand. That means if you don't want to wall hang your TV, you'll have to spend extra to get a TV stand.
However, the LG G1 OLED is a TV in its own league, packed with immense picture quality, great features, and a gorgeous thin design, making the LG G1 easily one of the best TV worth buying in 2023.
SPECIFICATIONS:
Screen: 65 inch | HDR: Yes | HDR 10+: No | Smart TV: WebOS 6.0 | Tuner: Freeview HD | Panel technology: OLED | Dimensions(w)x(h)x(d): 1446 x 830 x 19.9mm | Inputs: 4xHDMI (all v2.1), 3xUSB, RF input, CI slot, optical digital audio, headphone output, Ethernet | Weight: 29kg | Resolution: 4K
---
Best TV 2023 with value for money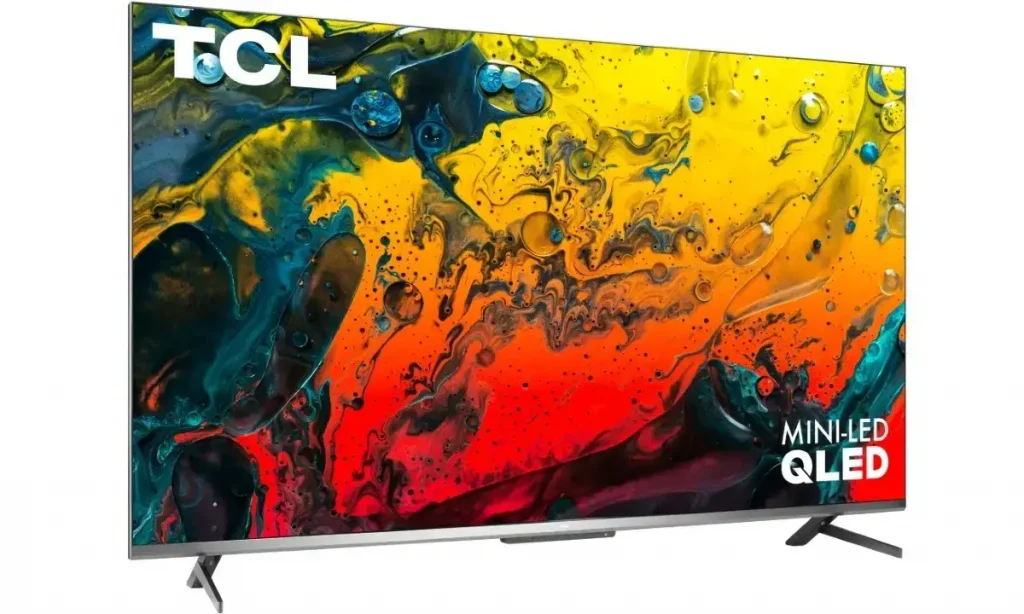 The TCL 65R646 is a great all-around TV. It's especially good for watching movies, TV shows, and sports, but it also has great features for gamers and for watching HDR content. The R646's main strength is its picture quality. It displays deep blacks and has a decent Mini LED local dimming feature, which improves the picture quality of movies and TV shows. The only downside is that it has narrow viewing angles, but that's not a big issue for most people.
There are a few key differences between the TCL R646 and R635 models. The R646 has Google TV, while the R635 uses Roku TV. Google TV provides access to a wide range of streaming content and apps, while Roku TV has a more limited selection. Another difference is that the R646 has a built-in Chromecast while the R635 does not. This means that the R646 can directly cast content from a compatible device (such as a smartphone or tablet) to the TV, while the R635 requires a separate Chromecast device.
The R646 also has a slightly higher resolution than the R635, although both are Full HD 1080p TVs. Finally, the R646 is a bit more expensive than the R635, although both are very affordable options.
---
Best OLED TV 2023 (Best gaming TV)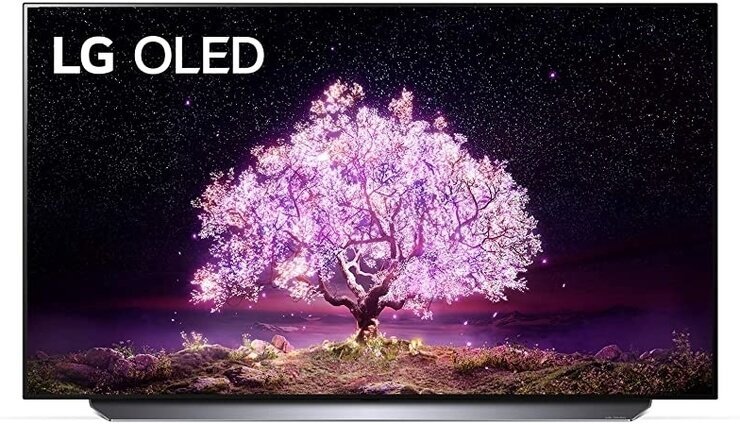 The premium quality of the LG C1 OLED TV is not a surprise when you consider LG's proven track record of producing some of the best TVs money can buy. They've delivered some of the best TV display technology in recent years.
The LG C1 OLED, a follow-up replacement to the LG CX OLED, is the best OLED TV money can buy in 2023. The colorful, bright, and rich picture quality from the LG C1 is amazing, thanks to its near-infinite contrast ratio, which is fantastic for gaming or watching movies in the dark.
For gamers, this is the current best-in-class gaming TV standard. The advanced gaming features on the LG C1 are amazing, such as the new Game Optimiser menu that gives you the ability to tweak and adjust contrast, brightness and VRR on the fly.
One of the many reasons why the C1 OLED is ahead of the competition is the HDMI 2.1 connectivity on all four of its HDMI ports, offering state-of-the-art performance, such as high frame rate gaming and 4K content at 120Hz. That's a massive selling point for gamers with the latest game consoles.
Other features include the 40W Dolby Atmos audio support that delivers immersive-verticality that makes the sound much better than standard TV speakers.
The C1 OLED has a full range of options for a 4K OLED – including the compact 48-inch set all the way to the massive 83-inch model, a perfect fit for a big home theater.
SPECIFICATIONS:
Screen: 55 inches | HDR: Dolby Vision, HDR10, HLG | Resolution: 3,840 x 2,160 | Refresh rate: 120 Hz | Audio: 40W, 2.2 channel sound | Ports: 4 HDMI 2.1 (1 with eARC), 3 USB | Size: 48.3 x 27.8 x 1.8 inches (w/o stand) | Smart TV software: webOS | Weight: 41.7 pounds (w/o stand)
---
Best budget gaming TV 2023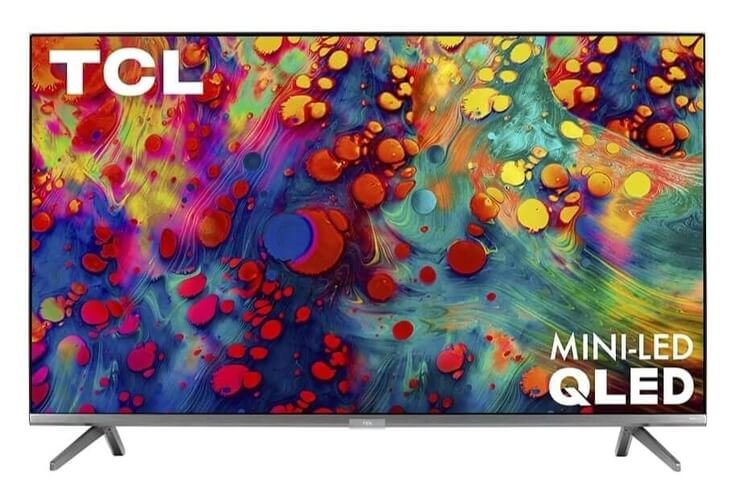 The TCL 6-Series Roku TV (2020 Roku TV) offers premium picture quality at an incredible value. It's a great smart TV at an affordable price than the competition.
The 2020 TCL 6-Series is an improved follow-up to the 2019 predecessor, thanks to the mini-LED tech in addition to QLED. The result is an excellent mix of color and brightness with exceptional HDR performance.
It's also a solid option for gamers with a new THX Certified Game Mode that combines low input lag and high contrast — making it one of the best gaming TVs, even for consoles like PS5 and Xbox Series X.
SPECIFICATIONS:
Screen Size: 55 inches | HDR: HDR10, HLG, and Dolby Vision | Smart TV Software: Roku TV 8.0 | Ports: 4 HDMI, 1 USB | Refresh Rate: 120 Hz | Size: 48.3 x 28.1 x 2.8 inches [w/o stand] | Resolution: 3840 x 2160 | Weight: 41.9 pounds [w/o stand]
---
Top value OLED TV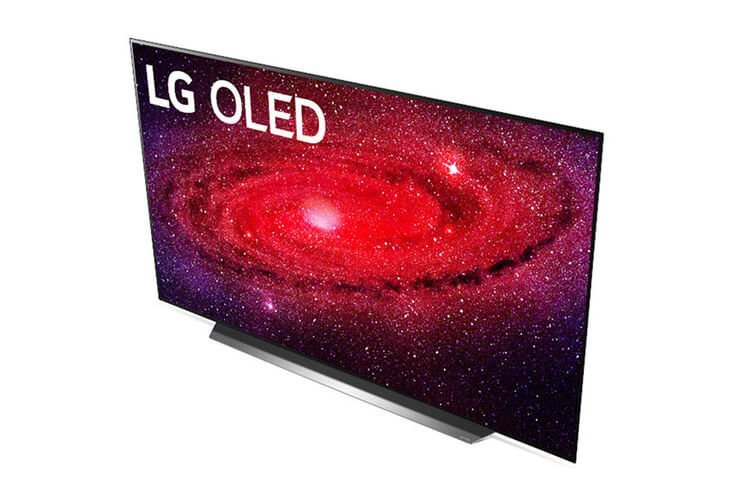 The LG CX OLED has now been succeeded with a new TV, the LG OLED C1. The changes are quite small, such as the upgraded interface and an iterative update with a new processor. For the best money value, you may want to consider opting for the 2020's LG CX model regardless.
The LG CX OLED is still one of the best TV available today and is certainly one of the best OLED TV for 2023. It's also one of the best 4k smart TV with excellent picture quality, built-in Amazon Alexa, and Google Assistant support.
It's packed with smart home features and delivers incredible performance second to none. Gamers will be pleased to know the LG CX OLED comes with: near-instant response time, low input lag, variable refresh rate (VRR), Nvidia G-Sync support, and compatibility with 4K/120HZ gameplay for next-gen consoles.
The LG CX OLED might look pricey but make no mistake; it offers more premium value than more expensive OLED competitors while still delivering amazing performance.
SPECIFICATIONS:
Screen Sizes available: 48, 55, 65, 77 inches | HDR: Yes (HDR10, Dolby Vision, HLG) | Smart TV: WebOS | Screen Type: OLED | HDMI ports: 4 HDMI 2.1, 2 USB | Refresh Rate: 120 Hz | Size: 57.0 x 32.7 x 1.8 inches |Dimensions: 1449(w) x 830(h) x 46.9(d)mm | Weight: 52.9 pounds
---
Best cheap TV under $500, a 4K wonder at a jaw-dropping price
The Hisense H8G is one of the best budget TV based on our research, offering premium values of more expensive TVs at a wallet-friendly price.
The 65-inch version sells for just $700. That's an incredible value for the features and spec it delivers, including Google assistant support, easy-to-use apps, and excellent performance across HD and 4K videos.
You won't get the same top-level performance as the two options above, and the design and viewing angles are sub-par. But for the price, the Hisense H8G Quantum Series certainly delivers and is a great option for those looking to get a lot at an affordable price.
SPECIFICATIONS:
Screen Sizes available: 65 inches | HDR: Dolby Vision HDR, HDR10 | Smart TV software: Android TV | Ports: 4 HDMI, 2 USB 2.0| Refresh Rate: 60 Hz | Size: 57 x 32.79 x 3.1 inches |Resolution: 3840 x 2160 | Weight: 43 pounds
---