TechZerg is reader supported. When you purchase through links on our site, we may earn a commission.
The best gaming PC can give you powerful gaming performance to play the most demanding and challenging games in the best way possible. Performance is very important when it comes to PC gaming.
Best gaming PC for 2023
MSI MEG Aegis Ti5
Dell Alienware Aurora R10
Corsair Vengeance i7200
The best gaming desktops, though quite expensive, make it possible to play the best PC games sharper and faster. But with plenty of options, buying the best gaming PC that meets your needs and budget can be a complicated and time-consuming process. Don't worry, though, because we've done all the necessary research and dug through the web, so you don't have to.
This best gaming PC guide focuses on the three best options that fit every need and budget, including our budget pick for the best cheap gaming PC.
Best gaming PC 2023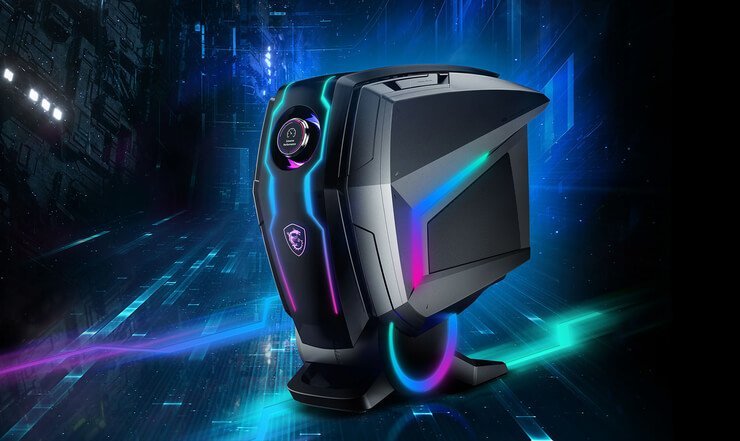 The MSI Aegis Ti5 is a unique gaming PC with the most powerful specs today. The performance on this gaming rig is second to none. Though a high-priced machine, it is the best gaming PC to buy in 2023.
If your pocket is deep enough, this is the gaming PC for you. It's arguably the most uniquely prebuilt gaming desktop out there today. The robotic-looking design certainly won't be for everyone, but many gamers will love the feel of premium art it gives.
Apart from its unique appearance, the Aegis Ti5 comes loaded with excellent tech features and configuration that comes fitted with an Nvidia GeForce RTX 3080 GPU and an Intel Core i9-10900K CPU; other configurations available with an RTX 3070 graphics card or an Intel i7-10700K.
The MSI Aegis Ti5 hardware specs make it possible to max out all the optional graphics settings and play any kind of game conceivable. With max settings, you can expect to consistently hit over 60fps on games, including recent AAA titles like Assassin's Creed Valhalla or Cyberpunk 2077.
This beast of a gaming machine has a colossal 128GB RAM to play with, which is likely an unnecessary amount of RAM for most gamers, for whom a moderate 16-32GB would be more than enough to run most games.
If you want a gaming PC that can play any title with top performance for years to come, the MSI Aegis Ti5 is going to be hard to match. It is expensive, but you're getting a powerful gaming machine with guaranteed brute strength and unbeatable performance.
Specifications:
RAM: Up to up to 128GB | CPU: Intel Core i9-10900K (3.7GHz base, 5.3GHz boost, 16MB) | Graphics: Nvidia GeForce RTX 3080, MSI GeForce RTX 3080 | Storage: 2TB PCIe NVMe SSD + 3TB 7200RPM HDD | Connectivity: Wi-Fi 6; Bluetooth 5.1 | Ports (front): 2 x USB-A; 1 x USB-C; 1 x 3.5mm Audio 1 x Mic-in | Ports (rear): 5 x Audio jacks, 1 x S/PDIF, 1 x PS/2 Combo Port, 2 x USB 2.0 Type A, 2 x HDMI out, 3 x Display Port 1 x USB 3.2 Gen 2 Type C, 3 x USB 3.2 Gen 2 Type A, 1 x Thunderbolt 3, 2 x RJ45 LAN (2.5G + Gigabit LAN)
---
Best budget gaming PC 2023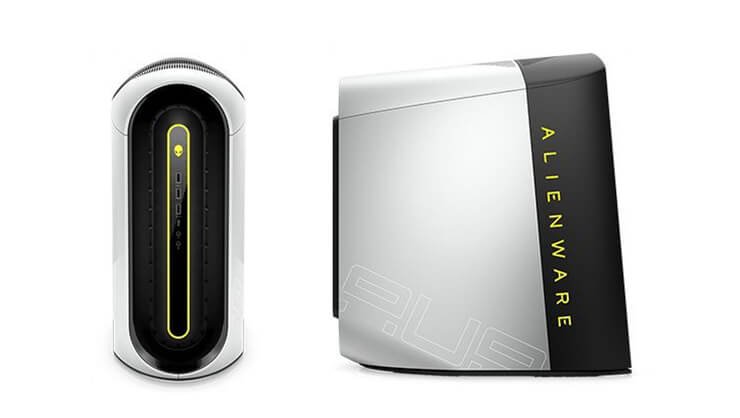 If you are looking for a powerful Pre-built AMD gaming PC that can easily handle any game, then the Alienware Aurora Ryzen Edition R10 is the best option for the money.
This beast of a gaming PC is heavy and offers lots of power, backed with top-of-the-line AMD's Ryzen CPU and GPU that's not only powerful but also affordable, making it possible for budget gamers to experience top gaming performance without spending too much money.
The Alienware Aurora Ryzen Edition R10 is the best affordable gaming PC with the most comprehensive systems and components currently out there. You can customize it with CPUs ranging from an AMD Ryzen 5 3500 to an AMD Ryzen 9 5950X, and GPUs from an AMD Radeon RX 5300 to an AMD Radeon RX 6800. If you prefer, you can also customize it with Nvidia GeForce RTX 30-series GPUs.
The Alienware Aurora Ryzen Edition R10 (2021) has an unconventional stunning design with three USB-A ports on the front – a USB-C port and two 3.5 mm audio ports: one for a mic, and one for headphones. At the back panel, you get an optical audio port, six different 3.5 mm audio inputs, a USB-C port, 10 USB-A ports, and an Ethernet port. There are HDMI ports as well, depending on the kind of GPU you get, and also DisplayPorts.
If you are on a moderate budget with an affinity for AMD gaming hardware, you can't go wrong with the Alienware Aurora Ryzen Edition R10 (2021), especially if you are looking for a pre-built gaming machine that can offer the exact components that you want.
Specifications:
RAM: Up to 128 GB | Graphics Card: AMD Radeon RX 6800 XT | Processor: Up to AMD Ryzen 9 5950X | Storage: Up to 2 TB SSD + 2 TB HDD | Ports: USB-A, USB-C, 3.5 mm audio, optical audio, DisplayPort, HDMI | Weight: 39 pounds | Size: 18.9 x 17.0 x 8.8 inches | Accessories: Dell Multi-Media Keyboard, Dell Optical Mouse MS116AW | VR Ready: Yes
---
Best gaming PC to customize 2023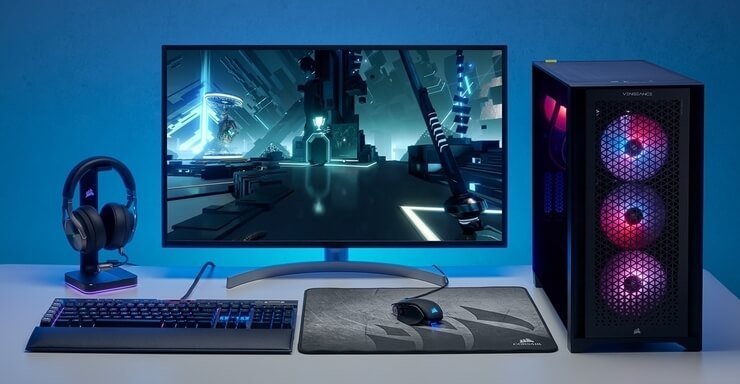 The Corsair Vengeance i7200 costs less than most of its competitors but offers top-of-the-line performance that money can buy right now on the market.
The low-end CS-9050007 model of this powerful gaming machine comes fitted with an MSI motherboard using the Intel Z490 chipset, a liquid-cooled 10-core Intel Core i9-10850K processor, a 750-watt Corsair RM750 power supply, 2GB of Corsair's own Vengeance RGB Pro DDR4-3200 RAM, a 1TB NVMe solid-state drive to install Windows and other applications, a 2TB 7,200rpm hard drive, and an Nvidia GeForce RTX 3080 graphics card.
The CS-9050004 and CS-9050001 upgrades offer much more robust components, specs, and configurations. Specifically, the CS-9050001 model offers RAM of up to 64GB and two 2TB NVMe SSDs.
The Corsair Vengeance i7200 has a plain-looking, laid-back design with a basic black finish that is aesthetically pleasing. The exterior appearance doesn't offer much, but if you prefer core gaming power and performance to style, this is probably the best gaming PC for you. You also don't need to worry about upgrading in the next several years.
Whether you game in QHD or 4K, this powerful gaming-oriented hardware will deliver.
Specifications:
RAM: Up to 64GB | Processor: Up to Intel Core i9-10850K/AMD Ryzen 9 5900X | Graphics Card: Up to Nvidia GeForce RTX 3090 | Storage: Up to two 2TB SSDs | Ports: 3.5mm audio, DisplayPort, USB-A, USB-C, HDMI | Accessories: None | Weight: 31 pounds | Size: 18.3 x 9.1x 17.4 inches | VR Ready: Yes
---