TechZerg is reader supported. When you purchase through links on our site, we may earn a commission.
The best gaming headset is very important to PC gamers. It's a mix of fantastic headphones and a microphone in one convenient piece that can turn a fun video game time into a wholly immersive experience.
Best gaming headset for 2023
Razer BlackShark V2 Pro
Corsair HS80 RGB Wireless
SteelSeries Arctis 7P/7X
While cheap headphones may be able to get the job done, they definitely can not be compared to the premium rich audio and fantastic high-quality sound you get from a great gaming headset. With the best gaming headsets, you can do a lot, such as customizing your soundscape, applying different styles to your gaming setup, and much more.
To help you narrow your search for the best gaming headset, we've researched and put together the three best options that'll suit every gamer and budget.
Best gaming headset 2023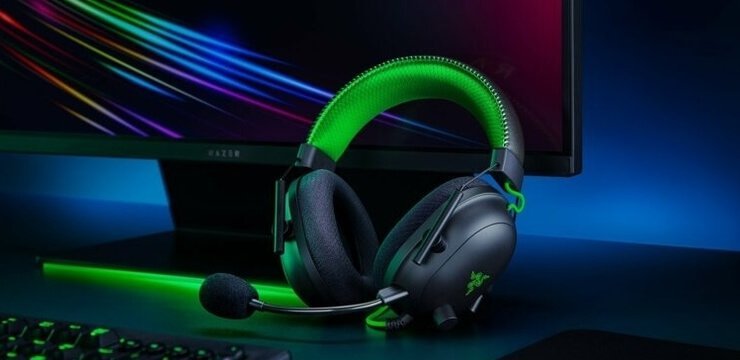 The Razer BlackShark V2 Pro is the best gaming headset in 2023. It's everything good about the previous BlackShark V2 plus added premium features such as the THX digital surround sound, lossless audio, and more – all of which help cement its place as the best headset for the ears when it comes to gaming.
The BlackShark V2 Pro is lightweight, weighing just 320g and the noise cancellation is beyond amazing. The sound quality is incredible, as well as the battery life. Razer did boast 24-hour battery life, which was about right during testing. The 24-hour battery life under heavy use is fully chargeable for around three hours. You also get an automatic Power Saving feature that can shut down the headset after various selectable minutes.
The Razer BlackShark V2 Pro is easy to set up. You plug in the HyperSped 2.4GHz USB dongle and hold the power button till the headset connects. All control buttons are on the left cup, where you have the intuitive volume dial that lets you adjust the volume range to your taste.
You also get a microphone switch on the left cup, a micro-USB port for charging, and two 3.5mm headset jack. One of the jack is for the included flexible microphone – Razer's HyperClear supercardioid mic, while the second jack is for the included 3.5mm cable, which allows you to use the V2 Pro with consoles or smartphones (using the headset in this mode means you'll go without the surround sound). The console support is not great though, so this is really for PC gamers.
The BlackShark V2 Pro is a masterstroke in terms of wireless performance. This is the first headset that Razer uses its HyperSpeed 2.4 GHz wireless dongle technology, a powerful added wireless feature that makes audio latency almost non-existent and every gaming sound clear and smooth with no static or popping noise affecting the flow.
For those on a budget, you might want to check out its cheaper non-wireless sibling (Razer BlackShark V2), which costs way less at $99.99, but with many of the same features.
Specifications:
Driver Type: Customized dynamic 50mm (Razer TriForce Titanium) | Interface: 2.4GHz USB wireless, 3.5mm audio jack | Impedance: 32 Ohms | Connectivity: USB Type-A dongle or 3.5mm cable | Frequency Response: 12 Hz – 28 KHz | Microphone Type: Razer HyperClear supercardioid, detachable | Cords: 4.2 feet / 1.3m | Weight: 0.7 pounds / 320g | Lighting: None | Software: Razer Synapse 3 | More Features: THX Spatial Audio, noise cancellation
---
One of the best wireless gaming headsets of 2023
The Corsair HS80 RGB Wireless takes the second spot on our list and is perhaps the best gaming headset ever made by Corsair. It features everything you would expect from a solid headset. In addition, Corsair is a well-known brand with a track record of producing some of the best gaming headsets on the market – so this is a company that knows what it's doing.
The Corsair HS80 RGB Wireless headline feature is the custom 50mm neodymium drivers and the Dolby Atmos sound, which is a peculiar audio format for experiencing better than usual surround sound (in this case, better-than-7.1-surround sound). This is also one of the most well-built gaming headsets out there with a comfy design. The battery life is fantastic at 19-hour-long.
This is one premium gaming headset every serious PC gamer out there needs to check out. Other standout features include Corsair's iCUE software, and fully enabled customizable RGB lighting (excellent sound quality, but not as good as "actual" home theater Dolby Atmos)—one of the few compromises for audiophiles.
The Corsair HS80 RGB Wireless headset sits at the top when it comes to excellent sound performance. The sound performance level is exceptional and definitely blows the competition out of the water. However, if you consume lots of music, it should be noted that there's no Bluetooth support. For gamers, though, this is not a big deal.
This is easily one of the best headsets on the market now, save for the microphone, which is clear but quiet.
Specifications:
Driver Type: Custom 50mm neodymium | Impedance: 32 Ohms @ 1 KHz | Frequency Response: 20 – 40,000 Hz | Microphone Type: Omnidirectional, flip-up | Cables: USB Type-C to Type-A (charging and audio) | Connectivity Options: 2.4 GHz USB Type-A dongle or USB-A cable | Weight: 0.8 pounds / 367g | Lighting: 1x RGB zone | Software: Corsair iCue, Dolby Access | Features: Dolby Atmos, 60-foot rang, 20 hour battery life
---
One of the most versatile gaming headsets for 2023
The SteelSeries Arctis 7X and 7P are awesome wireless headsets that improve on their predecessor, the SteelSeries Arctis 7, with an updated USB-C dongle and improved battery life.
The Arctis 7P/7X is one of the best gaming headsets ever made. It's has a beautiful design, sounds great, and versatile with support for multiple devices. It can work well with both the Xbox Series X, and PS5, as well as other gaming systems such as Xbox One, PS4, Nintendo Switch, PC, tablet, or phone.
The SteelSeries Arctis 7P/7X comes with almost everything a gamer will need in a gaming headset. It has a USB-C dongle and USB-A adapter, allowing you to enjoy any gaming system with top wireless performance. Compared to most gaming headsets on the market, the USB-C dongle is for pairing rather than USB-A – meaning you can connect with tablets, smartphones, and Nintendo Switches in handheld mode.
Despite the 7X and 7P having the same price tag, the 7P feels underfeatured and less versatile compared to the 7X
The Arctis 7P/7X is also very light, weighing just about 12 ounces. It's also worth noting that the Arctis 7P/7X is easy to wear and very comfortable on the ear.
One downside to the Arctis 7P/7X is the underwhelming music quality. But for the price, this is one good gaming headset worth buying.
Specifications:
Wireless: Yes | Compatibility: PC, PS5, PS4, Xbox Series X/S, Xbox One, Switch, Android | Frequency Response: 20 Hz – 20 kHz | Drivers: 40mm
---