TechZerg is reader supported. When you purchase through links on our site, we may earn a commission.
Liquid Web is known for its impressive customer service, excellent server speed, and quality performance – a leader in managed WordPress, cloud, VPS, and dedicated server hosting.
---
Welcome to our comprehensive Liquid web hosting review for 2023. Liquid Web is a US-based web hosting company founded in 1997, but now manages over 1.5 million sites for 45,000+ customers through its ten global data centers. There's a reason why big brands like Red Bull, The Home Depot, Audi, Motorola, FedEx, ESPN, and many more use Liquid Web.
They provide high-performance managed hosting with excellent server speed and stability. The company is known for its exceptional support, reputed to be the best in the industry.
Liquid Web prices may seem high at first, especially if you are used to budget hosting providers, but you get what you pay for in performance, excellent support, and peace of mind. Also, you can try them out free for 14 days on any plan.
Liquid Web pricing and plans
The cheapest managed WordPress plan costs $15.83 per month when paid yearly, limited to 1 website, you also get 15GB SSD storage, 2TB bandwidth, 30-day backups, free SSL certificate, and unlimited email accounts. Other Liquid Web managed WordPress plans include:
Maker ($65.83/month): Support for 5 sites, 40 GB storage, and 3TB bandwidth.
Designer ($90.83/month): 10 sites, 60 GB storage, and 4TB bandwidth.
Builder ($124.46/month): 25 sites, 100 GB storage, and 5TB bandwidth.
Producer ($249.16/month): 50 sites, 300 GB storage, and 5TB bandwidth.
Executive ($457.5/month): 100 sites, 500 GB storage, and 10TB bandwidth.
Enterprise ($832.5/month): 250 sites, 800 GB storage, and 10TB bandwidth.
You can sign up for Liquid Web (14-day free trial)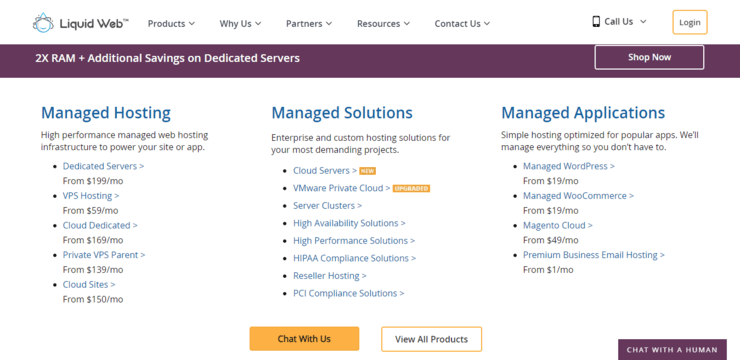 Liquid Web also offers Magento cloud and managed Woocommerce hosting designed specifically for e-commerce stores starting at $15.83 per month on an annual plan. It comes with all the resources you'll ever need to scale and grow with promises of 2-10X faster load times, plus abandoned cart & page builder plugins, 24/7 expert support, and many more features.
Liquid Web is not just limited to WordPress or Woocommerce hosting, they also provide a range of other hosting products and services, including VPS hosting (from $35/month), Dedicated servers (from $199/month), Cloud dedicated ($169/month), Private VPS parent (from $139/month) and Cloud sites (from $150/month). Each of these services offers different kinds of features, depending on your needs.
It's normal to be surprised by Liquid Web's high prices, but you have to look at it in the right context.
First, Liquid Web does not offer cheap, underpowered products such as shared hosting, which allows you to share the resources and cost of a server with other users. This is what is being offered at low prices on cheaper hosting platforms.
They stopped offering cheap shared hosting a few years ago to focus on delivering high-end hosting with powerful features and quality support second to none in the industry. This is good if you are looking for a managed hosting provider whose focus is offering premium hosting, rather than competing with unreliable low-budget shared web hosting.
Liquid Web offers a lot for the money. You have complete access to the server and database, plus automatic daily backups, top-of-the-line technologies such as Nginx, PHP 7, Varnish, excellent image optimizations for fast page speed, and more. They manage WordPress and plugin updates for you so you can focus on what you do best, and should there be any issues, their outstanding technical support team is always available 24/7 through phone, live chat, and email.
Liquid Web doesn't have hidden costs and charges. There are no page views or traffic limits, no overage fees.
One of Liquid Web's costs justification is the service level agreement (SLA) for its customers, which guarantees 100% network uptime, 59 second response time for help desk, phone, and live chat. Also, should there be any hardware failure, the faulty hardware will be identified and replaced within 30 minutes. If this guarantee is missed, you'll get ten times the amount of downtime you had. This is worth looking into and is considerably better than what's offered on other hosting platforms, particularly if you're running a large-critical website.
Account setup
Liquid Web may be designed for businesses and professionals, but they put in lots of effort to explain their services.
For example, most hosting platforms provide a control panel, but you only get to find out after you've signed up. Liquid Web offers you three choices (cPanel Pro, Plesk Web Pro, and InterWorx), and they even provide in-depth details on how they compare. If you are unclear about any of their services, they offer live chat that's always available to answer your inquiries.
Setting up your account is very easy and straight forward. Once you're ready to choose a plan, type in your payment details and pay through PayPal or credit card. Within minutes, you'll receive a welcome email including your login details, links to your account, and support resources.
Creating a website
Liquid Web comes with several ways to build and manage sites depending on how the product you purchased is configured.
A managed WordPress account is the easiest option, as it comes preinstalled. If you currently have a website elsewhere, all Liquid Web's plans have a free migration offer where they transfer your website for you.
Their VPS or dedicated server comes with a cPanel that gives you access to Softaculous, a great platform that can automatically install hundreds of top apps, including WordPress.
Liquid Web also comes with a website builder for free; you can use the premium Beaver builder lite or Weebly or install a builder of your own.
Other bonuses at no extra cost include the premium Astra pro theme, a superb theme built for speed and designed for e-commerce. The standard managed hosting platforms, or cheaper shared hosting services don't offer access to any WordPress themes.
The plan you chose and your control panel will determine the level of features you'll get. There's so many to outline here, but here are a few of them: Free auto-install SSL certificate, Environment (PHP version, WordPress update settings), MySQL to create and manage databases, Performance (CDN, caching), Access (SSH, FTP), backups, staging, email accounts, and more.
Additionally, Liquid Web has an excellent feature – the Visual Comparison feature. Performing automatic updates on WordPress plugins can break the site if there's a technical glitch, so Liquid Web takes care of this by making a copy of your site, including screenshots of important pages, performs the update and retake the screenshots. If there is a visual change during the process, the visual comparison feature will alert you to review the screenshots and approve the update.
This is a great feature for large websites that can't afford any downtime due to update failure. Not many providers offer this feature, the ones that do either updates some plugins or WordPress only.
Support
A web host support is one aspect worth looking into before deciding if it's the best for your site because it can tell a lot about the company.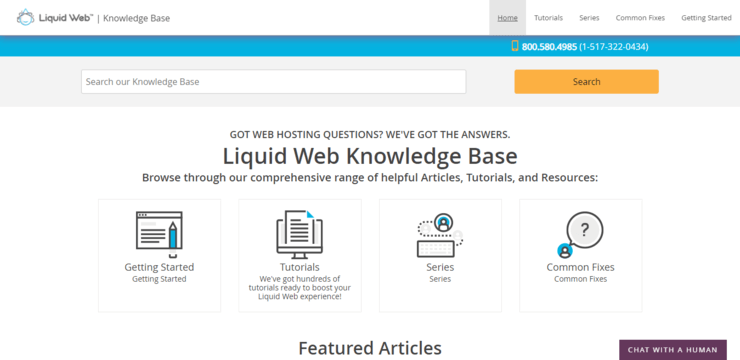 Liquid Web support page is impressive with its quality, both in-depth and range. The opening line clearly explains what's on offer, such as the various level of support available across all plans, plus a knowledge base packed with detailed guides and tutorials covering everything from basics advice to advanced topics like 'what is DNS?' and 'How to display checkout fields in WooCommerce.' Articles and resources are divided into four categories: Getting Started, Tutorials, Series, and Common Fixes.
Other smart ways to find articles in the knowledge base include using the search box. Sometimes, results showing first on the list may not have what you need, but they are easily summarized, making it straightforward to scroll down and find useful articles.
If you need help with anything, Liquid Web offers 24/7 live chat, phone, and email support. Liquid Web does not outsource its support; the company has its in-house team of certified technicians. Every new Liquid Web support staff gets over 300 hours of training during their first year alone.
Furthermore, there's a "Sonar Monitoring" team whose sole aim is to continually scan and ensure your servers and application is online, secure, and accessible.
No low-budget or even managed hosting providers come close to Liquid Web in terms of premium professional support. They are well ahead of competitors when it comes to support.
Performance
Reliability is a crucial factor in hosting. If your website performs poorly or goes down frequently, that will give you a bad reputation with visitors.
Our recent use of Uptime.com to measure Liquid Web reliability over a period of a week showed an excellent uptime of 100% with an impressive average response time of 241 milliseconds, suggesting that any website hosted on Liquid Web will deliver fast and stable performance long-term.
Security
Liquid Web puts the security of every website hosted on its server as a top priority. First, all its ten data centers are placed under strict security 24/7, allowing only authorized technicians access into the server control rooms. Additionally, all their facilities are placed under constant camera surveillance to avoid server theft and break-ins.
With 30,000 new websites hacked daily, Liquid Web has included for free the IThemes security pro (worth $199/year) on all of its managed WordPress hosting plans. It's a trusted WordPress security plugin with a free version that's already very popular. The pro version comes with plenty of added features such as core file monitoring, automatic malware scanning, two-factor authentication, brute force protection, and more – to keep your site safe and secure.
Who is Liquid Web best for?
If you are new to building a website or simply wants to learn how to build a website, Liquid Web performance might be too excessive for you, but the support you get might be worth it. Based on the price, products, and features, It's obvious that Liquid Web is targeted squarely at:
1. Professionals/Freelancers/Developers
For a freelance developer building multiple websites for clients or whatever reason, the cost per site is relatively reasonable across the various plans. If you are developing a large website, you can use their high-performance dedicated server.
2. Business/High-traffic sites
If you run a business site with highly targeted traffic or a website with millions of traffic, operating at a low-speed performance or periodically going down will cost a lot of money. In this case, the price and support are well worth it.
Liquid Web review: Final verdict
Liquid Web hosting is a premium managed hosting platform that's more expensive than most, but the depth of features on offer makes it worth the money. If consistent performance, powerful features, reliable servers, speed, and excellent 24/7/365 support are more important than price, then look no further than Liquid Web – they should be top of your hosting shortlist. A smart choice if you are more interested in reliability and quality of service than hunting for unreliable low-priced options.