We may earn a commission for purchases through links on our site. Learn more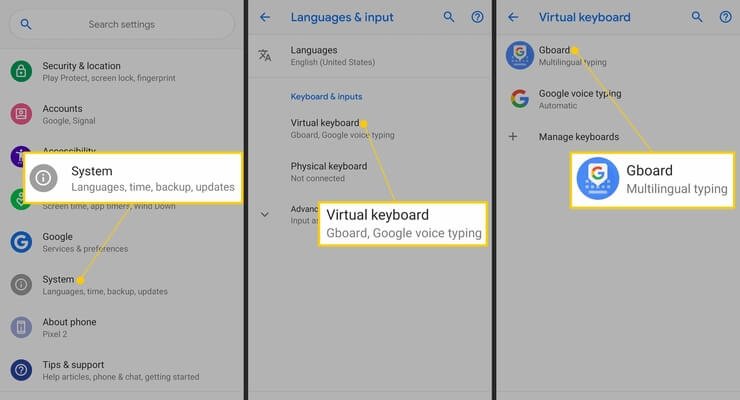 Autocorrect on your Android phone or tablet can be useful and convenient, especially if you want to get your message across quickly – it can also be annoying with wrong suggestions and corrections, as it doesn't always get it right.
Everyone has had at least one or two personal experiences with their phone changing words they type and completely screwing up the conversation. Depending on your writing style, your Android device autocorrect prediction and suggestion can fail, and even increase the time to do a simple task. If autocorrect often gets in your way of free flow typing, it might be a good idea to disable it. Here's how to turn it off with just a few steps.
How to turn off autocorrect on Android
1. Open the settings app.
2. Tap System. Depending on your device, the option might be General Management.
3. Tap Language and input.
4. Tap Virtual Keyboard.
5. You'll see a list of all installed keyboards, including Gboard, which is the default keyboard for nearly every app. Tap on it.
6. Tap Text correction.
7. Scroll down to "Corrections" and tap Auto-correction to toggle it off.
You've successfully deactivated the autocorrect feature (including predictive text) on your android device. Your device won't try to suggest or predict words for you whenever you type.
To re-enable the autocorrect feature should you change your mind, simply follow the same instructions as above.
If you found this article helpful, you can help support TechZerg by shopping on Amazon. You may also want to check out our how-to guides as well as more helpful articles below.
Sign up for our Newsletter to get the best tech deals, product advice, helpful tips, and more! Follow us on Facebook, Twitter, LinkedIn, and Reddit.
---
About King Osaghae
King Osaghae is a technology researcher and writer who's been writing about tech-related topics and trends since 2018. He covers everything tech from computers to cameras to online business software. He is the managing editor at TechZerg, meaning that he oversees all the articles TechZerg produces.
---