We may earn a commission for purchases through links on our site. Learn more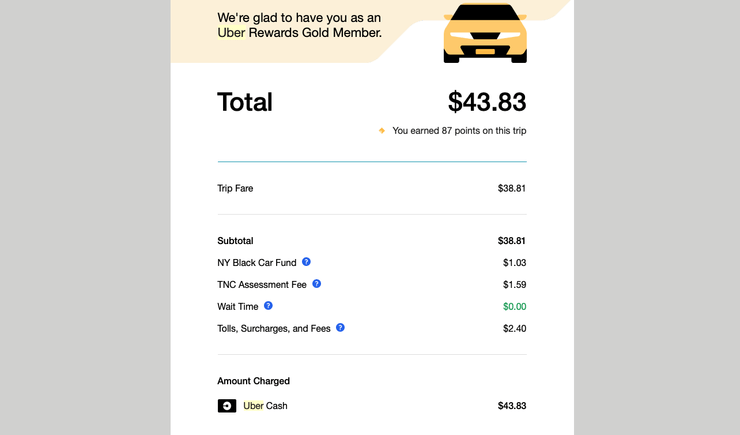 If you continuously commute from place to place using Uber, that means you're probably spending a fair amount of money.
Since payment for Uber rides is done digitally, keeping track of your Uber expenses can be difficult. Knowing how much you spend is vital if you want to manage your budget and costs.
The good news is you can get receipts for all your Uber rides with exact details of how much you spent on each trip. Here is how to view your Uber receipts in a few steps.
How to get your Uber receipts
Uber makes it very simple to get your receipt. For every ride you complete, Uber automatically sends the receipt to the email address associated with your account.
If you can't find the Uber receipt in your main inbox, check your junk mail folder. If it's not there, you probably entered the wrong email while setting up your account. To change and update your email, Go to the "Settings" tab on the Uber app.
You can also go to riders.uber.com/trips >> My Trips, and request your Uber receipts to be re-sent to your email.
How to get your Uber receipts on the Uber app
To view your Uber receipt in the app:
1. Open the app on your phone.
2. Tap the three horizontal lines "Menu" button on the top-left.
3. Tap Your Trips from the list of options.
4. You'll see summaries of your past trip. Tap the particular trip in question.
5. Tap the Receipt tab.
The receipt will show you all information on charges, and the payment menthod you used. You can take a screenshot. print, or download as a PDF.
How to print your Uber receipts
The option to print your Uber receipt will depend on which email service you are using. First, connect your printer and follow the simple instruction for each email client below:
If you are using Apple Mail, click/tap File in the menu bar and select Print.
For Gmail, click/tap the icon that looks like a printer located in the top-right of youe email dashboard.
And finally, if you are using Outlook, click/tap File in the menu bar, and select Print.
If you found this article helpful, you can help support TechZerg by shopping on Amazon. You may also want to check out our how-to guides as well as more helpful articles below.
Sign up for our Newsletter to get the best tech deals, product advice, helpful tips, and more! Follow us on Facebook, Twitter, LinkedIn, and Reddit.
---
About King Osaghae
King Osaghae is a technology researcher and writer who's been writing about tech-related topics and trends since 2018. He covers everything tech from computers to cameras to online business software. He is the managing editor at TechZerg, meaning that he oversees all the articles TechZerg produces.
---