We may earn a commission for purchases through links on our site. Learn more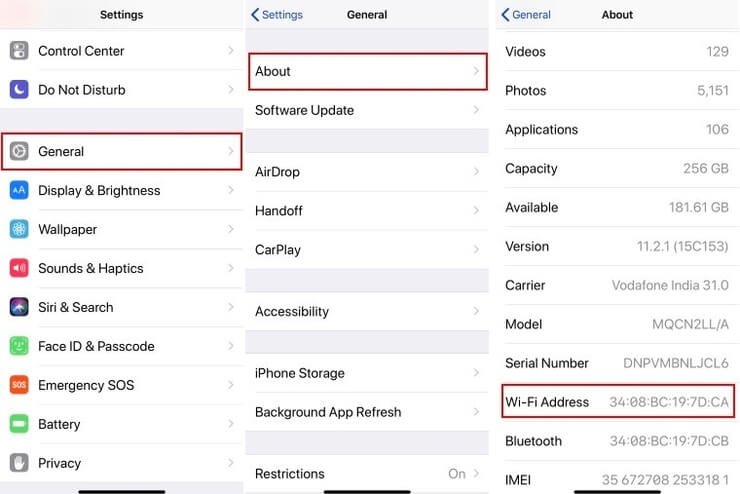 ---
MAC address is a unique identifier for your device on network interfaces like Ethernet and Wi-Fi.
You may need to find your iPhone's MAC address if you plan to filter devices connected to your home or office network.
Another reason to find your iPhone or iPad MAC address is if you want to connect to a wireless network that is restricted with MAC addresses.
iPhone's MAC address is usually a combination of twelve alphanumeric characters grouped in twos by a colon.
---
What is MAC address?
MAC, which stands for Media Access Control, is a physical address assigned to every wireless device and used to identify the device. Every MAC address is unique to each device. In other words, no two wireless devices have the same MAC addresses.
If you need to block or allow network access to devices, you need to find your iPhone's MAC address. Whitelisting your iPhone would be difficult if you don't know its MAC address.
How to find your iPhone's MAC address
To locate and view the MAC address of your iPhone or iPad, follow these steps:
1. Open Settings.
2. Select General.
3. Tap About.
4. To find your iPhone MAC address, scroll down to Wi-Fi Address, the Wi-Fi address is your MAC address.
Sometimes, the MAC address might appear too big, and you may not see the entire MAC address on your screen. If that happens, you just need to reduce the font size to make the entire MAC address appear. To reduce your iPhone's text size, go to settings > Display & Brightness.
If you want, you can copy your iPhone's MAC address, to do so; tap and hold on Wi-Fi Address, and tap Copy.
Note: MAC addresses are unique and permanent to each device, so keep your MAC address private and not share it with anyone. Malicious hackers can spoof through your Wi-Fi network and jeopardize the information saved on your iPhone.
If you found this article helpful, you can help support TechZerg by shopping on Amazon. You may also want to check out our how-to guides as well as more helpful articles below.
Sign up for our Newsletter to get the best tech deals, product advice, helpful tips, and more! Follow us on Facebook, Twitter, LinkedIn, and Reddit.
---
About King Osaghae
King Osaghae is a technology researcher and writer who's been writing about tech-related topics and trends since 2018. He covers everything tech from computers to cameras to online business software. He is the managing editor at TechZerg, meaning that he oversees all the articles TechZerg produces.
---