We may earn a commission for purchases through links on our site. Learn more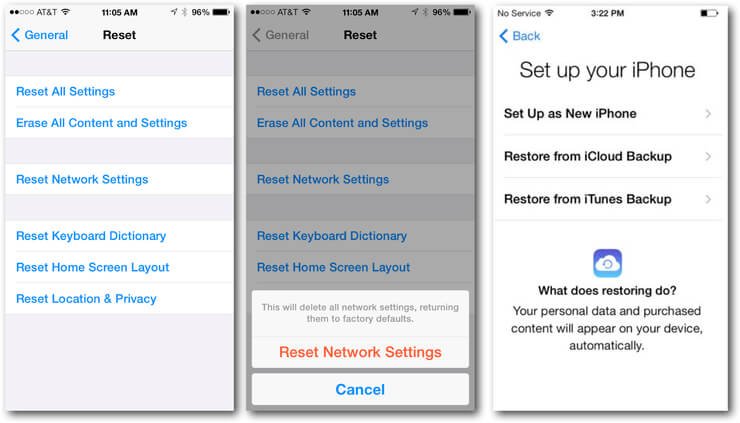 ---
To factory reset an iPhone or iPad: Tap Settings > General > Reset > Erase All Content and Settings. If prompted, enter passcode/fingerprint/Face ID > Erase iPhone/iPad > Enter Apple ID password. Your iPhone (or iPad) will now factory reset.
But before you factory reset your iPhone or iPad, there are some necessary precautions to take first, as outlined in this article.
iPhone these days are more than just making calls; they are now as personal as our lives, storing personal data and information from private files to embarrassing selfies. You don't want to leave your data and files where prying eyes can see them, that's the more reason why you need to protect and keep them safe by restoring your iPhone (or iPad) to factory settings. Another reason you'll want to factory reset your iPhone (or iPad) is when it's misbehaving, freezing, crashing, or suffering from issues you can't identify, and all initial solutions you tried are not working.
Performing a factory reset on your iPhone or iPad will completely wipe off all account info, apps, files, and everything else on the device (excluding iOS and pre-loaded apps) and revert it to factory settings – basically, the condition it was in when it left the factory.
Resetting your iPhone or iPad to its factory settings is different to a "soft reset" which should generally be tried first, it's the less drastic method of restarting and force-restarting your iPhone, allowing you to retain your data and settings and should be used when your phone is misbehaving or slower than usual, an app is malfunctioning or some other minor issue that does not require a factory reset. A factory reset is not something that should be done lightly – it should be your last resort, but if it's the only option you have and you're sure it's what you want to do, then continue reading.
Back up your iPhone first before starting a factory reset
It's important to back up your data before you factory reset your iPhone, this should be the first step when performing an important task like this. This will allow you to keep a copy of all your data stored somewhere safe so that you don't lose anything important and can easily restore it back on your next iPhone or iPad, or at least be able to access it whenever you need it later.
You have two options to back up your iPhone (or iPad) – through iCloud or iTunes.
To back up your iPhone to iCloud (which is turned on by default when you sign in with your Apple ID), tap Settings > [Your Name] (skip this step if you are using the earlier versions of the iOS) > iCloud > iCloud Backup > Back Up Now.
To back your iPhone to iTunes, connect your iPhone to a computer via USB, then click the gray Back Up Now button on the main iPhone page.
How to remove iCloud Activation Lock on an iPhone
If you're planning to sell or give away your iPhone to someone else, you'll also need to disable Apple's Activation Lock so the next person can actually use it. The Activation Lock is a security feature available in iOS 7 and above that requires you to enter the Apple ID used to set up the phone if you want to factory reset it. This nifty feature makes it impossible to use a stolen iPhone.
Here's what to do to remove activation lock on your iPhone:
1. Tap Settings.
2. Enter your name (skip this step if you are using the earlier versions of iOS).
3. Tap iCloud, then click Find My iPhone.
4. Toggle Find My iPhone switch off.
5. Scroll to the bottom, then tap Sign out.
6. You'll be prompted to enter your Apple ID/iCloud password.
How to factory reset an iPhone
The final step is to factory reset your iPhone or iPad.
1. Go to Settings.
2. Tap General.
3. Scroll to the bottom, then tap Reset.
4. On the "Reset" screen, you will be given an array of reset options. The one you need to factory reset your iPhone is Erase All Content And Settings, tap on it.
5. If prompted, enter the passcode, TouchID or FaceID set on your phone.
6. Your iPhone will display a warning that all media, data, and settings will be erased. To confirm this action, Tap Erase. If you decide to change your mind at this point and don't want to factory reset the iPhone, tap Cancel. But if you're sure this is what you want to do, make sure you have backed up your data to iCloud or your computer.
7. The deletion process will take a few minutes depending on how much data you have stored on your iPhone, once completed, your iPhone will restart as new. You can then either proceed to restore from your backup or begin the initial setup process as a new iPhone.
Image: Gigaom
If you found this article helpful, you can help support TechZerg by shopping on Amazon. You may also want to check out our how-to guides as well as more helpful articles below.
Sign up for our Newsletter to get the best tech deals, product advice, helpful tips, and more! Follow us on Facebook, Twitter, LinkedIn, and Reddit.
---
About King Osaghae
King Osaghae is a technology researcher and writer who's been writing about tech-related topics and trends since 2018. He covers everything tech from computers to cameras to online business software. He is the managing editor at TechZerg, meaning that he oversees all the articles TechZerg produces.
---