TechZerg is reader supported. When you purchase through links on our site, we may earn a commission.
Welcome to our in-depth Buzzsprout review and walkthrough for 2023, which covers everything you need to know. In this review, you'll find out about Buzzsprouts' strengths, features, performance, customer support, and pricing.
TL;DR: In our Buzzsprout review based on in-depth research, we found them to be an excellent choice for both beginners and established podcasters. If you are looking for a reliable podcast host with great features, perfect design, easy-to-use, 24/7 helpful support team, with simple pricing to help anyone get started, then Buzzsprout is an excellent choice.
They have a free 90-day plan to get you started without paying for hosting. On top of that, our readers can get a free $20 Amazon gift card when they upgrade to a paid plan. We rate them as one of the best podcast hosting services for beginners for many reasons; read on to find out more.
---
About Buzzsprout
Buzzsprout was founded in 2009 in Jacksonville, Florida, and has since grown to become one of the largest podcast hosting platforms in the world with over 100,000 podcasters in more than 110 countries.
They pride themselves as the best way to launch, promote, and track a podcast. They also have a long-standing relationship and support with the podcasting community, notably through their creator program, which we will discuss in more detail later in this review.
Recommended and endorsed by successful podcasters
You might be asking yourself why is Buzzsprout so popular in the podcast hosting space? Is it that great?
Well, to start, It is almost certainly the #1 most-recommended podcast hosting platform in the industry — they are one of the very few services endorsed by many established brands and podcasters. Below are some screenshots of real, unbiased Buzzsprout reviews: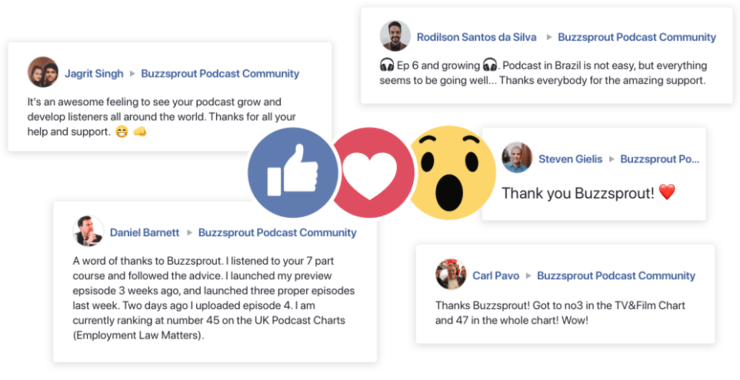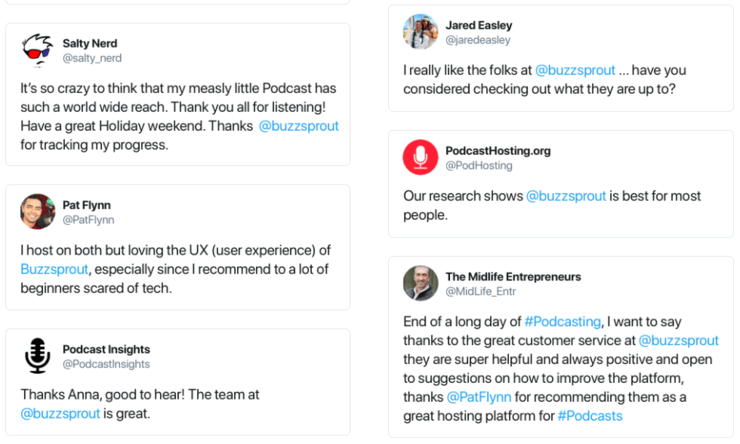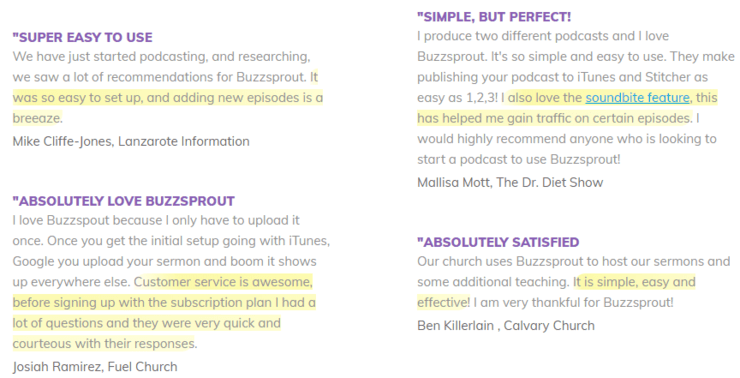 Some few key takeaways about this podcast hosting company, which I've pulled from dozens of reviews:
The helpfulness of their customer support is mentioned as a top benefit in nearly 50% of reviews.
The setup process from the initial sign up to starting a podcast is widely cited as the easiest and fastest in the industry. Buzzsprout has lots of step-by-step setup guides to help you through your first podcast, so it's no surprise.
Buzzsprout pricing, which starts at $12/month, was also cited as a better value for money. It's one of the lowest in the podcast hosting industry, especially when you compare the features and ease-of-use — more on the pricing later in the article.
Now that we've laid the foundation for the general consensus from many Buzzsprout reviews across the internet, let's dive into its features to see what they have to offer.
Buzzsprout have been kind enough to offer our readers a free $20 Amazon gift card when they sign up. Your bonus will be sent to you if you stay for 2 months. You can use Buzzsprout hosting free for 90 days.
---
Buzzsprout features
Buzzsprout has some great features and tools designed to help promote and grow your podcast. Here are 16 of them you should know about:
1. Podcast websites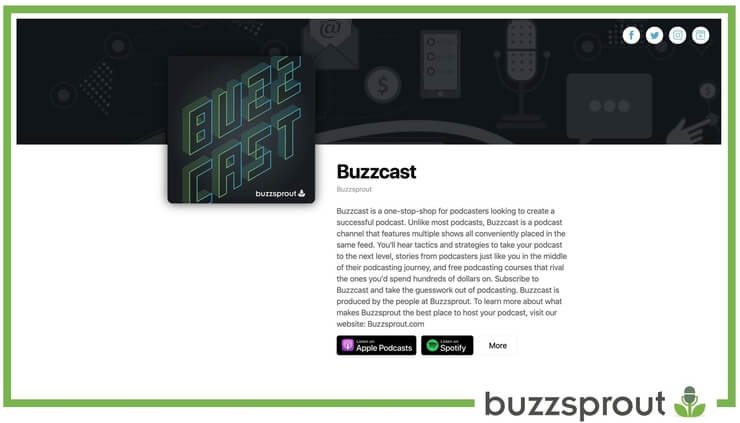 One of the easiest ways to promote your podcast is to have a home on the web. A website is the best way for your audience to subscribe and share your episodes; your episodes can also be indexed by google, thereby boosting your presence online.
Creating a website for your podcast may not be something you want to spend your time doing, especially if you're going to focus on creating good content and launch as soon as possible. In other to spare you the technical headaches, Buzzsprout already has a website set up just for you! Your new website will be the home for your episodes; you can also add your social media accounts and links to your podcast directories listings.
To customize your website, simply navigate to the top menu within your dashboard and click on Website. You can easily customize the color and background to reflect your brand. Additionally, you can customize your URL to any domain name that best describes your brand.
When you first set up your account, your Buzzsprout-provided website will have a URL with some random numbers added to the domain, something similar to this: www.buzzsprout.com/1482967. You can change the URL if you don't want it by using the two options available.
The first option is to customize the URL to live on the Buzzsprout domain, something like: techzerg.buzzsprout.com.
The second option is to use your domain, something like techzerg.com. You can buy from a cheap registrar like Namecheap which offers the lowest price on the market, or get a free domain from Bluehost, the free domain from Bluehost is only available if you use them as your web host.
The only downside to the Buzzsprout-provided website is the limited level of customization you can perform, but it's a good starting point – a webpage to call home for now. As your podcast grows, you'll have to opt for dedicated website builders such as WordPress, Weebly, or Wix — these platforms can help you collect emails, generate leads, add images, and do much more.
If, for whatever reason, you don't want Google and other search engines to index your website, simply click on Website at the top menu > Hide from Search Engines (located at the left-hand panel) > Hide My Public Buzzsprout Website from Search Engines > Save.
2. Podcast app (iOS and Android devices)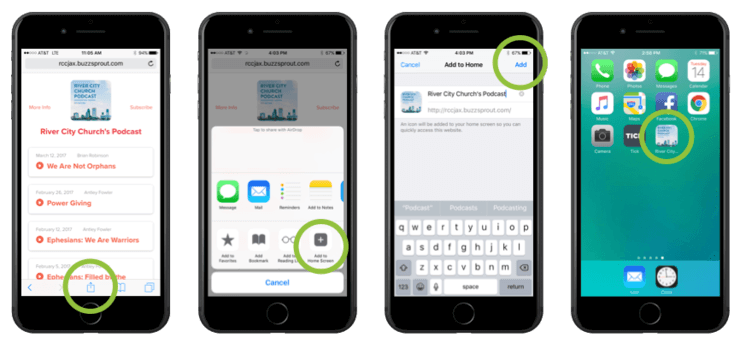 Your Buzzsprout website can also operate as a mobile app. Here is how it works: while you were creating your podcast website, Buzzsprout automatically created a mobile version built to look and work like a regular app, with nothing else to do on your part. It just works! Your users can install the app to their home screen by selecting Add to Home screen on their smartphone, and the mobile version of your podcast website will be installed on their home screen. Your podcast app on the home screen of your listeners gives them direct access to your episodes. The app automatically updates whenever you release a new episode.
3. Podcast analytics and statistics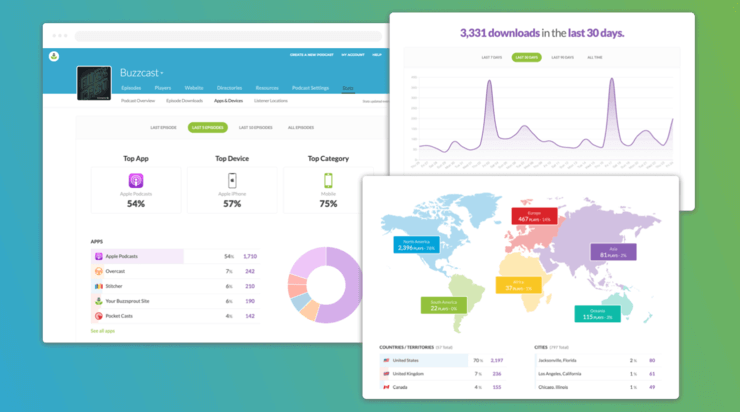 Buzzsprout has a modern-looking analytical dashboard with comprehensive data presented in colorful graphics, charts, and buttons that reveal details and numbers about your podcast's growth and audience reach. All Buzzsprout analytics comply with the Interactive Advertising Bureau (IAB) podcast measurement guidelines. The statistical section tracks:
The numbers of your episode download by regions and locations — you can see which episode is most popular in different locations. Also, Buzzsprout has a statistical world map that shows you an accurate spread of your audience around the globe with detailed download stats by countries and cities.
The apps and technology your listeners are using to access your podcast — you will see which devices are top ranking (Apple iPhone, Samsung, or any other device). You'll also see which apps your listeners are using the most to stream your episodes, ranked in order of popularity. These data shown in percentage and actual figures are pulled from over 40 sources, including Apple Podcasts, Sticher, Overcast, Spotify, iHeartRadio, TuneIn Radio, and many more. Additionally, you'll also see which category of device your listeners are using the most (PC, tablet, or mobile).
Your podcast performance and trends overtime — You can track each episode downloads to find out which episode performed the most in the last day, months or years.
These stats will help guide you on what type of content your audience wants from you.
4. Podcast Player
Add the eye-catching Buzzsprout Wave podcast player to your website; all you need to do is copy and paste a code snippet. The podcast player has share buttons with many options, playback features that appear once you hover over the player, you can also customize the color and artwork to match your brand. Additionally, you can decide whether to create a playlist of several episodes or just a single episode. You also have the choice to filter by recent episodes, guest, or tag.
The Wave podcast player can work with Wix, WordPress, Squarespace, and other content management systems. To customize your player, navigate to Players and then click on Customize Your Players.
5. Automatic episode optimization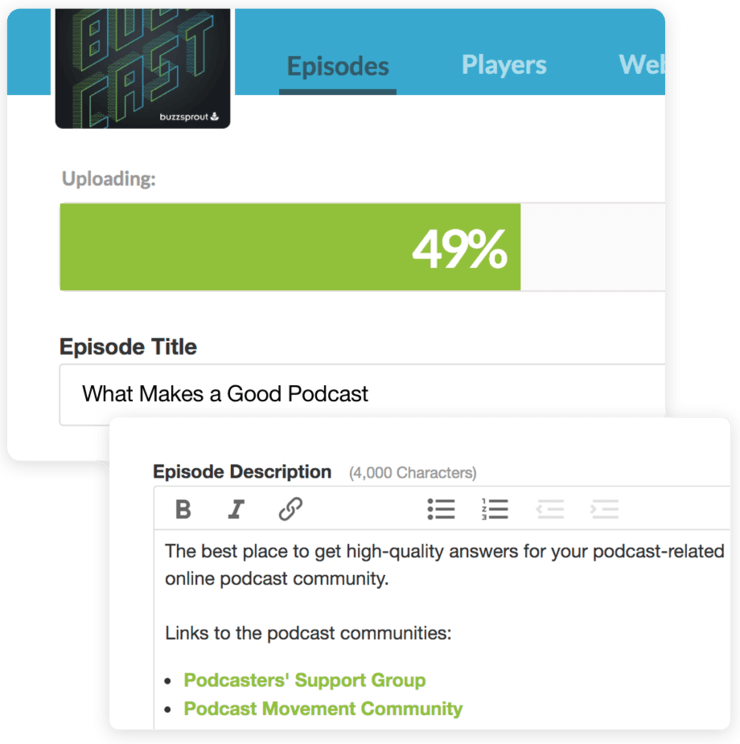 Simply upload your podcast, and Buzzsprout will automatically optimize it. You don't have to worry about filetypes, bitrates, or ID3 tags. The processing times will vary depending on the size of your file. Processing time usually ranges between 5 to 15 minutes or a little longer if your audio file is large. Once your audio file has finished processing, you will receive a notification via email. If within one hour of upload, your podcast is not yet published — sent an email to Buzzsprout, and they'll sort it out within minutes. They are always at your service 24/7 whenever you need help with anything; they are willing and ready to look into it. Also, you can choose to schedule when your episode should go live, you can choose to publish it immediately or any day and time you'd prefer.
6. Chapter Markers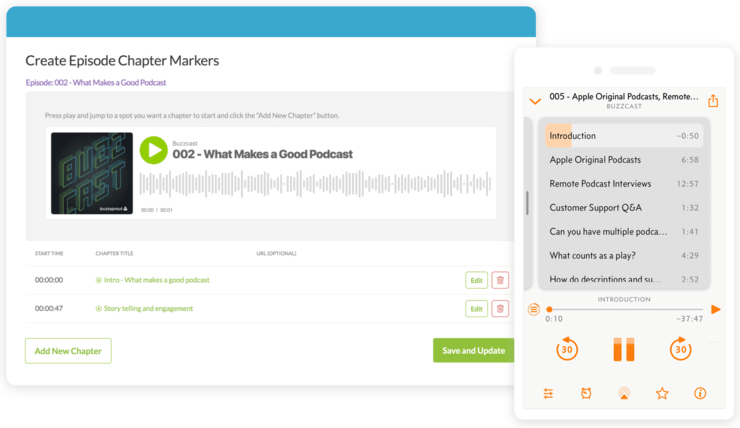 Chapter markers make it easy for your listeners to see sections of your podcast and cherry-pick the most exciting parts to them. Even more interesting, adding chapter markers to your episodes will encourage your audience to listen all the way through because they know what's ahead, they know when a specific topic you mentioned at the beginning of your show or in the title will come up. You can add chapter markers to each of your episodes right there in your dashboard, click on Episodes and then click Add Chapter Markers. With just a few clicks, your podcast episode will be ready with all your chapter maker saved to your audio file.
7. Video Soundbite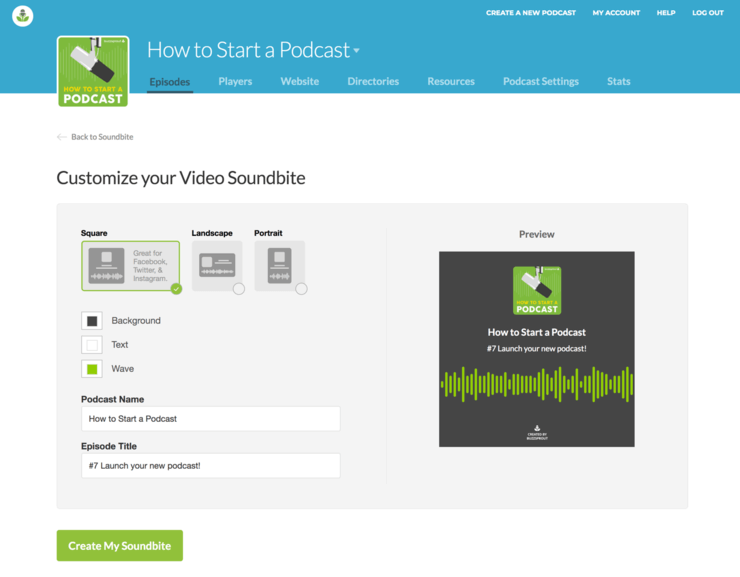 Buzzsprout video soundbite makes it easy to create a 'short video trailer' based on your podcast episode to share and promote on sites such as Facebook or any social media sites that accept video files. It's a cool way to attract more clicks and views. There are dedicated tools that charge money for doing this, but Buzzsprout includes it for free to your hosting. All you need to do is click on Episodes and click on Create a Video Soundbite located at the right sidebar of your episode page. From there, set your start time and duration, select the size, customize the colors, text, artwork, etc. Once you finished, Buzzsprout will email you when to download it — now, you can start sharing your visual soundbites to the rest of the internet.
8. Audio transcription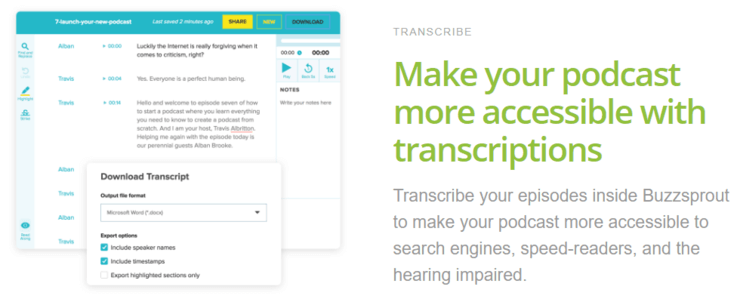 One of the best strategies for getting your podcast in front of a new audience who has never heard of you is through transcription. Transcribing your podcast creates a better experience for your existing audience and makes it easy for search engines like Google to find your podcast and put it in front of people looking for content like yours. When you also consider the potential audience of the 500 million people with hearing impairment and other opportunities like repurposing your transcripts to an ebook, you begin to see why podcast transcription is an efficient strategy.
If you like the idea of transcribing your podcast episodes, Buzzsprout has a built-in transcription service priced at $0.25 per minute. When you are ready to transcribe your podcast, upload the audio and click Transcribe this Episode, review and make edits where necessary. Once you are through, Buzzsprout will then post the transcript to your podcast's free website. You don't have to use the transcription service, especially if you are still trying to find your feet or want to save cost as much as possible, but should you decide to use it, the transcript charge will show up on your next invoice.
9. Directories & Distribution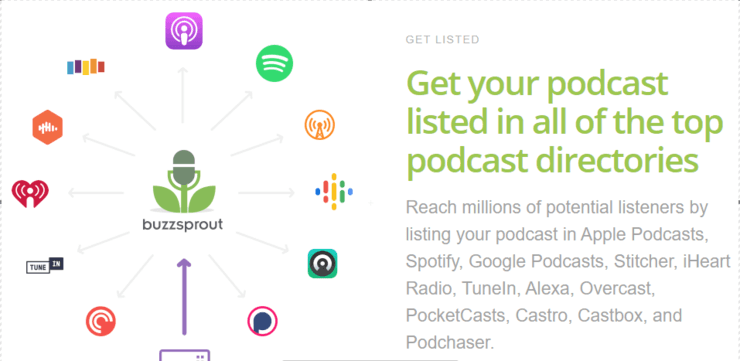 Directories like Apple Podcasts and Google podcast makes it very easy for millions of potential listeners to find and listen to your podcast. Most of your new listeners will discover your podcast through these directories. Buzzsprout makes it super easy to get your shows listed in these directories — click Directories at the top menu of your dashboard and follow the simple instructions on getting your podcast listed in the various directories.
10. Podcast Monetization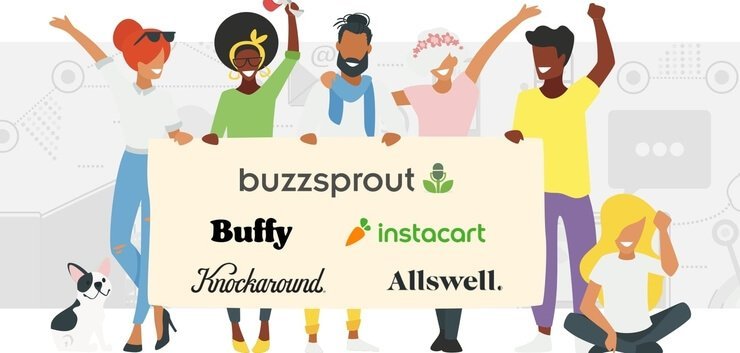 Buzzsprout wants to help you monetize your podcast, that's why they've created an affiliate marketplace to make this possible. The affiliate marketplace is an opportunity to connect with brands ready to pay you as an affiliate. The marketplace is located in the Resources tab of your dashboard. There is no limitation to join, and you have access as long as your podcast is hosted on Buzzsprout. Once you join an affiliate program, Buzzsprout automatically adds the link to your episode notes — no matter which podcast directories your episodes are listed, your affiliate link will be there.
11. Multiple podcasts & Unlimited team members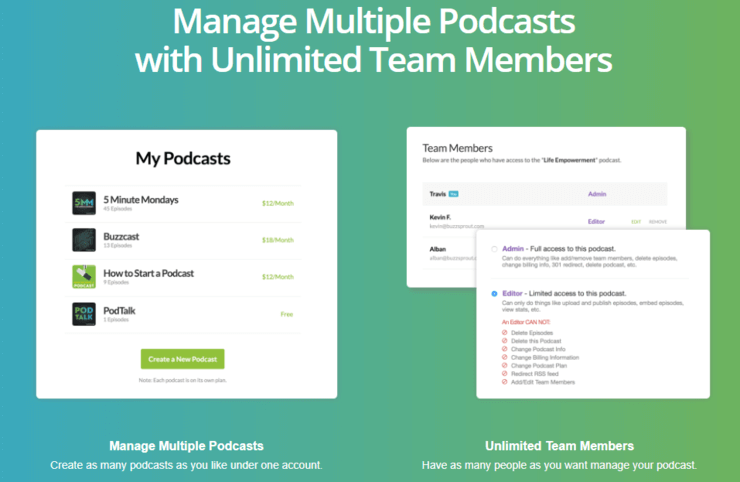 Buzzsprout allows you the opportunity to create multiple podcasts using one account. A second podcast is ideal if you operate a network of shows or if you'd like to create a podcast for your friend. You can use the same login to manage multiple podcasts. Each podcast will have its Buzzsprout website, RSS feed, embed players, and invoice plan. To create a second podcast, navigate to the top right and click My podcasts > Create New Podcast button. Name your new podcast and click Create New Podcast. That's it! You can now access both of your podcasts using the same login. You can also add as many people as you want to manage your podcast.
12. Magic Mastering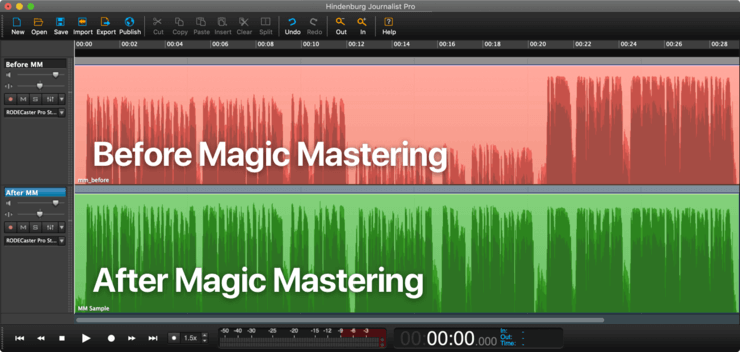 Magic Mastering utilizes advanced technology to level out and optimize audio files automatically. For example, if you interview guests via Zoom or Skype, they often move towards or away from the mic — you don't have to spend hours trying to correct the volume differences, save time using Magic Mastering. If you are just getting started, Magic Mastering will save you time from learning how to master audio files and instead focus on creating good content.
The Magic Mastering feature is not free though, Buzzsprout charges a small fee starting from $6 per month depending on your hosting plan, but you can try it for free and see if you like it.
13. Creator Program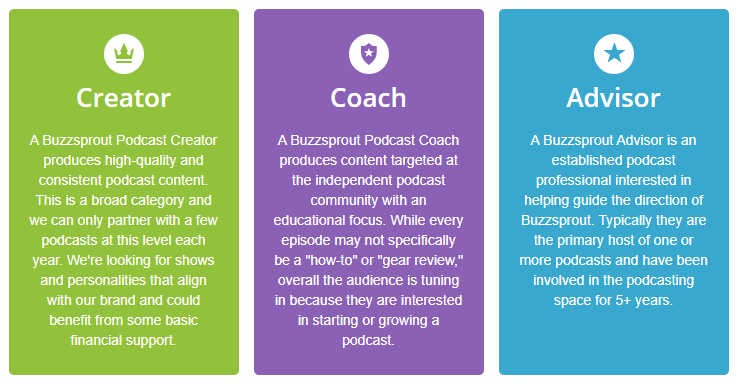 The creator program is a way for Buzzsprout to help podcasters grow their brand and influence. The program is divided into three sections of creator, coach, and advisor, with each section designed to serve different levels of podcasters. All podcasters in the program will get free podcast hosting, one yearly conference ticket, a monthly allowance, and more. You are free to apply for the creator program; if your podcast is hosted on Buzzsprout, you publish at least two podcast episodes per month, and your episodes can get a minimum of 500 downloads within the first 30 days.
14. Podcast plugin for WordPress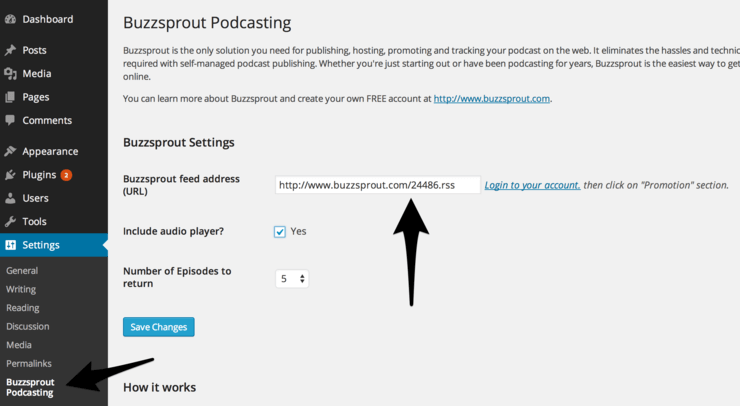 Buzzsprout Podcast plugin for WordPress is an easy-to-use plugin that automatically pulls episodes from your Buzzsprout feed into your website. The plugin makes podcasting with WordPress very easy — doing all the groundwork for you while you focus on creating great content.
15. Third-party Integrations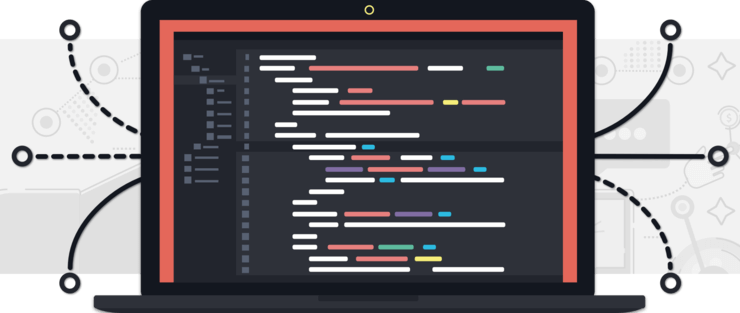 Buzzsprout works with leading podcast third-party tools to save you time and make your work easier. Some of which include Chartable, Alitu, Hindenburg, Podtrac, and more. If you are a tech-shrewd podcaster, you can play around and experiment with the Buzzsprout API with the full documentation on Github.
16. Customer support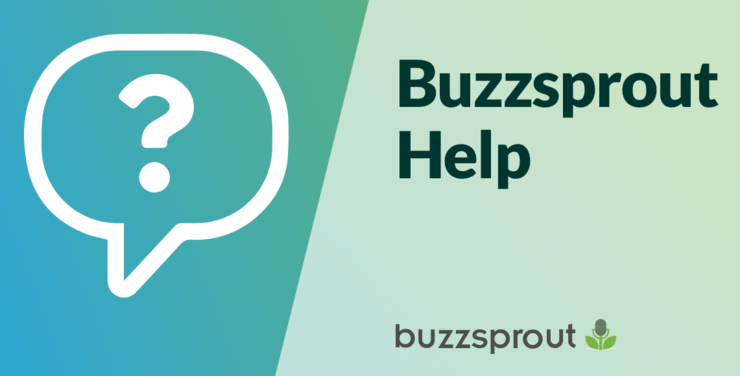 No Buzzsprout review will be complete without mentioning their excellent customer service and technical support team, which has been consistently cited as extremely helpful by most customers who have written objective reviews.
It's worth noting, though… no customer experience (especially when there are over 100,000 users) will always be the same. There are varieties of factors that could influence an individual support experience either positively or negatively — while most Buzzsprout reviews are overwhelmingly positive, not everyone may share that same sentiment.
Apart from having access to their support team, you'll also have access to in-depth podcasting guides, how-to, and an active private Facebook community.
---
Buzzsprout pricing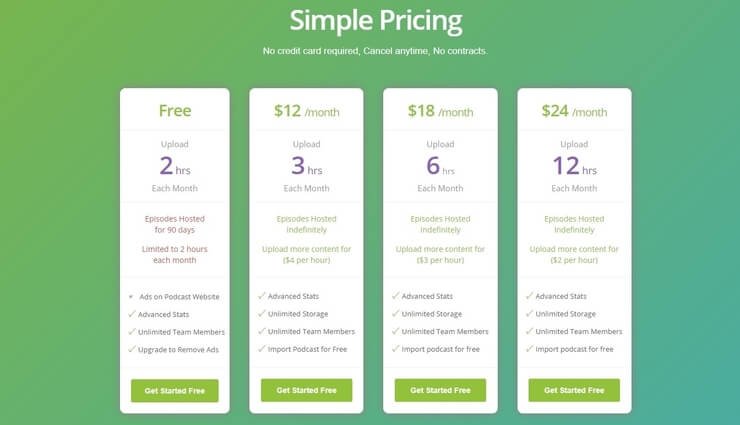 While some other podcast hosting services based their plans on storage and megabytes, Buzzsprout pricing is pretty simple, opting for billing-per-show. They take into account how long your show is. Currently, Buzzsprout has a free plan and three premium plans plus an extra pro plan you can choose from based on how many hours you need. All plans come with unlimited storage:
These pricing packages are great because you can efficiently work out how much it'll cost you if you know how long your episodes are. For example, if you run a 45 mins weekly show, you'll be right on the $12 plan, but if your episodes are longer, you'll need to upgrade to the $18 price plan. All Buzzsprout plan comes with unlimited storage and 250GB of bandwidth per month, which is more than you'll need. 250GB generally covers between 20,000 and 40,000 episode downloads per month, and if you ever get close to that, then you've joined the A league of podcasters doing well enough that upgrading to their highest pro plan of $49 won't even trouble you at all!
Buzzsprout podcast hosting add-ons & upgrades: The only extras they have are transcription (starts at 25 cents per minute) and Magic Mastering ($6 per month). These are optional upgrades.
Buzzsprout deals, discount and coupon
They're many websites with false claims of Buzzsprout discount, deals, coupon or promo code.
However, the truth is Buzzsprout does not offer any promo or coupons! In fact, they only provide monthly plans, no annual plans. But our readers can get a $20 Amazon gift card from Buzzsprout if they sign up and upgrade to any paid plan. You can sign up for free and upgrade whenever you are ready. Your $20 Amazon gift card will still be tracked to you even if you upgrade months later.
Transfer an existing podcast to Buzzsprout
If you already host your podcast on another platform, moving your podcast to Buzzsprout is very easy and can be done in less than 20 minutes. When you first signed up, On the sign-up page — you'll be asked if you already have a podcast or a new podcaster; click I already have a podcast and follow through with the simple four-step instructions. Buzzsprout support team is always available at your service to help you should you have any questions.
Buzzsprout pros and cons
A quick overview of all the pros and cons of Buzzsprout podcast hosting which in part summarizes all the details above.
Pros:
Simple to use and easy to navigate dashboard.
Suitable host for beginners and professional podcasters.
Advance promotional features.
90-day free plan to get you started.
Cons:
No unlimited audio plan.
No discounted yearly plans.
Website customization options are limited.
Buzzsprout review FAQs
Answer to related questions people also ask:
Is Buzzsprout good?
Buzzsprout is good. Very good host. Highly recommended for podcasters, new and old. If you are looking for an excellent hosting platform with solid features and a simple pricing model that offers good value, then Buzzsprout is perfect.
Which is better Podbean or Buzzsprout?
Without a doubt, both platforms are superb choices. However, whichever service you choose should depend on whether you are an experienced podcaster or a beginner. Podbean is excellent for all podcasters, while Buzzsprout is a great choice for beginners.
Is Buzzsprout a good podcast host?
Buzzsprout is a good podcast host and a better option for a free podcast host since it allows for 2 hours of audio per month, compared to 5 hours total of Podbean. You can host a show with Buzzsprout's free plan if each episode is relatively short.
How much does Buzzsprout cost?
Buzzsprout pricing plans are $0/month for 2 hours. $12/month for 3 hours. $18/month for 6 hours. $24/month for 12 hours.
Can you make money off of Buzzsprout?
Buzzsprout has an Affiliate Marketplace that connects them to quality affiliate partners that will pay them in straight cash, regardless of the size of your podcast!
Does Buzzsprout upload to Spotify?
Buzzsprout users can submit podcasts to Spotify using a simple, automated process. Visit the Directories tab and select Get Listed under the Spotify icon in your dashboard. Choose Submit Your Podcast to Spotify, and that's it!
How long does it take Buzzsprout to Spotify?
Once you upload your podcast to Spotify, you will see a button that says "View your Podcast in Spotify" appear in your Buzzsprout account. Click that button to go to your listing on Spotify. Be aware that Spotify can take a few days to approve your listing, so you may not see it right away.
Does Buzzsprout automatically upload to iTunes?
Yes! Your shows are automatically submitted to iTunes. You can expect BuzzSprout to immediately update your RSS feed to reflect the changes, but Apple Podcasts may take up to 48 hours before updating their main listing.
Do you have to pay for Buzzsprout?
You can use BuzzSprout for free, but there are some limitations. Your episodes are only accessible for 90 days, and you can only submit 2 hours of audio each month. Many people use the free option for episodes that they don't intend to keep up for a long time.
Does Buzzsprout give you a website?
Yes! Buzzsprout does offer a free website for its users – with it, you can create a simple basic website for your shows. To customize your Buzzsprout webpage, navigate to the top menu within your dashboard and click on Website. From here, you can easily make some customizations, including the color and background to reflect your brand.
Does Buzzsprout give you an RSS feed?
Each Buzzsprout account comes with its own personalized RSS feed that contains the content for your podcast. Yours can be found by going to the Directory page in your account and clicking on the RSS Feed tab. RSS can be useful when submitting to directories, using a plugin on your site, or working with sponsors.
How do I cancel my Buzzsprout subscription (account)?
Click Podcast Settings > click the Cancel/Redirect Podcast tab > review terms of cancellation and tick the box > click Delete this podcast and all of its data now.
Can I use my own domain with Buzzsprout?
If you already own a domain name and would like to use it for your Buzzsprout URL, you can definitely do that.
Does Buzzsprout have an app?
Yes! Buzzsprout does have an app. Your Buzzsprout site can also operate as a mobile app on your audience devices. Simply use the Add to Home Screen feature on iOS and Android devices. It just works!
Does Buzzsprout upload to Apple podcast?
Absolutely! You can upload individual artwork for each podcast episode you publish to Apple podcast and many other directories.
What is Buzzsprout Magic mastering?
Buzzsprout Magic Mastering is a one-of-a-kind digital audio enhancement to automatically mix and master your podcast episodes. It enhances your audio and makes it better. Your episode will also sound flawlessly clean, clear, well balanced, and perfectly match industry best standards for overall loudness and quality.
Buzzsprout review: Final verdict
We've finally come to the end of our Buzzsprout review! We definitely recommend Buzzsprout as the hosting of choice for any beginner looking to start a podcast. Among other reasons, their dashboard is easy-to-use with robust features to help you create good content at a reasonable price point. You can try their 90-day free plan to test them and see if they are a good fit for you. If you are just starting and looking for a great podcast hosting platform, you should give Buzzsprout a try.