TechZerg is reader supported. When you purchase through links on our site, we may earn a commission.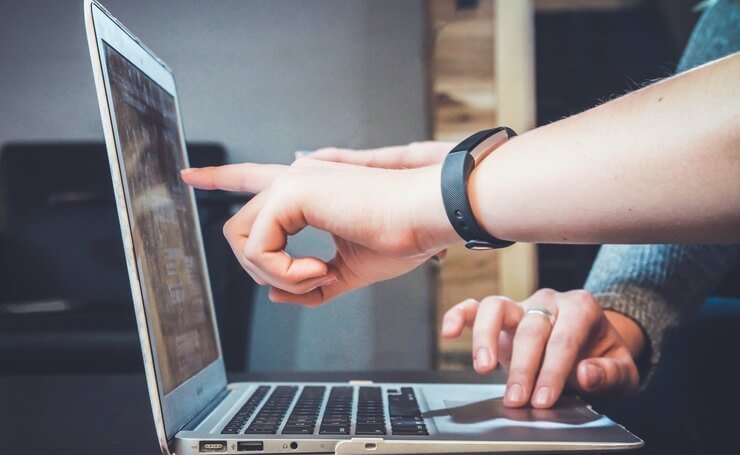 Our recommendation for the best website builder is Wix because it's affordable, fast, reliable, and perfect for setting up a new website within minutes, even if you've never built a website before. Try Wix for free.
Are you a small business owner, designer, artist, writer, photographer, or consultant, looking for a website builder for your venture? If the answer to that question is yes, we'll save you some time by helping you narrow down your search to the best options depending on what your plans are.
The first step in selecting the right website builder will largely depend on what you want your website to look like. Is it an online store or simply a platform to promote your hobby? Whatever your plans and budget are, we've put together a detailed list of the 13 best website builder services in the world right now.
13 best website builders of 2023
Some of these website builders are targeted at those who don't know how to code and want to get online quickly, while others are designed for advanced users who want power and flexibility to customize their website.
The best website builder 2023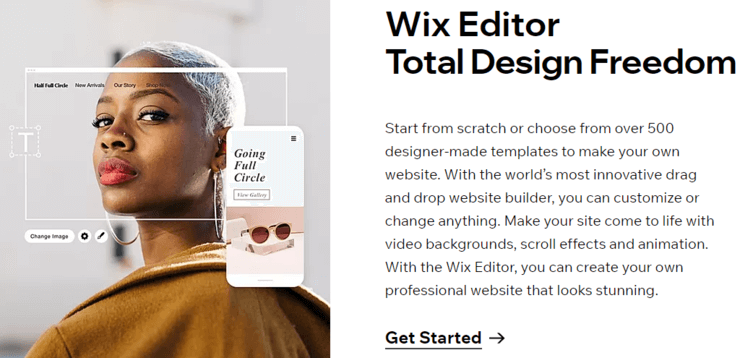 Our #1 pick for the best website builder for 2023 is Wix, without a doubt, the most well-known site builder (after WordPress) to easily create any kind of website within minutes. The free version is limited to 500MB of storage space and 1GB bandwidth, but upgrade to the most popular Unlimited plan, and there are so many great design options with no Wix ads. You also get 10GB of storage space and unlimited bandwidth. The cheapest Wix plan starts at $7 per month.
The e-commerce plan is excellent for those who want to sell online. It offers plenty of customization, with plans starting at $23 per month. There are lots of great features, including sales analytics and reports, a free domain, a $75 gift voucher for Google ads, a free site booster, and an analytics app with a combined value of $120 plus many more features too much to note here.
Regardless of the plan you choose, you get access to over 700 beautiful templates to design any type of website, including landing pages and stores. The drag-and-drop editor offers various features and tools such as animations, video backgrounds, image editor, social buttons, and more. Furthermore, Wix recently introduced Wix Turbo, designed to improve website speed and performance substantially.
Wix core editing functions are designed excellently with rich native app features making it more superior to any other website builder. Wix is certainly a great choice with a range of attractive templates that makes it easy for anyone regardless of their technical background to build something outstanding.
Additionally, there is the Wix Artificial Design Intelligence (ADI), which can build you a stunning site within minutes. Just tell it the type of site you want and the features you'll need by answering a few questions such as getting subscribers, adding a blog page, or creating a portfolio site – add a booking calendar, your contact details, and social media handles, tell it your business name, review your details and confirm everything is ok, choose a design template and the homepage layout you want; and it'll quickly design a website that matches your needs.
The Wix ADI has access to countless images, layouts, text, and more design functions to build any website. You also can switch from the Wix ADI to Wix Editor if you'll like to adjust and tweak the design or add new pages and functionalities.
The Wix ADI is an excellent option if you are not too tech-savvy but want a professional-looking website up and running as fast as possible.
You don't have to pay to start using Wix, you can start building your website and only pay when you're ready to publish. There's also a free version you can start with and upgrade depending on your need.
---
Impressive website builder (beginner friendly)
There's a reason why WordPress is the world's most powerful content management system (CMS) – it currently powers over 35% of all websites in the world.
Before we proceed, you should know there are actually two versions of WordPress (WordPress.org and WordPress.com). We will talk about WordPress.org because it's the best among the two, the version everyone loves and use, including massive brands like Pepsi, Bloomberg, CBS, Disney, BBC, and many more. It's flexible, scalable, and offers full access to great features that are easy to use out of the box. WordPress is the best website builder based on features and flexibility, and it's also free to use.
WordPress is a free open-source software, meaning you have total control over design and customization. The level of power, scalability, and design possibilities with WordPress cannot be compared to any other website builder on this list.
To use WordPress, you'll need a web hosting platform to host your website, which is very easy to do with Bluehost, the official WordPress hosting partner.
WordPress went through all the web hosting companies, researched all their features, and decided Bluehost is the best. Bluehost also offers a free domain of your choice and has a one-click WordPress install – making it very easy to get set up within a few minutes.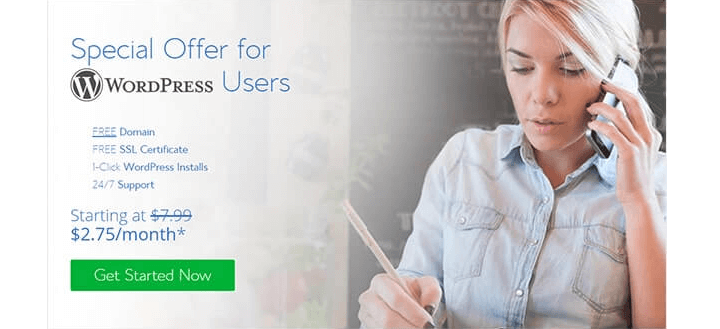 Bluehost provides an easy-to-use, intuitive drag-and-drop builder with hundreds of themes, images, and design tools to help you assemble websites with a single click. Bluehost also offers a free Weebly-based integrated website builder with great design features to help you create websites without writing a single line of code. Weebly is a drag-and-drop solution for building beautiful websites within minutes – it's #5 on this list (more on Weebly below).
If you don't want to use the Bluehost/Weebly provided builder, thousands of free pre-designed WordPress themes are available for every niche and business you can think of. Pick the one you like, one-click install, and get set up.
Additionally, WordPress has over 500,000 free plugins that function like apps that you can use to add additional features and customization to your website, such as online courses, eCommerce stores, photo gallery, forums, event calendars, live chats, analytics, contact forms, social media tools, search engine optimization, and many more. WordPress integrates and works with every software, online tool, and platform you can imagine. The possibilities for the type of website you can build with WordPress are limitless.
The most significant benefit of using WordPress is the massive community behind it due to its popularity. It's the biggest website platform in the world and can be fully translated into multiple languages.
The enormous benefits of WordPress are just too much to list here. While WordPress is the best free website builder, remember you'll need web hosting and a domain name to get started. A domain name will cost you around $10 per year, but you can get it free from Bluehost.
WordPress recommended web hosting service is Bluehost. You can get a free domain and host your website for as low as $2.95 per month.
---
Best online store builder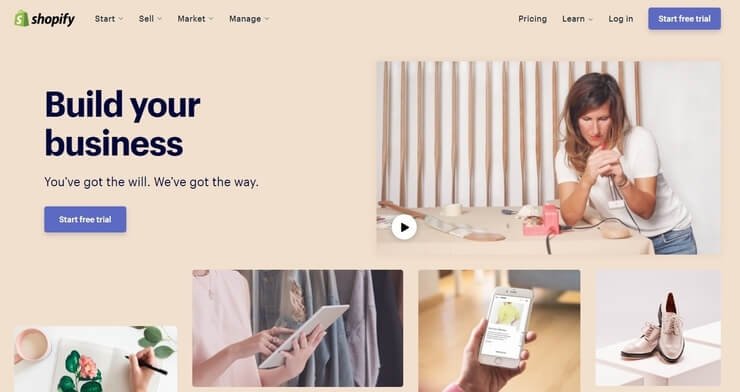 Creating an e-commerce website with no prior web design experience can be complex and challenging. Shopify takes all that complication out of the equation with a fabulous e-commerce site builder.
Shopify currently powers over 500,000 businesses with more than 40 billion dollars in product sales made by users.
One of the many benefits of Shopify is its all-in-one fully hosted solution, meaning you don't have to worry about installing updates, managing software, or keeping backups. Everything is done for you by Shopify, allowing you to only focus on just making sales.
There's also Shopify Payments, an integrated payment solution that allows you to add third-party payment services to accept payments. Additionally, Shopify has an intuitive drag and drop user interface that makes it easy to build professional-looking e-commerce stores.
There are plenty of excellent features with Shopify, including an in-store POS, which allows you to sell and accept credit cards from your location. Other great features include unlimited products, full inventory management, impressive marketing solutions, shipping and stats management tools. You'll be spoilt for choice when it comes to designs with hundreds of beautiful-looking templates to choose from.
Shopify pricing
Shopify's basic plan will set you back $29 per month. It has all the essential features to run a successful online store. There are also $79 and $299 per month plans if you want more advanced features. Shopify also offers a Lite plan; this allows you to copy-paste a Buy button onto any website and start selling. It works on all the major content management systems, including Squarespace, WordPress, Tumblr, and more. Add products to any blog or website and accept credit card payments.
---
Best cheap website builder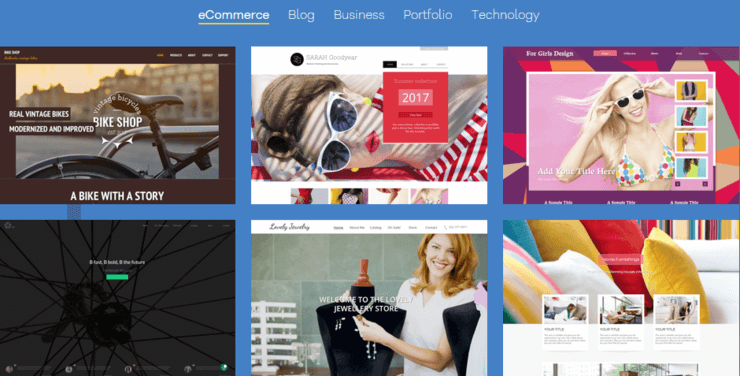 Making it to #3 on our list of the best website builder is the Gator Builder, owned by Hostgator, the popular web hosting platform. Gator is an attractive drag-and-drop website builder that's affordable and on par with Wix when it comes to design and flexibility.
The only downside to the Gator Builder is there's no free trial. Still, you get a free domain, unmetered storage and bandwidth, unlimited pages, analytics, free SSL certificate, $200 ad vouchers, and many more features. Pricing starts at $3.84 per month on a 24 months plan, and there's a top-tier plan with e-commerce features available from $9.22 per month.
Additionally, each gator Builder's plan comes with a robust editor that's intuitive, easy to use, plus simple customization and edit options from text elements to social buttons, embed video, and logos.
The Gator builder has some limited blogging features you should know. For example, you can't schedule posts and the only comment option supported is Facebook comments. Overall, these limitations are insignificant compared to the variety of excellent features it offers, plus more features are being added with every update.
Gator is an excellent choice for non-tech savvy users who wants to create a professional-looking website without any technical worry. There is also a 24/7 telephone, live chat, or email support team available should you need any help.
---
Powerful site builder with smart templates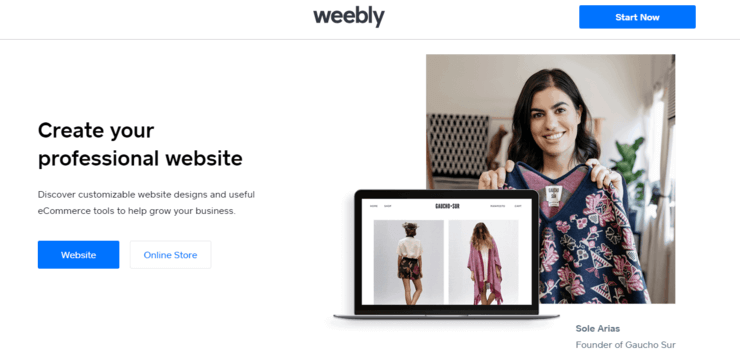 Another capable website builder is Weebly, a robust website creation platform that's beginner-friendly with plenty of professional design templates. Much like Wix, there's a free plan that's limited to 500MB and comes with ads on your site.
Upgrading to the cheapest Weebly paid plan is quite expensive (because of the ads), starting from $5 per month. To remove Weebly ads and access more advanced features, you'll have to move up to the Pro plan – at $12 per month – you get a free domain, unlimited storage, various support tools for an online store, including lead capture and contact forms.
If you want more powerful e-commerce tools for your online store, then look no further than Weebly's small Business and e-commerce plan ($25 per month). This plan also comes with unlimited storage and a free domain, you can create multiple websites with unlimited products, you also get advanced e-commerce features like coupons, gift vouchers, product reviews, tax and inventory management, and the ability to accept payments through PayPal and Square.
Weebly is beginner-friendly and very easy to get started with, even if you've never built a website before. When you take the impressive selection of powerful solutions, intuitive editing interface, and free images designs into account, it should be immediately obvious why Weebly is a great choice, especially for those without advanced design skills.
---
Best for photographers, artists, and creatives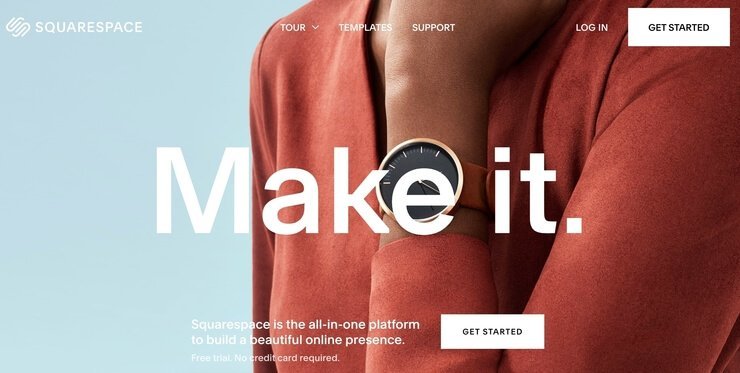 Squarespace is a powerful website builder known for its sleek, professionally designed website templates and a great selection of editing tools. The service makes it very easy to create beautiful, visually appealing, portfolio-style websites for showcasing and selling artistic works.
The Squarespace website builder has a 14-day free trial, so you can try it out and get to know some of its features. Pricing starts at $12 for the Personal plan which comes with lots of features enough to get you started, including a free domain, free SSL, unlimited storage and bandwidth, a mobile version of your websites, 24/7 technical support, analytics, and extensions.
The business plan starts at $18 and comes with advanced integrated e-commerce features fit for those looking to set up an online store, such as professional email, premium block builder, pop-ups, and banners, plus the ability to sell unlimited products, accept donations and offer gift cards. They also have the basic commerce and advanced commerce plans, priced at $26 and $40 per month, respectively.
If you are a complete beginner that wants a website as quickly as possible, you don't need to hire a web designer. With Squarespace, you can quickly drag and drop pages, layouts, and assemble a professional-looking website. It's so easy to use with plenty of design options to choose from.
---
Impressive user-friendly ecommerce website builder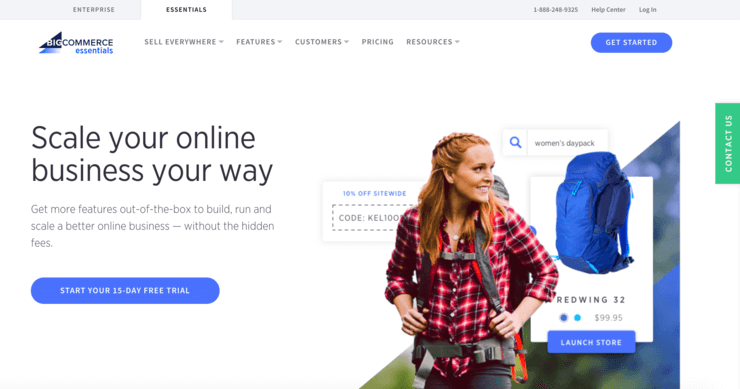 BigCommerce is one of the best eCommerce website builders at the moment, specifically designed to build and scale online stores. If you need to create a stress-free eCommerce store without any design knowledge, BigCommerce is the perfect option for you. It has all the essential online store features integrated and built-in to help you achieve a high margin return while keeping expenses low.
As a fully hosted eCommerce platform, BigCommerce gets everything done for you. They take care of your hosting, payment processing, and integrations with all the major payment gateways, including PayPal, Stripe, Square, Visa Checkout, Apple Pay, Amazon Pay, Ayden, Chase Pay, and more. BigCommerce does not charge transaction fees for using these payment services, unlike other e-commerce platforms like Shopify.
BigCommerce has plenty of free beautiful pre-made responsive themes you can use right away or customize to match your brand using their simple drag and drop design solutions. BigCommerce stores always look great on both desktop and mobile, with plenty of customization options to choose from.
BigCommerce pricing
There is a 15-day free trial if you want to check it out (no credit card details required). The entry-level Standard plan is priced at $29.95 per month if paid annually and gives you unlimited storage and bandwidth, plus all the core e-commerce features you'll need, including free HTTPS and SSL security.
---
Great option for small business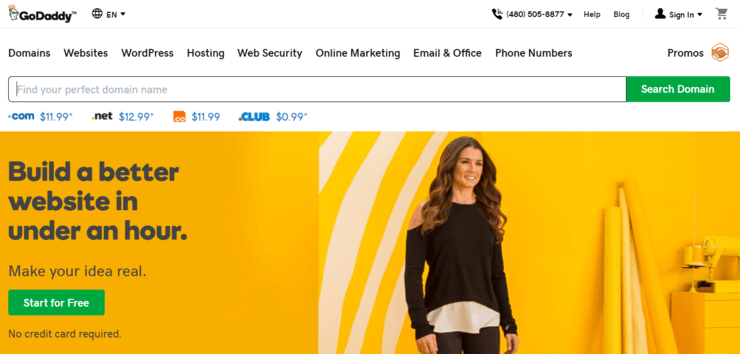 GoDaddy is arguably the biggest web hosting provider and domain name registrar in the world. They also offer what is definitely one of the best website builders. It's simple and easy to use with a vast array of customization options. The best part is you can use it for free for one month, yes! Build the website of your choice for free, which is generous. The one-month free plan may be basic but has what most would need.
After your free trial ends, you need to choose a plan. GoDaddy offers four different plans; the cheapest is the Basic plan for $10 per month. It provides all the features required to design and build a website but comes with some social media and marketing limitations. For more advanced features, you can upgrade to either the Standard($15/month) or Premium plan ($20/month). Finally, there is the e-commerce plan ($25/month) that lets you build online stores and can sell both physical and digital products.
---
Amazing pre-designed templates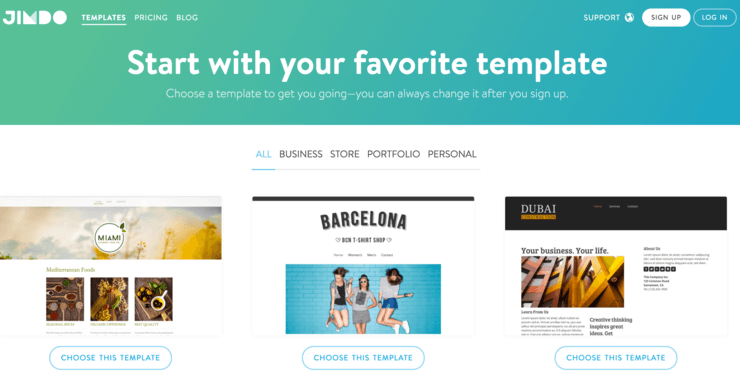 Jimdo is one of the fastest-growing website builders in the world, mainly targeted at users who've never built a website before. With Jimdo, anyone can create and publish a site as quickly as possible. Jimdo's editor is intuitive and straightforward, instead of static templates, it uses flexible content blocks that you can customize based on your needs.
Jimdo offers a free plan with some limits, including 2GB bandwidth, 500MB storage, five web pages, Jimdo branding, and ads. The free plan does have some notable features as well, such as HTTPS access, contact forms, and a simple blogging platform.
Jimdo offers three paid plans with the 'Start' plan priced at $9 per month; you get a free domain, SEO, site management tools, and customer support. The second plan is Grow, which starts at $15, you get 15GB storage and 20GB bandwidth. Finally, there is Unlimited ($39/month), which offers more advanced features such as unlimited storage and bandwidth, professional design analysis from Jimdo experts, legal text generator, advanced stats, and priority support.
If you're looking to set up an e-commerce store, click on 'Online Shop' in the Jimdo pricing section. There, you'll see three pricing plans ranging from $19 to $39 per month specifically designed for selling online.
Additionally, Jimdo has a vast knowledge base of useful resources crafted for beginners building their first website. Overall, Jimdo has its advantages and is certainly worth checking out.
---
Best simple website builder
Site123 is one of the easiest platforms to build a website. There is a free forever plan you can use for free as long as you want, it comes with a 50MB storage and a 1GB bandwidth. If you know what you're doing in terms of website design, and want some customization capabilities, there is a premium plan starting at $7.80 per month, comes with a free domain, 10GB storage and 5GB bandwidth, contact forms, e-commerce capabilities, and many advanced features.
Site123 has an uptime of 99.97%, with over 200 design template that allows you to build any kind of website you want. It's easy to set up; you don't need any design or coding knowledge whatsoever, just drag and drop, upload your content, and hit publish.
---
Impressive option for advanced users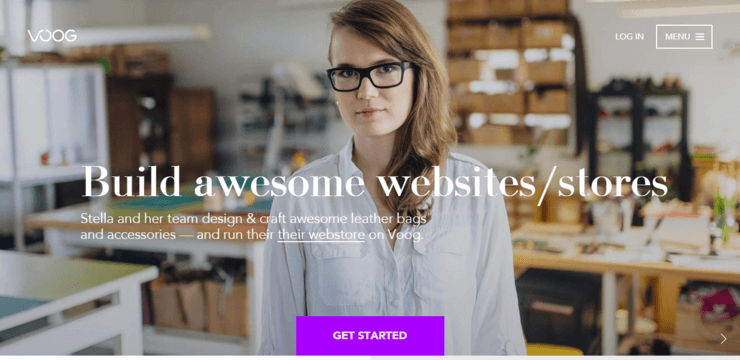 Most website builders on this chart are aimed at novice users, which is not a bad thing, but what about advanced users who are looking for something unique with low-level control — that's where Voog comes in.
Though Voog claims to be simple and easy to use, however, looking at its landing page gives the impression of a service more geared towards pro users such as developers, designers, businesses, and more
Now, there are not many templates here, but that's because of the power Voog gives its users with the compact drag-and-drop editor. A good example is the fully customizable text elements; Voog allows you to apply advanced formatting using CSS and HTML. There are also API and developer tools with capabilities to build large-scale websites. The powerful responsive Voog editor is flexible and works great on any device. Additionally, Voog allows for multiple users to collaborate on the same site project.
The beginner-level Standard plan starts at $7 per month when paid annually and comes with SSL security, 5GB storage, and all the necessary features you'll need to build any website. There is also the Plus plan($12month), which comes with everything in the Standard plan plus 20GB storage, a free domain, online store capabilities, and more. Finally, with the enterprise-level Premium plan($48/month), you get everything in the two previous plans, plus custom CDN, priority support, unlimited storage, more features.
Signing up to Voog is free, and once you finish the signup process, you will automatically get a 30-day free trial so you can try the service before you buy (no credit card details required). The 30 days free trial comes with the full-upgraded level features.
---
Easy website builder powered by AI
Constant Contact takes website creation to a whole new level by using AI to quickly and easily create awesome websites based on a few keywords in the 'Category' field. To get started, just enter the keyword that best describes the type of site you want or the URL of your Facebook business page, and their artificial intelligence will get to work and build a sleek, beautiful-looking website for you within a split second. You can then customize and design it the way you want.
If you don't have a Facebook business page, just type in your industry or business niche, and Constant Contact will suggest the best content and images that match your brand. You also have the option to use their simple drag and drop website builder to design and create your website from scratch.
Constant Contact websites are professional-looking and mobile-friendly, even if you're not technically savvy. With the AI and drag and drop builder, you can completely customize your site, no code required. All websites built with Constant Contact are some of the fastest thanks to their in-house superb content delivery network (CDN). Constant Contact is also integrated with Unsplash, so you have free access to unlimited images. If you want a more unique look, you can simply upload your own images.
There's also a free logo maker at no extra cost. You can quickly create any logo at the click of a button and download it for free.
Overall, Constant Contact is the best website builder if you want to create a simple personal, business, or e-commerce website in minutes. It has all the necessary e-commerce tools to help you get started and scale quickly. Some of the e-commerce features on offer includes free SSL and the ability to sell unlimited products. You can also sell digital products & downloads, offer discounts and coupons, get a $200 credit offer towards Google ads, email/list building tools, integrated shipping management, and many more. The pricing is straightforward, at $10 per month.
---
13. Duda website builder
Best white label reseller for web design agencies and multi-language website
Duda is a powerful drag-and-drop builder that's highly customizable and comes with lots of useful widgets and integrations. It's by far the best reseller website builder for web design agencies and hosting companies. For example, 1&1 does not own a website builder, they're actually reselling Duda's builder as 1&1 IONOS MyWebsite, and they are not the only one, many hosting companies and website agencies use Duda as their website creator service.
Duda comes with a lot of beautiful templates that offer plenty of potential for creative adjustments. Duda is also great for SEO and fully optimized for speed; all Duda websites are hosted on Amazon AWS and boast an impressive 99.99% uptime. One of Duda's stand-out features is the multi-language capabilities, which is worth checking out.
Duda's pricing starts at $14 per month, while the agency plan starts at $44 per month. Duda continuously offers deals and discounts, so you might pay less than that. For example, as at the time of writing this article, Duda is offering the agency plan for $33 per month.
---