TechZerg is reader supported. When you purchase through links on our site, we may earn a commission.
Our recommendation for the best web hosting is Bluehost because it's affordable, perfect for new websites, fast, and reliable web hosting service. Sign up with Bluehost for as low as $2.95 per month.
The best web hosting should be secure, fast, and reliable for your website. We've researched and reviewed 73 web hosting services to put together the following list.
The different types of hosting plans you should know
There are different levels of web hosting plans depending on your budget and the kind of website you need hosting for, including:
Shared hosting: This is the cheapest and easiest hosting plan to start a new blog or website; it's great for beginners with low traffic volume. Shared hosting basically means your website shares the same server resources with multiple sites.
Cloud hosting: This is a more reliable upgrade to shared hosting. Your web hosting provider will store your site on multiple cloud servers, allowing your website to pull resources from various servers. Perfect for sites that periodically experience hikes in traffic.
WordPress hosting: This is a WordPress hosting package designed and optimized specifically for WordPress-powered websites.
WooCommerce hosting: WooCommerce hosting offers all the essential features to host and quickly start your eCommerce store, specifically with WordPress.
VPS hosting (Virtual Private Server): VPS is a web hosting environment that virtualizes a dedicated server and divides the resources to each website on that server.
Dedicated server hosting: Dedicated hosting is usually the most expensive of all hosting plans—a dedicated server just for your website, providing all the resources your website will always need.
The top 10 best web hosting companies for 2023
The competition for the best web hosting service gets tougher every day, but there's still a clear winner that's head and shoulders above the rest – Bluehost. It's easily the best web hosting service out there at the moment, especially for beginners.
Best web hosting 2023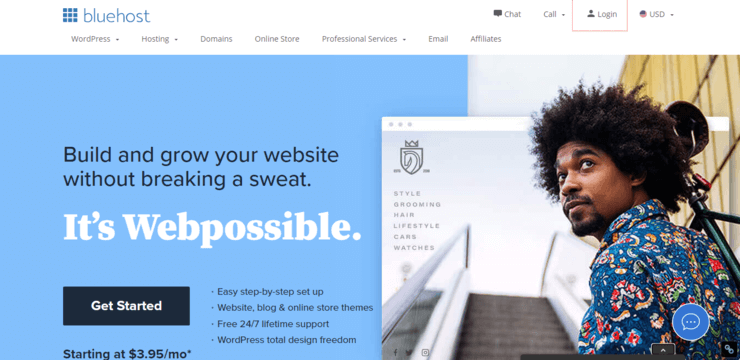 Bluehost is the #1 best web hosting provider on our chart, for many reasons. To start, they are the official WordPress recommended hosting provider and the best web hosting for beginners.
Bluehost brief overview
Bluehost is a web hosting company based in Utah and owned by Endurance International Group (EIG), a major player in web hosting. It's been in operation since 1996 and is now the world's largest, and most reliable web hosting provider. You might be asking yourself why Bluehost is so popular and highly recommended. To put it in perspective, they currently power three million websites across the globe. Among the best web hosting services, Bluehost is the easiest to use for beginners and is rated #1 for small businesses. They have one of the industry's highest retention rates, meaning the number of people leaving Bluehost as their hosting provider is very low compared to other web hosting companies.
People choose to stay with Bluehost because it's easy to start a blog or website, from their simple dashboard to great features and cheap pricing. Plus, the excellent reputation for guiding and supporting customers with everything they need.
WordPress recommends Bluehost
WordPress recommends Bluehost as the best web hosting provider. WordPress is not just any company; they currently power over 35% of the world's websites. They went through all the web hosting companies, researched all their features, and decided Bluehost was the best.
All Bluehost hosting plans come with a 1-click WordPress install. You can check out Bluehost here and familiarize yourself with their services.
Bluehost features
Free domain and website migration: Bluehost offers a free domain to new users for the first year. You can also transfer your website for free if you are currently with a different host.
Free SSL certificate: New Bluehost users will also benefit from a free SSL certificate.
Free website builder: Bluehost provides an easy-to-use, intuitive drag-and-drop builder with hundreds of themes, images, and design tools to help you assemble websites with a single click. Bluehost also offers a Weebly-based integrated website builder with great design features to help you create websites without writing a single line of code. Weebly is a drag-and-drop solution for building beautiful websites in minutes.
Free Backups: Having a backup of your website is a good way to protect against system failure or unforeseen technical circumstances that may lead to a crash. Bluehost automatically creates backups for your site regularly — a backup allows you to restore your website quickly.
Other standout features of Bluehost include popular apps via a Mojo Marketplace-powered system and a control panel to tweak things. Furthermore, Bluehost offers excellent security, and free worldwide Cloudflare integrated Content Delivery Network (CDN).
There's also a great customer support system at your service, ready to help and guide you through any assistance you may need, including live chat, 24/7 email, and phone support.
Bluehost pricing
Bluehost pricing is cheap and affordable. I recommend getting started with the Basic Plan for $2.95 per month; that's 60% off their regular price ($7.99/month). Not bad, considering you get a free domain, a site builder, 24/7 support, a 30-day money-back guarantee, and many more features.
---
Best cheap unlimited hosting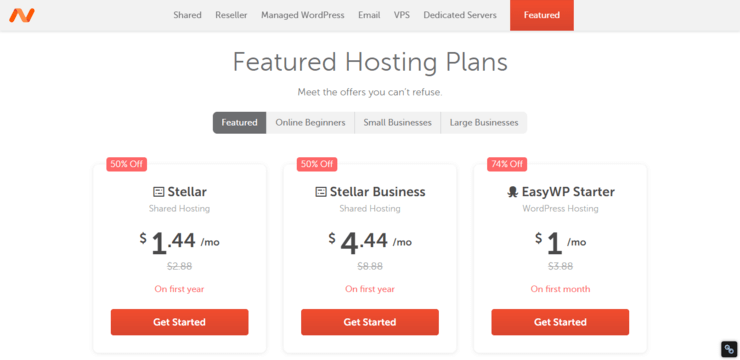 If you are hunting for web hosting on a budget, this provider should be on your list. Founded in the year 2000, Namecheap currently manages over 10 million domains (their domains are so cheap you can get one for 99 cents!). They also offer inexpensive hosting options with some impressive value for money, especially for the first year, including shared ($1.44/month), VPS ($9.24/month), WordPress ($1/month), dedicated, reseller($16.88), and email hosting ($0.79/month).
However, note the shared 'steller' plan only gives you 20GB of storage space, free CDN, twice a week backups, and limited to 3 websites, but you are getting that at just $1.44 per month. For $1 more at $2.44 per month, you get a free domain, auto-backup, unlimited websites, and unmetered SSD.
All shared hosting plans come with a free website builder, unlimited bandwidth, domain name, and privacy protection, free SSL, free CDN, free migration, and domain-based email address.
Furthermore, Namecheap has a new WordPress service called EasyWP, a dedicated managed hosting solution designed for WordPress-based sites starting at $1 per month – it's three times faster than traditional web hosting and boasts unbeatable features for a low price. It comes with CDN, SSL, database access, SFTP, plus everything needed to run a successful WordPress website. It's so powerful you can set up a WordPress website in under two minutes.
All Namecheap plans have a 100% uptime and a 30-day money-back guarantee. They also have excellent customer service available 24/7 for any help you may need.
---
Best value for money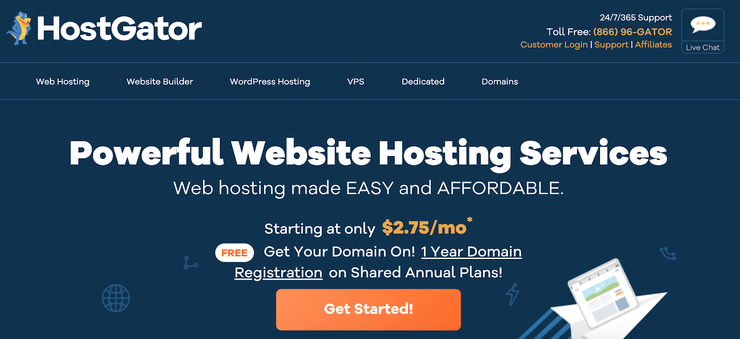 If you're looking for a budget web hosting service that's feature-rich and affordable, look no further than Hostgator. The cheapest plan is 70% off right now and starts from just $2.08/month. You get a free domain, subdomains, email accounts, unlimited bandwidth, storage MYSQL databases, and FTP. Hostgator hosting is also backed by an uptime guarantee of 99.9%, meaning your website will always stay online without disruption.
Furthermore, you get a cPanel management for your site and 24/7 customer support, plus a $200 Bing and Google Ads credit for all new customers.
Additionally, Hostgator provides a great selection of hosting products, including a domain registration portal. Dedicated, Cloud and VPS hosting are also available.
What makes HostGator stand out compared to other web hosting companies is its 45-day money-back guarantee — most hosting providers only offer 30 days. HostGator also provides all new accounts free site transfers within the first month after signing up, plus plenty of great features worth checking out.
HostGator pricing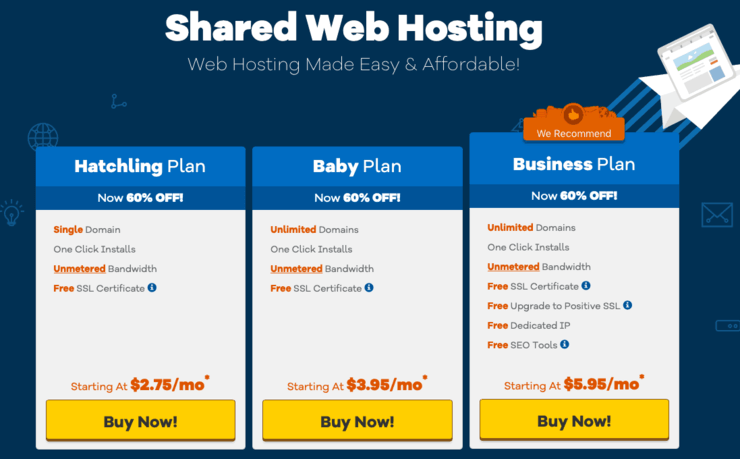 Note that the $2.08 per month price is only available if you sign up for three years, although the monthly hosting price remains affordable. Overall HostGator is great and worth considering if you are hunting for a web host that's cheap and reliable.
---
Best cheap web host
Hostinger is one of the best web hosting platforms in the world, with over 30 million users. Based in Lithuania, it's one of the largest free web hosting providers through its 000webhosting brand. Hostinger offers some of the lowest prices, starting at just $0.99 per month for a shared hosting plan. One of the reasons it can offer such cheap pricing is using in-house technology for optimal performances, which results in low overheads and running expenses.
Its cheapest plan, which is 99 cents per month, is excellent for beginners and small businesses. With it, you get all the features necessary to kickstart your website, including free SSL, Litespeed cache, 100GB bandwidth, MySQL databases, 24/7 support, and a 99.9% uptime guarantee, but you won't get a free domain.
Other Hostinger plans include Premium Shared Hosting ($2.89 per month) and Business Shared Hosting ($3.99 per month), both of which come with a free domain. I will recommend the Business Shared Hosting plan, which has an enormous number of features such as unlimited bandwidth, GIT integrations, SSH, MYSQL databases, email accounts, and many more. You also get free daily backups and Cloudflare DDoS protection. The $3.99 is on a four-year contract, totaling $191 — that's a saving of $576 or 75% compared to the regular $15.99 monthly price.
The Business hosting plan also provides 4X power and memory resources, excellent for websites with a massive surge in traffic during peak periods.
Hostinger pricing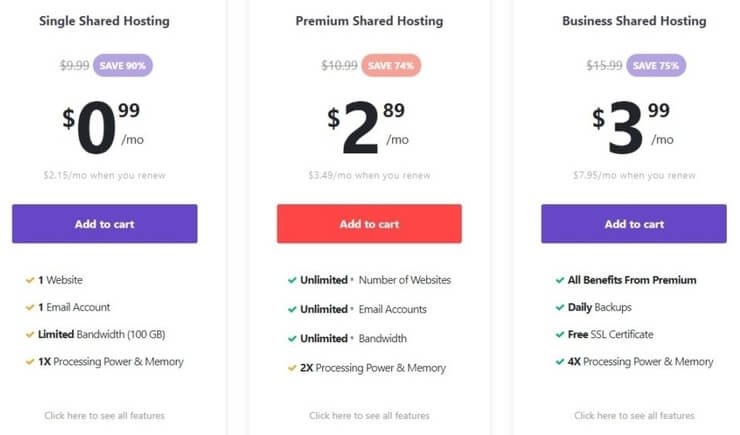 If you are on a budget and hunting for a cheap web hosting, you won't find a better deal elsewhere with such a colossal number of features at $3.99 per month, plus 99.9% uptime, free domain, free SSL, unlimited storage, and plenty of features too many to list here. Hostinger is a great value for money, reliable, and certainly one to best web hosting to consider.
---
Best customer service

SiteGround is one of the highest-rated web hosting companies offering exceptional security and speed solutions to make your website fast and secure. They provide plenty of hosting services ranging from Web to WordPress, Woocommerce, Cloud, Enterprise, and Reseller hosting. There are currently over two million domains and websites using SiteGround. They have the most outstanding customer support in the hosting space with the highest client happiness rate of 99.7%, and their support team is always fast and helpful. They are also one of the three best hosting services officially recommended by WordPress alongside Bluehost.
SiteGround has some excellent features that make it worth the money, including free Let's Encrypt SSL, unlimited bandwidth, integrated Cloudflare CDN, email addresses, powerful spam filtering, automatic upgrades, built-in WP caching, daily backups, one-click staging, and GIT version control.
SiteGround also offers location specific hosting with data centers spread across six regions, including the USA, Europe, Australia, and Asia.
SiteGround pricing

SiteGround should be #1 on this list based on features, performance, and speed, but it slipped to #4 due to its pricing, which starts at $6.99 per month over a year. A little bit more expensive than its competitors, but despite its slightly above-average pricing — Siteground is worth every penny if you can afford it. They are the best web hosting provider but pricey, especially for beginners.
---
Best VPS host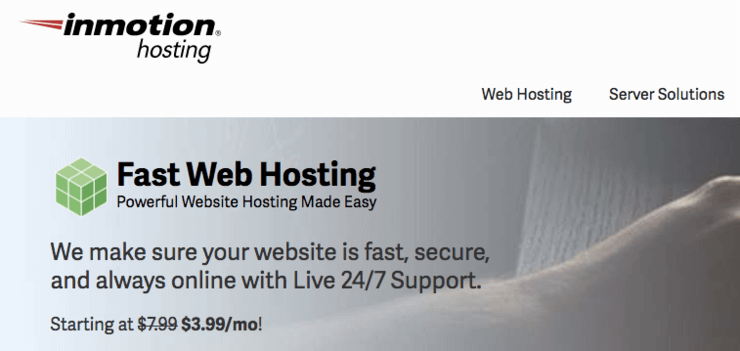 InMotion is a top-rated web host that has been in operation for over 16 years, with an affordable range of plans on offer.
All plans come with feature-rich extras that other hosting services would typically charge for — including anti-spam email features, distributed denial of service and malware protection, free domain, free SSL, automatic backups, and more.
Additionally, there is a cPanel control panel, which allows you to access advanced customization. Also, you can install an array of apps at the click of a button through the Softaculous one-click installer.
Should you encounter any problem during your website setup, you can always get in touch with InMotion technical support service. Furthermore, InMotion speed performance is well above average, which is great if you aim for a quick-loading website.
InMotion pricing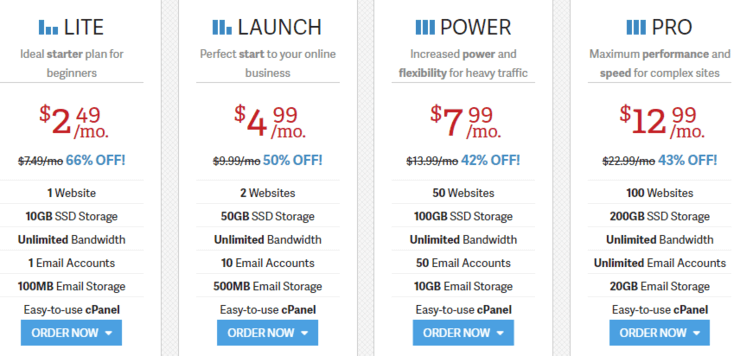 InMotion pricing starts from $2.49 per month for shared hosting, that's a 66% discount from its regular price ($7.49/month). Additionally, there's a free domain, plus $150 in free advertising, and a massive 90-day money-back guarantee should you not be pleased with their hosting service (available for launch, power, and pro shared hosting plans).
---
Best green web hosting
GreenGeeks claims to be the world's' leading eco-friendly green web hosting provider.' Since launching in 2008, they've grown very fast to become one of the world's leading hosting platforms with data centers US, Canada, and Europe. They are the go-to web host if you are looking for an environmentally-conscious hosting provider.
GreenGeeks proved its dedication to green energy causes in the form of a renewable energy partnership with the U.S. Environmental Protection Agency (EPA) and Bonneville Environmental Foundation.
GreenGeeks boast of an impressive 99.95% uptime and load times below 500ms. It currently powers over 500,000 websites with one of the industry's highest retention rates – meaning their customers love them and stay with them longer.
They offer one of the cheapest hosting plans backed with great features. Their Lite plan, which is perfect for new websites or beginners, starts at $2.95 per month; it comes with a free domain, free SSL certificate, free daily backup, free CDN, free migration, unlimited web space, unlimited email accounts, unlimited databases, LSCache, 24/7 customer support, plus a 30-day money-back guarantee that allows you test their service risk-free.
---
Best managed hosting

Liquid Web is a top provider of high-end managed hosting services offering everything from WordPress to WooCommerce, dedicated, VPS, email, and cloud hosting.
Their outstanding customer support is far ahead of every host on this list with an impressive 59 second response time guarantee for phone and live chat support.
Liquid Web has its own data centers with fully secure hosting infrastructure. All liquid Web managed WordPress hosting plan comes with a free IThemes security pro plugin (worth $199/year) to keep your site safe and secure, a great option when you consider the fact that 30,000 new websites are being hacked daily. Other bonuses include premium Beaver builder (worth $99/year) and premium Astra pro theme great for building any website or e-commerce site.
Liquid Web is a great option that may be too expensive if you are on the hunt for cheap hosting, but the depth of features, speed, high-quality support, and reliability on offer makes it worth the money.
Their managed WordPress plan starts at $15.83 per month, with VPS hosting starting at $59 per month. There is a 4-month free WooCommerce hosting for WordPress-based eCommerce stores when paid annually with Code 4MOFREE plus a 14-day free trial available for general WordPress hosting if you would like to test out their services.
---
Budget option with the best money-back guarantee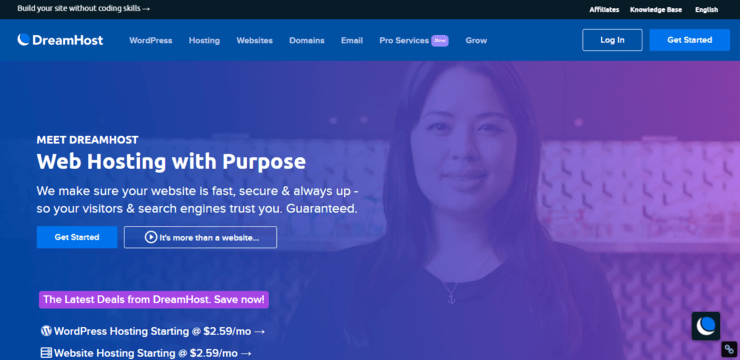 DreamHost is the third web hosting service alongside Bluehost and Siteground, officially recommended by WordPress. They've been around for 20 years, currently managing over 1.5 million websites. They offer WordPress, shared, VPS, cloud, and dedicated hosting with plenty of features and options, including an impressive 100% uptime and 97-day money-back guarantee.
Instead of cPanel, DreamHost uses a custom-built panel designed to manage websites, emails, databases, and more efficiently. DreamHost also uses SSD drives, which makes your websites load 200% faster.
Pricing is inexpensive, with web hosting plans starting at $2.59 per month. All plan comes with a free domain, custom dashboard, automatic updates, unlimited bandwidth and space, 1-click WordPress install, firewall for added security, and 24/7 US-based technical support team at your service.
---
Fast & reliable shared hosting
Domain.com is one of the top domain providers in the space, operating since the year 2000. They also offer reliable hosting with great features at an affordable price point.
Their hosting plans are quite generous compared to other services on this list. Their basic plan starts at $3.75 per month; you get unlimited storage, scalable bandwidth, free domain, 10 databases, 5 FTP accounts, and a free SSL certificate by Let's Encrypt. The Deluxe plan, which can manage multiple sites at scale costs $6.75 per month.
Domain.com is worth a look if you're hunting for a host with good value for money.
It's worth noting that Domain.com does not offer monthly plans; all plans are available on a one, two, or three-year contract without any extra charge.
---
Best UK web hosting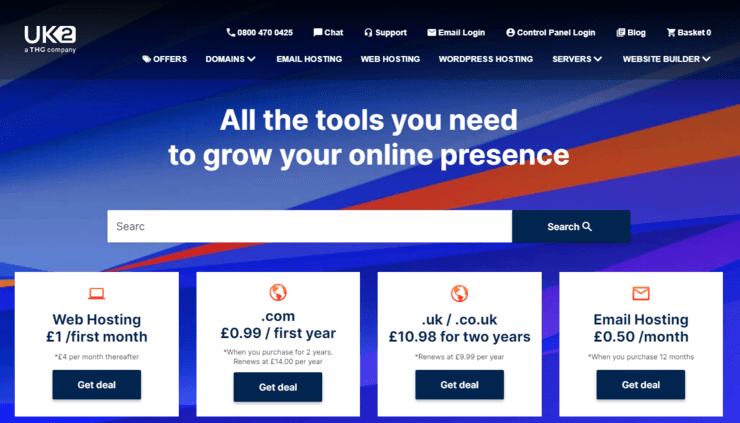 UK2 is a Manchester-based web hosting company that currently powers over 35,000 businesses and with various hosting services: shared, managed WordPress, reseller accounts, cloud products, VPS, and dedicated servers. Their cheapest plan starts at £1 for the first month; it includes free site migration, free domain, unlimited bandwidth, unlimited websites, 2GB SSD Storage, impressive unlimited premium mailboxes, free daily backup, free SSL, plus many more features.
UK2 performance level is excellent with a 30-day money-back guarantee should you decide against using their service.
Furthermore, you can access plenty of apps with a simple one-click installer. If you run into any technical difficulty, there is a 24/7 live chat and phone support team available between 9 am to 5 pm (UK time) and a 24/7 support ticket system ready to provide clear answers to your queries.
---
Best managed WordPress hosting
WP Engine is a managed hosting service dedicated to WordPress. Based in Texas, it currently manages WordPress sites for over 120,000 customers in 140 countries, including Hello Fresh, Under Armour, Reuters, Arizona state university, and more.
WP Engine handles everything at the backend for you, from setup to security, daily backups, updates, optimization, performance, and much more.
WP Engine has many helpful extras, such as integrated performance tests and a Staging area where you can work on a copy of your website, which is great for testing new plugins and themes without jeopardizing your actual website.
The power, great features, speed, security, and reliability that WP Engine offers aren't cheap. Their startup plan costs $25 ($22 for our readers) per month limited to 1 website, 25,000 visits/month, 10GB storage, and 50GB bandwidth. On average, that's more than three times the price of a budget option. But if consistent performance, scalability, and excellent support are more important than price, WP Engine could be worth the price.
All plan comes with free SSL, free CDN, choice of data centers in Europe, North America, and Asia. Additionally, over $2000 worth of premium Studiopress themes is available for free on all plans, allowing you to build any website you want.
---
Best for small business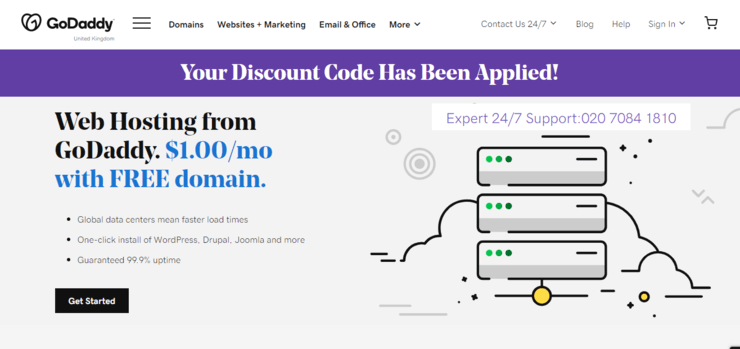 GoDaddy is the biggest domain name registrar in the world, and possibly the largest web hosting company. Millions of websites across the globe use GoDaddy web hosting services. Currently, their cheapest hosting plan of $5.99 per month is quite expensive when you compare it to most competitors on this list. However, it does offer some great features that make its relatively high price look like a bargain. (update: TechZerg readers can now get GoDaddy cheapest hosting plan for $1/month plus a free domain instead of $5.99/month)
GoDaddy boasts one of the fastest load times in the industry with a guarantee 99.9% uptime; you'll also get unlimited storage and unlimited bandwidth. As a new GoDaddy user, you'll get a free domain on an annual subscription plus a free Microsoft Office 365 Business Email account for the first year.
What sets GoDaddy apart is its impressive flexibility to cope with traffic demand across its hosting packages. For example, if your website is experiencing a sudden traffic spike, you can increase your hosting capacity within your control panel.
GoDaddy pricing
GoDaddy is a web hosting service that's more than worth the money for the standout features it has on offer.
---
Best shared hosting
Hostwinds is an excellent web hosting provider that's affordable and has all the tools you need to build attractive, functional websites. For those looking for a robust cloud hosting service, their impressive cloud server support both Linux and Windows users.
Hostwind is very customer-focused, with a support team always ready to receive your questions. Their plans include: shared, cloud, dedicated, and VPS hosting. The company has a 99.9% uptime guarantee with a 60-day money-back guarantee in the unlikely case you're not happy with their service, which is more than you'll see with most hosting companies.
Hostwinds cheapest plan is the Basic Shared hosting, starting at $5.24 per month; you get unlimited bandwidth and disk space, plus a free domain. Other features include free site transfer, unlimited emails and subdomains, free SSL certificate, a free dedicated IP address, Weebly site builder, nightly backup, and many more.
A great nifty feature provided by Hostwinds is the flexibility to choose the hosting control panel you prefer between Softaculous auto-installer, Weebly, or cPanel.
Hostwinds pricing
Overall, Hostwinds is an option that's certainly worth considering if you want hassle-free web hosting that's reasonably priced and reliable.
---
Best website builder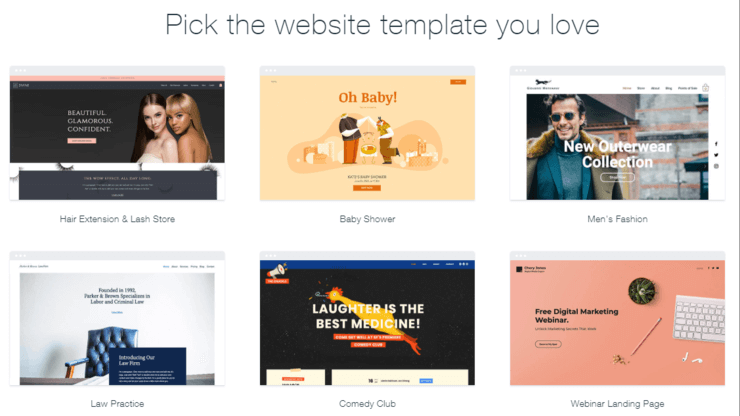 Wix is the most popular and perhaps the best website builder in the world, with an attractive selection of plans tailored for every need.
The user-friendly drag-and-drop editor enables easy customization of your website in plenty of ways. With the click of a button, you can place different elements in positions that match your needs. Wix is on a whole new level when it comes to designs and templates; you will be spoilt for choice on this one — there are more than 500 pre-designed themes.
Additionally, there is an integrated image editor with a vast range of filters for photo editing, and some great eCommerce tools (just to point out that Wix doesn't charge transaction fees on your sales, unlike many of its competitors).
Wix pricing
What makes Wix one of the best choices is its free forever plan, which allows you to try them out before deciding if you should upgrade or not. However, the free plan comes with some limited features such as the storage space and bandwidth (500MB) but is fine enough to get started. If you decide to upgrade, prices start from $13 per month for the Combo plan; with it, you get a free domain, premium support, plus $75 worth of Google Ad vouchers.
The most popular Wix subscription is the Unlimited plan for $17 per month; you get everything in the Combo plan, plus unlimited bandwidth, a site booster app (worth $60), and a visitor analytics app (also worth $60) for free. There's a 14-day money-back guarantee should you upgrade and not be satisfied.
---
Best free website builder
Similar to Wix, Weebly is one of the best website builders in the world. Its free plan is one of the most generous with eCommerce features and even includes chat and email support! (though limited to just 500MB storage). The free plan comes with Weebly imposed adverts — if you don't want the ads, you'll need to upgrade to the most popular plan, which costs $12 per month when paid yearly. The pro plan is perfect for beginners, small businesses, and eCommerce stores. You'll also get Google ads credit worth $100, plus a free domain, unlimited storage, free SSL, and many more.
Weebly Business plan, priced at $25 per month, has a massive range of advanced eCommerce features that are excellent for running an online store. For example, you will be able to create a store with integrated shipping labels and discounts, eCommerce stats, customer reviews, gift cards, and coupons. The Business plan also supports abandoned carts and email campaigns, plus a robust inventory management system.
Weebly also boasts of a range of beautiful and well-designed templates that are flexible and responsive. This website builder is one of the best out there and certainly worth considering.
Weebly pricing
---
Cheap web hosting deals
---