TechZerg is reader supported. When you purchase through links on our site, we may earn a commission.
Our recommendation for the best Netflix VPN is NordVPN because it's affordable, fast, and able to unblock Netflix easily. With a 30-day money back guarantee and streaming speed to match, NordVPN is unbeatable at the moment. Sign up with NordVPN for as low as $3.29 per month.
The best Netflix VPN is now more important than ever as the streaming service keeps getting better at blocking VPNs. Netflix uses your IP address location to determine which movies and TV shows you can watch, and which to block – this is also known as geoblocking.
With many VPN providers claiming they can unblock Netflix geolocation, our research and testing proved otherwise. We found only sixteen VPN providers and chose the ten best VPNs that really worked and are reliable enough to make it to this list.
The best VPN for Netflix in 2023
The best Netflix VPN, among other things, should be fast, secure, and unblock as many locations as possible. It's very easy to do: On your streaming device, install the Netflix VPN of choice (we recommend NordVPN) and then turn it on > choose a server from the list of countries and get the IP address > You are now 'virtually in that country,' Netflix will then think you are actually from that country, and unlock all the movies and shows that are available there for you.
Below is a detailed list of the ten best Netflix VPNs. All that's left is to select which one is best for you. Keep in mind that unblocking Netflix content not available in your region is against Netflix's terms and conditions of usage. However, we've never heard about any Netflix account getting suspended because of a VPN.
Best Netflix VPN 2023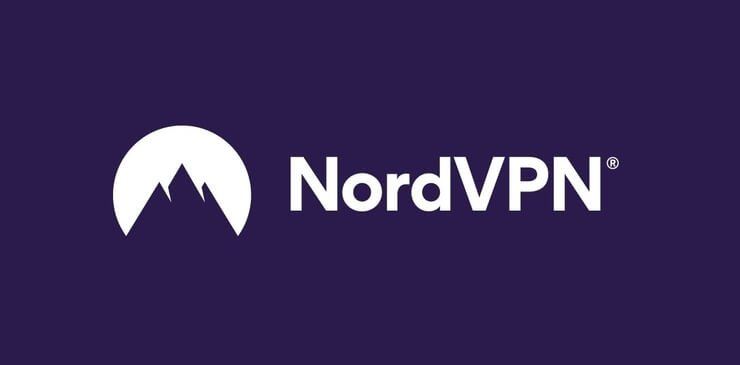 NordVPN is the best Netflix VPN service with a priority for speed and security. We tested NordVPN, and streaming speed was barely affected – there was no difference in speed even when streaming 4K and HD content.
NordVPN boasts 2048-bit encryption and over 5,400 servers across 60 countries, with superb connection speed and strong DNS leak protection.
We tested NordVPN not just on a single server but across all US locations, and there was no trouble. Also, we were able to access other services, including Amazon Prime Video, YouTube, and BBC iPlayer.
Apart from the US, NordVPN also supports Netflix in Canada, Germany, Australia, Japan, UK, and many more countries. If you find yourself having any trouble watching your favorite movies and TV shows, their support service is always available 24/7 to sort things out for you in no time.
Additional NordVPN features include a kill switch, a last line of defense, which helps monitor and protect sensitive data in case your VPN connection goes down. It bulletproofs your apps and data from the web, helping you avoid accidental exposure until your VPN connection is restored.
NordVPN could be the right choice if you're looking for a Netflix VPN that focuses on speed and functionality without sacrificing security. The service has a no-logs policy regarding users' online activities that's been officially verified by the renowned PricewaterhouseCooper auditors.
There is a 30-day money-back guarantee in the unlikely case NordVPN doesn't work out for you. You get the best value for money on the 2-year plan starting at $3.71 per month.
Specs:
Unblocks: Netflix, Hulu, Amazon Prime Video, YouTube, BBC iPlayer, Disney+ | Money back guarantee: 30 days | Simultaneous number of supported devices: Six | Supported protocols: OpenVPN, IPSec/IKEv2, NordLynx (Wireguard), SSTP | Supported platforms & devices: iOS, Android, Windows, Linux, Apple TV, Amazon Fire, Roku, Chromecast, Xbox, PlayStation, routers, Firefox & Chrome | No. of servers: 5,400+ | No. of countries: 59 | Payment options: Credit card, Amazon Pay, Google Pay, Apple Pay, direct debit, Alipay, Unionpay, cash in-store, Bitcoin & other cryptocurrencies | Data usage: Unlimited | Bandwidth usage: Unlimited | Encryption protocol: AES-256 | Unique dedicated IP address: Yes | Works with Onion Router (Tor): Yes | Smart Kill switch: Yes | Customer support: 24/7 chat and email, and phone support | Privacy policy: No logging
---
Fast Netflix VPN, great for streaming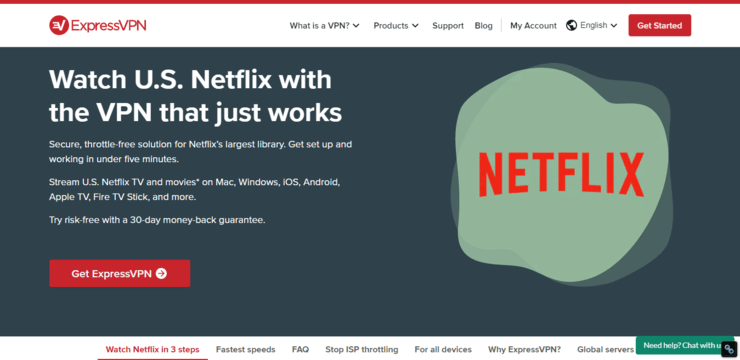 Express VPN is easily one of the best Netflix VPNs on the market right now, thanks to its smart TV support, excellent 24/7 customer service, blazing speeds, and massive network of over 4000 servers spanning 160 locations in 94 countries.
ExpressVPN is easy to install and unblock Netflix all the time without problems – we were able to unblock Netflix in different regions every time of asking during our testing. Users can access Netflix in multiple countries, including the US, Australia, Canada, UK, and more.
The consistency of ExpressVPN's speed is second to none, allowing users to stream in HD and access Netflix on plenty of devices, including devices that don't support VPNs.
Compared to some other VPN providers that leave you to sort out every possible server until you find which one works for you – with ExpressVPN, if you have any problems, contact their customer support through live chat and ask them which of the server is best for Netflix. In my experience, you'll immediately be directed to the best server. Express VPN support agents are available 24/7; they currently have the best customer support in the VPN space.
Additionally, they have a great feature called MediaStreamer DNS, which allows users to watch Netflix on devices that don't support VPNs, like smart TVs, Apple TV, and game consoles.
ExpressVPN is a little bit more expensive than most VPNs on this list, but you get value for your money, an awesome Netflix experience without difficulty, and a 30-day money-back guarantee.
TechZerg readers can get 3 free months on a year (15 months in total) contract at $6.67 per month. That's a 49% discount on standard monthly plans.
Specs:
Unblocks: Netflix, Hulu, Amazon Prime Video, YouTube, BBC iPlayer. Disney+ | Money back guarantee: 30 days | Maximum number of supported devices: Five | Supported protocols: OpenVPN, L2TP/IPSec, PPTP, SSTP, IKEv2 | Supported platforms & devices: iOS, Android, Windows, Linux, Apple TV, Amazon Fire, Roku, Chromecast, routers, Xbox, PlayStation, Firefox & Chrome | No. of servers: 3,000+ | No. of countries: 94 | Payment options: Credit card, PayPal, mint, Klarna, Bitcoin, Sofort, AliPay, UnionPay, GiroPay, Yandex Money, WebMoney, Interac | Data usage: Unlimited | Bandwidth usage: Unlimited | Encryption protocol: AES-256 | Private encrypted DNS: Yes | Smart Kill switch: Yes | Customer support: Excellent | Privacy policy: No logging
---
Best cheap Netflix VPN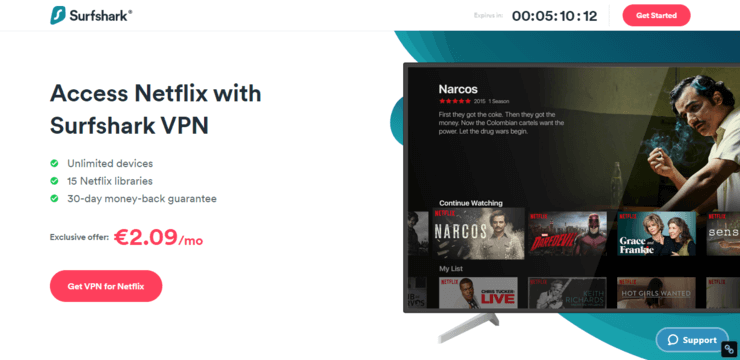 Surfshark is tailored for people who mostly want to stream Netflix. The company's Netflix claims boldly states it can unblock geo-restrictions in the US, Japan, Australia, Italy, Germany, and ten other countries — Fortunately, it delivered. In our testing, we accessed US Netflix from four different test locations without any hassles at all.
Apart from unblocking Netflix, Surfshark can also access the BBC iPlayer, Hulu, and Youtube. However, we struggled to access Amazon Prime video during our testing. Though, for just $2.49 per month, Surfshark has no fault as a Netflix VPN.
The other great thing about Surfshark is its unlimited simultaneous connections, meaning there are no limits to the number of devices that can use Surfshark VPN simultaneously — this is absolute value for money.
If you are hunting for a cheap VPN — at $2.49 per month, Surfshark has one of the most affordable VPN plans on the market. No other VPN service offers the same premium features at a lower price.
Finally, Surfshark has one of the best easy-to-use interfaces. If you are new to Virtual Private Networks, you'll find the layout simple to navigate, plus an excellent speed that matches both NordVPN and ExpressVPN.
Pay for 12-month, get 12-month free — you can get Surfshark free for 12 months if you sign up for the $2.49 per month offer on a year contract. There is a 30-day money-back guarantee if you want to test their service.
Specs:
Unblocks: Netflix, Hulu, YouTube, BBC iPlayer | Money back guarantee: 30 days | Maximum number of supported devices: Unlimited| Supported protocols: OpenVPN UDP, OpenVPN TCP, L2TP, IKEv2, Wireguard, Shadowsocks | Supported platforms & devices: iOS, Android, Windows, Linux, Apple TV, Amazon Fire, Roku, Chromecast, Xbox, PlayStation, routers, Firefox & Chrome browser extensions | No. of servers: 1,700+ | No. of countries: 63 | Payment options: Credit card, PayPal, Google Pay, Bitcoin, Ethereum, Ripple | Data usage: Unlimited | Bandwidth usage: Unlimited | Encryption protocol: AES-256 | Private encrypted DNS: Yes | Smart Kill switch: Yes | Customer support: 24/7 chat and email | Privacy policy: No logging
---
Optimize for streaming Netflix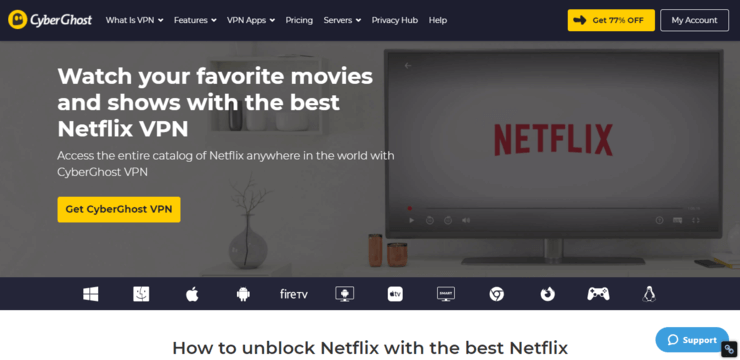 CyberGhost is another excellent VPN of choice to unlock Netflix content from so many countries such as Germany, France, the UK – particularly Netflix US. It's a massive VPN company with over 36 million customers. It has over 6400 servers spread across more than 90 countries.
The primary reason we rate CyberGhost apart from its ability to unblock Netflix with ease is the general user experience – with impressive apps available for iOS, Mac, Windows, and Android that are an absolute breeze to operate. You can easily navigate within the apps to filter the best server location of choice.
Similar to other VPNs on this list, CyberGhost can crack other streaming services, too. During our tests, we were able to stream US Amazon Prime Video shows outside of the US, along with YouTube TV and Hulu.
However, while CyberGhost did well at unblocking Netflix and was not slow as such, our tests showed it trailed behind the two leading NetflixVPN on this list – ExpressVPN and NordVPN.
For a generous 45-day money-back guarantee and a great price starting at $2.75 per month, plus an extra six months for free – CyberGhost is a very attractive choice worth giving a try.
Specs:
Unblocks: Netflix, Amazon Prime Video, BBC iPlayer, YouTube, Hulu | Money back guarantee: 45 days | Maximum number of supported devices: Seven | Supported protocols: OpenVPN UDP, TCP, IKEv2, L2TP/IPSec, Wireguard | Supported platforms & devices: iOS, Android, Windows, Linux, macOS, Amazon Fire, Xbox, PlayStation, routers, Firefox & Chrome browser extensions | No. of servers: 6,200+ | No. of countries: 90 | Payment options: Credit card, PayPal, Google Pay, BitPay | Data usage: Unlimited | Bandwidth usage: Unlimited | Encryption protocol: AES-256 | Private encrypted DNS: Yes | Smart Kill switch: Yes (automatically enabled) | Customer support: 24/7 chat and email | Privacy policy: No logging
---
Impressive Netflix optimized servers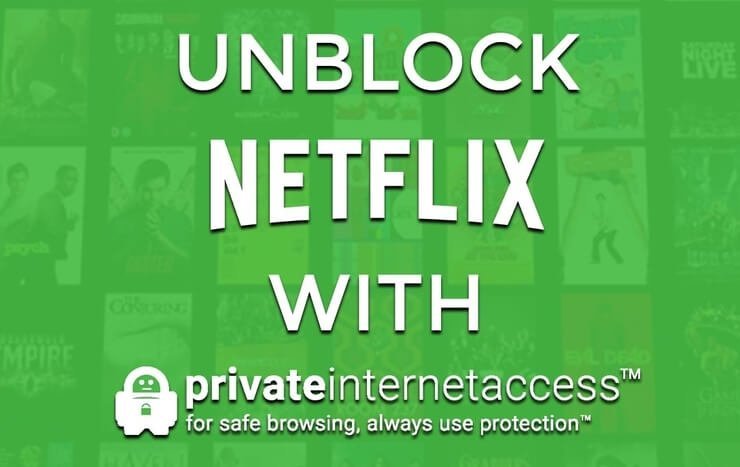 Private Internet Access (also known as PIA) is a fast-growing US-based VPN service with over 12,200 servers in 74 countries. They are owned by Private Internet, the same company that operates ZenMate and CyberGhost.
Out of the over 12,000 PIA's server spread across the world, 5,000 are located in the USA alone; that's great because US servers are by far the most trafficked in the world – and the largest amount of VPN users are either living in the US or wants to stream US Netflix. Also, the large amount of USA servers means plenty of choices finding the best server to access Netflix at any particular time.
Digging deeper into Private Internet Access shows its a great choice of Netflix VPN that offers plenty of value for money: from instant unblocking of Netflix, to ease of use, fast connection speed, cheap pricing, unlimited bandwidth, quality support and built-in Ad and malware blocking, compatibility with most operating systems (Linux, Windows, macOS, Android, and more).
Additionally, you can simultaneously connect up to 10 devices, which's very generous than most VPNs and should be more than enough for most users.
You can test out Private Internet Access with a risk-free 30-day money-back guarantee. They are currently offering two months free on a two-year plan starting at $2.69 per month; that's a saving of 73% on the standard monthly price.
Specs:
Unblocks: Netflix, Hulu, YouTube | Money back guarantee: 30 days | Maximum number of supported devices: Ten | Supported protocols: OpenVPN, IPSec (iOS), PPTP, IKEv2, Wireguard | Supported platforms & devices: iOS, Android, Windows, Linux, Mac, Xbox, PlayStation, routers, Firefox, Opera & Chrome browser extensions | No. of servers: 12445+ | No. of countries: 74 | Payment options: Credit card, PayPal, Bitcoin, Ethereum, Zcash, Litecoin, Mint, BitPay, Gift Card | Data usage: Unlimited | Bandwidth usage: Unlimited | Encryption protocol: AES-256 | Private encrypted DNS: Yes | Smart Kill switch: Yes | Customer support: 24/7 chat and email | Privacy policy: No logging
---
Amazing speed and dynamic server switching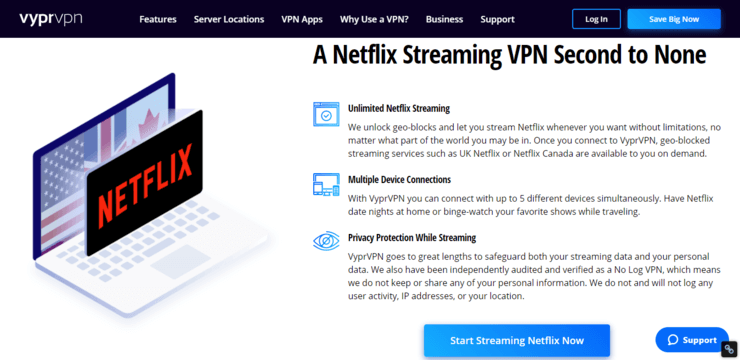 VyprVPN is a great VPN service that not only unblocks Netflix but also prioritizes security and safety above everything else.
The Swiss-based VPN is just one of very few VPNs that use its own security protocol called Chameleon – a big deal, especially for privacy. The Chameleon protocol (built on OpenVPN) is a powerful feature that hides the fact that you're using a VPN and overrides ISPs, government restrictions, and blocked services, providing easy access to any website.
VyprVPN boasts over 700 servers and 200,000 IP addresses across all continents, most of which are located in the US and Europe. We were able to unblock Netflix from most locations during our test, including the UK, Canada, and Germany – but we couldn't access Netflix from Japan and France. However, services like BBC iPlayer and US YouTube were very easy to crack.
Another great unique VyprVPN feature is its dynamic server switching, which automatically moves you to a new server should incase the server you're on goes down or becomes overcrowded, even while you're watching Netflix.
VyprVPN also offers unlimited bandwidth with fast streaming speed, plus the ability to stream Netflix on up to 5 devices at the same time.
VyprVPN offers great value on its annual plans, starting at $2.50 per month on a two-year plan (a massive 80% discount from standard plans) or $3.75 per month on a one-year plan. They have a 30-day money-back guarantee to test the software risk-free.
Specs:
Unblocks: Netflix, Hulu, BBC iPlayer, Amazon, YouTube | Money back guarantee: 30 days | Maximum number of supported devices: Five | Supported protocols: OpenVPN, PPTP, IKEv2, L2TP/IPSec, WireGuard, Chameleon | Supported platforms & devices: Windows, Mac, iOS, Android, QNAP, Blackphone, Blackberry, Anonabox, smart TVs, routers,, Boxee, DD-WRT, AsusWRT, OpenWRT, Synology NAS | No. of servers: 700+ | No. of countries: 70 | Payment options: Credit card, PayPal, UnionPay | Data usage: Unlimited | Bandwidth usage: Unlimited | Encryption protocol: AES-256 | Private encrypted DNS: Yes | Smart Kill switch: Yes | Customer support: 24/7 chat and email | Privacy policy: No logging
---
Easy to use and unlimited connections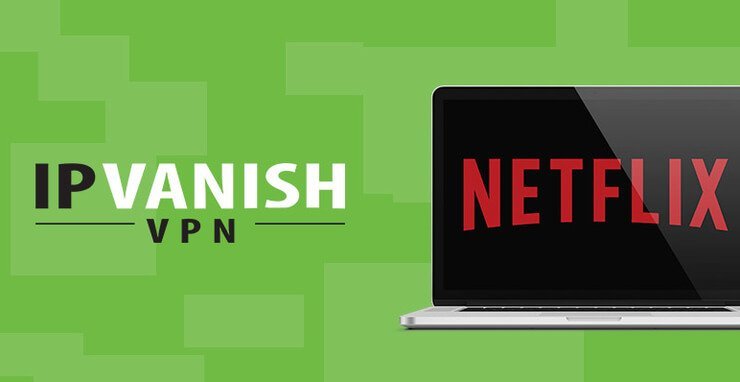 IPVanish is one of the leading VPN providers with millions of users across the world. The US-based VPN service does exactly like its name, vanishing any restrictions from accessing streaming platforms like Netflix. During our test, we were able to access every Netflix library and some other streaming platforms like SlingTV.
According to support, Los Angeles and Dallas are the two best servers. And there are more than 1,500 VPN servers in over 75 locations.
However, while IPVanish works great for Netflix in our testing, it did fell short when we tried to access the BBC iPlayer in the US, so if you would like to explore more than just Netflix, it'd be worth checking out the likes of ExpressVPN or NordVPN.
However, if Netflix is top of your streaming feed, then IPVanish will work just fine. There's 24/7 support available to help out should you run into any problem. They can suggest the best server for you and are willing to guide you through every step of the way.
Indeed, IPVanish ranks among one of the best VPNs thanks to its easy to use desktop clients and apps. Other great features include the smart kill switch, zero traffic logs, SOCKS5 web proxy, unmetered connections, unlimited p2p traffic, 40,000 shared IPs, and much more.
The fact that you can simultaneously stream on as many devices as you wish – at a price starting at $3.25 a month, plus a risk-free 30-day money-back guarantee, makes IPVanish certainly worth considering.
Specs:
Unblocks: Netflix, Amazon Prime Video, YouTube, Hulu | Money back guarantee: 30 days | Maximum number of supported devices: Unlimited | Supported protocols: OpenVPN, L2TP/IPSec, IKEv2, PPTP | Supported platforms & devices: iOS, Android, Chrome OS, Mac, Windows, Linux, Amazon Fire, Xbox, PlayStation, routers | No. of servers: 1,300+ | No. of countries: 75 | Payment options: Credit card, PayPal | Data usage: Unlimited | Bandwidth usage: Unlimited | Encryption protocol: AES-256 | Private encrypted DNS: Yes | Kill switch: Yes | Customer support: 24/7 chat and email | Privacy policy: No logging
---
Unblocks Netflix easily for a very fair price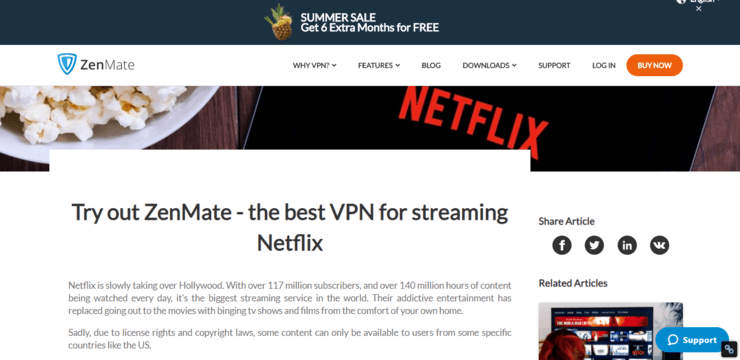 ZenMate is an easy-to-use VPN service that's great for non-techy users looking to bypass online restrictions and access blocked websites. It has over 3,800 torrent-friendly servers located across 74 countries (500+ in the US alone).
If unblocking Netflix is high on your list, you'll be pleased to know that most of ZenMate's servers are optimized specifically for streaming services like Netflix. Its Windows client has a streaming section with locations optimized for different services; that's a nice feature compared to other VPNs that offer multiple locations within a country and leave you to test each of them until you find the server that works best.
You can filter the best server locations by torrenting, distance, or load. Once you find really good servers, you can pin it to the top of your list for quick recall later.
We tested ZenMate and was able to unblock US Netflix. We also had access to other streaming services like the BBC iPlayer, Amazon Prime Video, US YouTube, and Disney+.
Additionally, there is a free Chrome, Opera, and Firefox extensions for easy access to enable or disable the service from within your browser interface. Other added features include blocking malicious sites and trackers and a kill switch for protection if the VPN connection is lost.
Furthermore, you get unlimited bandwidth to stream for as long as you wish, and you can connect unlimited devices simultaneously. You can take advantage of the free 7-day trial to see if you'll like the service.
If you are hunting for a budget Netflix unblocker, then ZenMate is worth considering. The annual plan comes with 6 months free at $2.22 per month. You can always try the 7-day free trial, plus a completely risk-free 30-day money-back guarantee.
Specs:
Unblocks: Netflix, Disney+, YouTube, Hulu | Free trial: 7 days | Money back guarantee: 30 days | Maximum number of supported devices: Unlimited | Supported platforms & devices: iOS, Android, Mac, Windows, Linux, routers, Firefox, Opera & Chrome browser extensions | No. of servers: 3,400 | No. of countries: 74+ | Payment options: Credit card, PayPal | Data usage: Unlimited | Bandwidth usage: Unlimited | Encryption protocol: AES-256 | Private encrypted DNS: Yes | Smart Kill switch: Yes | Customer support: 24/7 chat and email | Privacy policy: No logging
---
Delivered big on Netflix despite small stable network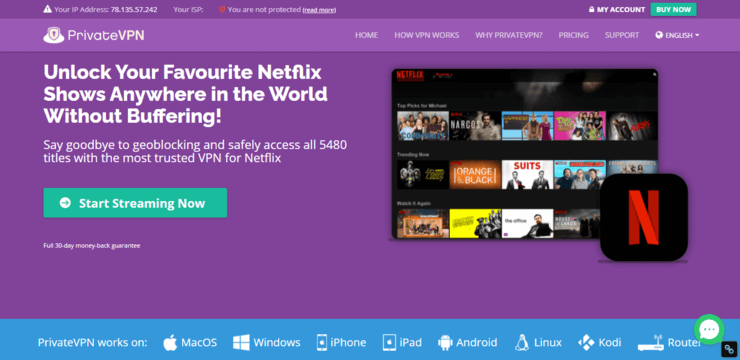 PrivateVPN is a Swedish-based VPN provider and one of the fastest-growing VPNs with designated servers worldwide and reliable speeds perfect for streaming Netflix. If Netflix is top of your priority for a VPN, then PrivateVPN is worth checking out. This VPN is an easy-to-use high-performing service with unique premium features.
We put them to the test and were able to unblock a host of services, including Netflix, Amazon Prime Video, BBC iPlayer, Disney+, Fox, CBS, and more.
Another good thing about PrivateVPN is they don't outsource support compare to most VPNs who outsource their support, meaning whenever you have issues accessing Netflix or any other problems, you can directly communicate with their support team.
There are three different pricing options to choose from: 1-month plan at $8.10, 3 months plan at $5.03/month, and 12 months plan at $3.82/month (plus one month free). All plans come with a 30-day money-back guarantee should in case you're not happy with their service, plus a 7-day free trial to try them risk-free.
Specs:
Unblocks: Netflix, Amazon Prime Video, BBC iPlayer, YouTube, DAZN, HBO, Hulu, NBC, RTE Player, Sky, SVT Play, Disney+, and more | Free trial: 7 days | Money back guarantee: 30 days | Maximum number of supported devices: Six | Supported protocols: OpenVPN, L2TP, PPTP, IKEv2 And IPSec | Supported platforms & devices: iOS, Android, Chrome OS, Mac, Windows, Linux, Amazon Fire, Xbox, PlayStation, routers | No. of servers: 1,300+ | No. of countries: 60 | Payment options: Credit card, PayPal | Data usage: Unlimited | Bandwidth usage: Unlimited | Encryption protocol: AES-256 | Private encrypted DNS: Yes | Smart Kill switch: Yes | Customer support: 24/7 chat and email | Privacy policy: No logging
---
Impressive option to unblock US Netflix
HideMyAss (now known as HMA) is one of the biggest VPN service providers globally, with a 15-year history of protecting users' privacy online. It was acquired by security behemoth Avast in 2016 and boasts of 1100+ servers across more than 290 locations in 190 countries with an average speed of 20Gbps.
Although HideMyAss did put on its website that you can "stream your favorite TV shows from wherever you are in the world." Our Netflix test on HideMyAss returned missed results – using the US servers from the UK, we could access the US Netflix and US-only YouTube content, but could not access Amazon prime. We were able to unblock UK Netflix, but BBC iPlayer and UK Amazon Prime Video were blocked
However, you can try them free for seven days to test and see if it's a good fit for you. Plus, their website offers a wide range of resources, including FAQs, setup guides, knowledgebase, and 24/7 live chat support for more complex queries. If you find it difficult to access Netflix, you can reach out to their support for which server is best for your location.
HideMyAss! is definitely worth a try, a well-established VPN that's reliable with fair pricing to match – starts at $2.99 per month. It unblocked US Netflix and BBC iPlayer, plus you get a 7-day free trial and a reassuring 30-day money-back guarantee you can use before you commit fully.
Specs:
Unblocks: Netflix, BBC iPlayer, YouTube, Hulu | Free trial: 7 days | Money back guarantee: 30 days | Maximum number of supported devices: Five | Supported protocols: OpenVPN UDP & LCP, PPTP, L2TP | Supported platforms & devices: iOS, Android, Mac, Windows, Linux, Xbox, PlayStation, routers, Firefox, Opera & Chrome browser extensions | No. of servers: 1,100+ | No. of countries: 190+ | Payment options: Credit card, PayPal, Google Pay, Sofort, Alipay, Giropay, Apple Pay, and more | Data usage: Unlimited |Bandwidth usage: Unlimited | Encryption protocol: AES-256 | Private encrypted DNS: Yes | Smart Kill switch: Yes | Customer support: 24/7 chat and email | Privacy policy: No logging
---