TechZerg is reader supported. When you purchase through links on our site, we may earn a commission.
Looking for the best email marketing service? Want to prioritize email marketing for your business?
Our recommendation for the best email marketing service is Constant Contact because it's affordable and reliable, with detailed tracking to see how your campaigns are performing. Send awesome emails, create social ads, and grow an audience for your small business. Try Constant Contact free for one month.
Choosing the ideal email marketing service for your business can have a significant effect on the success of your marketing strategy. In this blog post, we'll review and compare the top 10 email marketing software based on research, ease of use, customer support, automation, deliverability, drag-and-drop design, and integrations.
Email marketing is one of the best strategies for consumer engagement and is also the most cost-effective, with the highest marketing return on investment (ROI). According to a 2016 Campaign Monitor report, email marketing, on average – returned $44 for every dollar spent; that's an impressive 4,400%!
The best email marketing services of 2023
With more than 1.5 billion active Gmail users and over a billion users on other consumer email platforms – the potential for leads and sales is massive. However, your success with email marketing will largely depend on the platform you choose, so it's important to use the right service.
The best email marketing software, among other things, should help you:
Easily create an engaging email.
Personalize newsletters.
Automate email campaigns.
View detailed analytic stats.
Segment subscribers into groups.
Track and monitor emails.
Easy-to-use interface with a simple drag-and-drop-editor.
Above all, hit users' primary inboxes.
Best email marketing service of 2023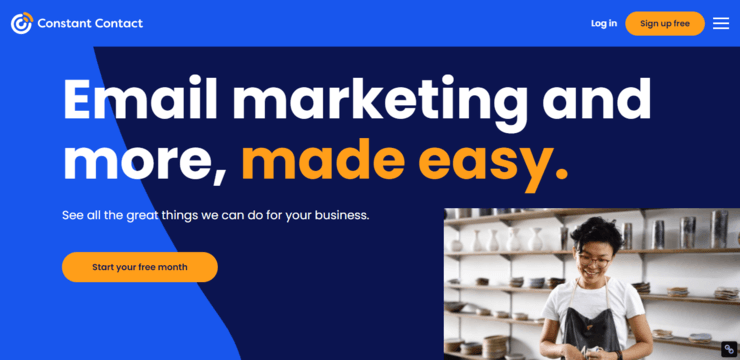 Constant Contact is one of the largest email marketing services in the world and the easiest to use for beginners. Customizing and designing visually rich emails is easily done using drag and drop tools. Also, you can import contact lists from Salesforce, Outlook, or by uploading a spreadsheet.
Constant Contact has plenty of features to simplify your email marketing, such as automation and scheduling, with online surveys, polls, donations, and dynamic signup forms to maximize list growth. You also have access to a free image library, built-in social media sharing tools, list segmentation, integration with top CRM and eCommerce platforms such as Shopify, DonorPerfect, Zoho, MindBody, and more. Furthermore, there is Facebook and Instagram ads integration and the ability to manage events with Eventbrite integration.
Constant Contact analytics tool is superior to all other email marketing software on this list. It comes with detailed tracking that allows you to see how your campaigns are performing and seek to improve conversion rates with necessary changes.
Another plus for using Constant Contact email marketing service is the mobile-responsive website, and online store builder included for free, which normally costs $10/month. It comes with free SSL, built-in CDN, and the ability to sell unlimited products, including digital products & downloads, offer discounts and coupons, integrated shipping management, and many more features.
Constant Contact has two main plans (Email Core and Email Plus), with the Email Core plan starting at $9.99 per month, offering all the basic features including landing pages, Google ads, Logo maker, and more. The Email Plus plan for $45 per month comes with more features such as advanced eCommerce marketing, automated new contact email series, split testing, customizable pop-up forms, dynamic content, online donation, mobile-responsive coupons, and more.
All TechZerg readers can get two months (60-day) free on any plan (no credit card needed) plus a 15% discount if you pay for a year upfront or 10% discount if you pay for six months.
If you run a nonprofit organization, use our link to get a 30% discount if paying for 12 months upfront and a 20% discount for six months.
For all these reasons above and more makes Constant contact our pick for the best email marketing service for small businesses, with many standard and advanced features setting it apart from its competitors. Its robust security policy is also a plus, and an excellent technical support team available for you 24/7 through telephone or live chat.
---
Best free email marketing software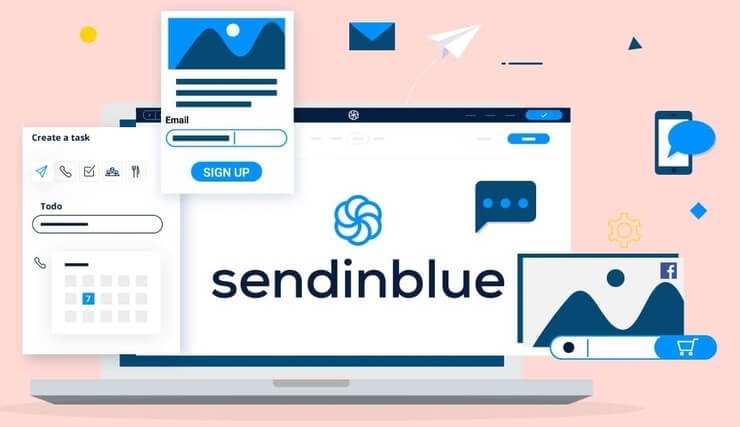 If you're looking for the best email marketing service, France-based Sendinblue is worth considering — it's the fastest-growing email marketing software in Europe. This platform provides much more than just email marketing, with SMS, chat, CRM, ads retargeting, and more built into the software. You also get an exceptionally flexible drag-and-drop email designer perfect for beginners with no previous email marketing experience.
Their marketing automation tools are designed with beginners in mind, allowing you to create automatic email sequences and segment users easily. You can also choose the best time to send emails with the help of their AI algorithms, which ensures you have the best email deliverability and engagement. Their analytics stats offer real-time reports on metrics such as open and click-through rates, deliverability, and heat maps.
One of Sendinblue's standout features is the inclusion of complete workflow automation in every plan, including the free plan. There are various templates for autoresponders, cart recovery, or targeting visitors that land on different parts of your website. You can also A/B test each email campaign and choose the best one based on data.
Another nifty feature is the ability to integrate a live chat app into your website. Sendinblue also makes it easy to add users if you have multiple people working on your marketing campaigns.
Navigating through the Sendinblue interface is intuitive and extremely easy. Most features are accessible from the dashboard such as SMS campaigns and live chat integrations that you can turn on and off depending on your business needs.
Sendinblue also provides SMTP bulk email marketing services for transactional emails — you don't need this for email marketing campaigns, but it's a good option if you run a large website.
Sendinblue offers a completely free plan with unlimited contact – you can have as many contacts as you want but limited to 300 emails daily. The cheapest plan is the Lite plan ($25 per month) — comes with 100,000 emails per month, email support, and more. The more features you want, the higher the price plan.
---
Best automated lead funnels and landing pages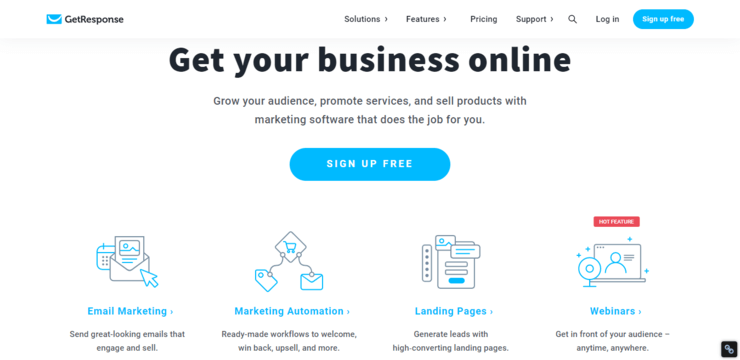 GetResponse is one of the most popular email marketing platforms in the world. This great software combines webinars and email marketing, making it extremely useful for small businesses. It also comes with some excellent auto-marketing tools for creating smart sequences to generate leads and sales easily.
Save time and scale your marketing campaigns quickly with pre-built automation workflow and intuitive drag and drop builder. This amazing marketing tool not only allows you to capture and convert new leads but also retarget cart abandoners, visitors, and previous buyers. Additionally, you can A/B test, create autoresponders, apply conditions, actions, and filters for precise targeting and segmentation based on each visitor's behavior.
GetResponse beautiful responsive landing pages are designed to convert traffic to leads, they are very easy to use even if you don't know a single thing about web design. They also offer loads of high-quality sales funnels that are ready-made and designed to grow sales and boost profits.
If that wasn't enough, they also provide plenty of options for pre-built mobile-responsive templates that fit every vertical of small businesses and a built-in image editor that comes with engaging gifs from Giphy and beautiful photos from Shutterstock.
The integrated conferencing tool is a great addition that sets GetResponse apart from every other email marketing service on this list. You can host unlimited webinars with up to 1000 participants plus storage of 20 hours of recordings. Additionally, you can Livestream your webinar on YouTube and Facebook, share your screen, gather feedback with polls, and use call-to-action buttons.
The best part is you can prerecorded webinars to generate leads on auto-pilot by allowing new audiences to access them anytime, you can use one of the SEO-optimized predesigned registration pages, there are also subscription settings and payment gateways to help you create interactive webinars.
GetResponse integrates with leading third-party platforms, including Google Docs, WordPress, Facebook, SalesForce, ZenDesk, along with popular ecommerce and merchant gateway platforms such as Shopify, Magento, Etsy, PayPal, and Stripe. They offer customer support through LiveChat, email, and phone alongside how-tos, guides, and videos to easily help you get started,
GetResponse pricing starts at $15 per month with a 30-day free trial.
---
Best email marketing software for bloggers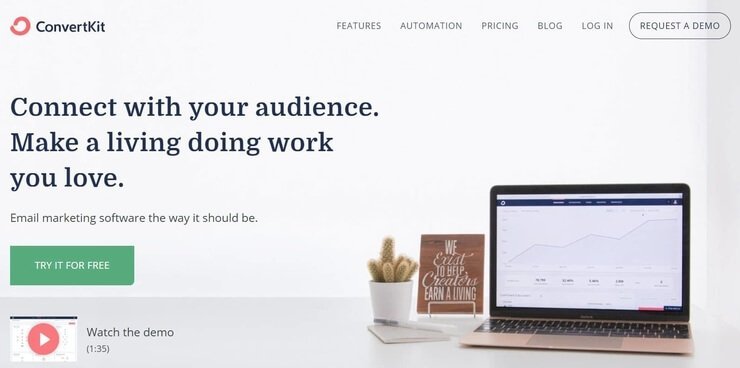 ConvertKit is an interesting email marketing solution built by creators for creators — a robust platform that is extremely easy to use. It comes with plenty of customizable landing pages and sign-up forms designed to fit different businesses.
One of Converkit's standout features is campaign automation, which allows you to offer email signups incentives. You can create content upgrades and progressions based on different segments such as freebies, interests, purchases, and more. Convertkit's campaign automation is so effective and helps increase conversion because each email will feel personal to your subscribers — it allows you to send targeted emails that are specific to everyone on your list. This process may sound complicated, but ConvertKit makes it so easy with just a few clicks.
There is an email designer to help your messages communicate effectively and convert well. All emails are mobile-responsive and created in plain text. You can also save previously crafted emails as design templates for future use. Additionally, there is support for A/B testing to double down on successful campaigns.
If you already have an email list, it makes it even easier to get started with ConvertKit — you can migrate from another email marketing provider by importing your subscribers using a CSV. They offer world-class support on migrating from other services, plus the extensive learning materials available to guide you on what to do.
ConvertKit is the best email platform for bloggers; its features are tailored specifically for creators and professional bloggers.
ConvertKit has a free plan for managing up to 1000 email subscribers and comes with stunning sign-up forms and landing pages, tagging, and unlimited traffic. You'll need to upgrade to one of the paid plans starting at $25 per month for essential features such as automated email sequence, email designer, support, integrations with third-party platforms such as Shopify, Teachable, Stripe, and more.
---
Impressive AI-powered template builder and designs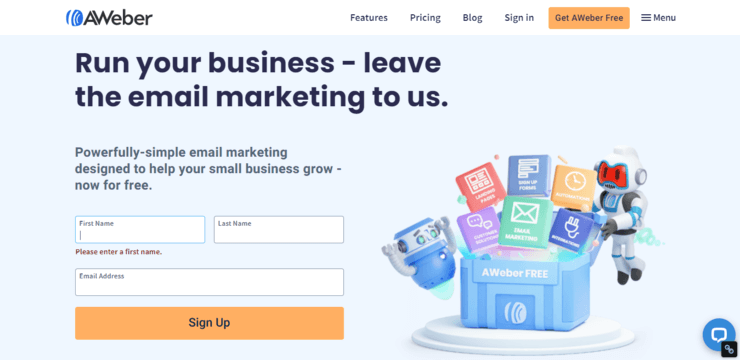 Aweber is one of the veterans and leaders in email marketing, offering a wide range of email tools for entrepreneurs and marketers. There are over 100,000 small businesses currently using Aweber.
Aweber is easy to use with plenty of features designed to simplify email marketing including, autoresponders, list management, video landing pages, e-commerce integration, split testing, dynamic content, and email tracking with rich insight.
The AI-powered template builder and the drag-and-drop editor, lots of pre-existing, free templates, means you can create professional-looking emails within minutes with no need for coding knowledge.
Aweber has an extensive library of tutorials and how-tos plus helpful 24/7 support options such as phone, email, and live chat.
The email software offers a free plan limited to 500 subscribers and 3000 emails per month. After that, pricing starts at $19/month.
---
Excellent for beginners, online creators, and bloggers
Mailerlite is one of the fastest email marketing software platforms with over 700,000 users around the world. What sets Mailerlite apart from its competitors is its intuitive features and easy-to-use interface.
There is a free forever plan for up to 1,000 email subscribers and 12,000 emails per month — but no essential features of the paid plan such as email templates, custom editor, time zone deliverability, A/B split testing, promotion pop-ups, and more.
Mailerlite paid plans are flexible (starts from $10/month) and increases based on your email list's size. Also, you can save 30% if paid annually. There is a free 14-day trial to test out any of the paid plans.
With Mailerlite, you can create email campaigns using the rich text editor, custom HTML editor, or drag-and-drop editor. There are multiple stunning-looking templates to choose from and analytics reports that show you the number of people that clicked and opened your emails, including their locations.
Mailerlite is more than just creating email newsletters. They boast of awesome tools for creating forms, landing pages, and pop-ups. Their drag-and-drop editor is so robust and powerful that you can even build a beautiful professional-looking website with it.
The service can integrate with over 100 platforms, including WordPress, Shopify, Facebook, and more. There are also several tutorials and articles to guide you on how to use the software.
You get 24/7 email support on the free plan but upgrading to a paid plan will give you access to 24/7 live chat. All in all, Mailerlite is worth giving a try.
---
Best email marketing solution with CRM capabilities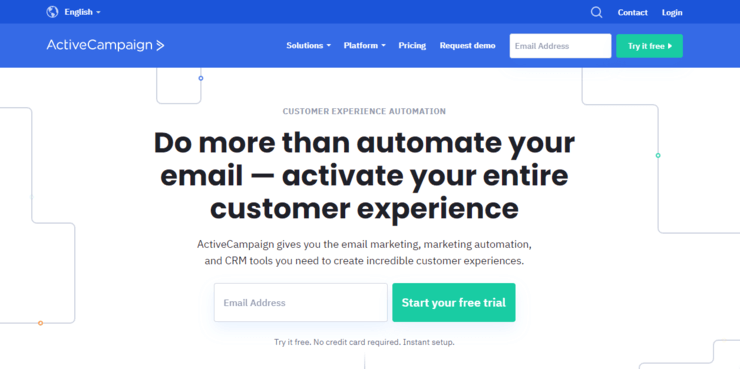 ActiveCampaign has some of the most advanced email marketing features such as automation, lead scoring, and email scheduling based on machine learning.
Automating your email marketing is very easy to manage; you can create triggers and segment your lists based on sign up intent, freebies, product sales, follow-ups, and more.
Some of ActiveCampaign stand-out features include SMS marketing, which allows you to reach customers by text instead of email.
Another great feature is using machine learning to automatically send emails to contacts at the best time possible to increase engagement. Additionally, you can track the likelihood of turning a lead into a customer. ActiveCampaign gives scores (positive or negative) based on your contacts' level of engagement; this is great for businesses looking to focus on subscribers most likely to generate revenue.
ActiveCampaign support team is available at all times by live chat or email. Furthermore, Enterprise users get free phone support, and professional users can receive one-on-one training sessions.
ActiveCampaign has one of the highest email deliverability compared to all the other services on this list, meaning emails sent is likely to reach primary inboxes and less likely to end up in spam mailbox.
In addition, all accounts come with free migration plus integrations to over 300 platforms, including Salesforce, ClickFunnels, Woocommerce, Facebook, and more.
Pricing starts at $9 per month and increases depending on the level of features and supports you need. There is a 14-day free trial to get you started and a 20% discount for non-profits.
---
Easy to use and great pricing
If you're after an email marketing service that is robust and feature-packed, Moosend is the email marketing and marketing automation platform that's definitely worth a shot.
Moosend's features can go beyond email marketing. Their landing page feature and subscription forms can make sure that your lead generation is on-point. What is more, the free newsletter templates are fully customizable, and the drag-and-drop editor helps you create your own templates from scratch with no requirement of HTML knowledge.
The platform is easy to use and intuitive, promising a short learning curve. As far as automation is concerned, Moosend's tools guarantee that you'll be able to create automated sequences in no time.
With a fast and reliable automation builder and ready-made automation recipes to get you started, customer segmentation and laser-targeted messaging is something any marketer, entrepreneur, or solopreneur could master.
Moosend's advanced AI is evident when using tools like Refine, the free subject line tester. With the option to see how your subject line performs in your industry, you can woo more customers, while triggers and data will show you when the perfect time to send your marketing message is. The tracking options will give you a bird's eye view of your customers' behavior on your website.
Finally, most marketers worry about the transition period when switching from one platform to another. Luckily, Moosend's platform offers 80+ integrations for eCommerce, CRM, Facebook Ads, and lead generation. So, if there is a feature you need or a tool you wouldn't want to stop using, the platform's integrations can solve your problem.
If you're not sure about Moosend and the transition from one email marketing platform to the next, keep in mind that Moosend offers a Free Forever plan that covers up to 1,000 unique users. And since it's a subscriber-based plan, this means 1,000 unique email addresses with no limitations on the number of emails sent. The Free Forever plan offers more than most features.
If, on the other hand, you're an occasional sender on a budget, there's the option of purchasing credits. You can use them for your campaign and take advantage of all of the platform's features, no strings attached.
The platform's pricing starts at $8/month, billed annually, while the Enterprise plan can be customized to meet your needs.
---
Stunning drag-and-drop templates with workflow automation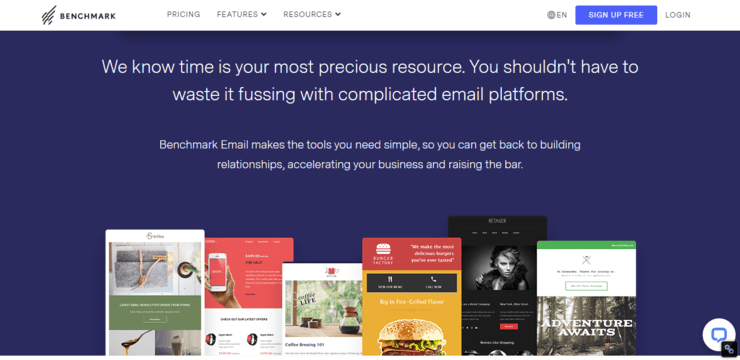 Benchmark is an easy-to-use email marketing service for automated campaigns. It has a global presence of employees in 15 countries and offices in nine countries.
Some of its main features include an intuitive builder, landing pages, opt-in pop-ups to grow subscribers, tools for creating polls, surveys, and more.
Creating your first campaign is easy to do using either the drag-and-drop editor, HTML editor, or plain text editor. You can also A/B split test your campaigns, and use the inbox checker tool to preview how your email campaigns will appear when delivered.
Benchmark offers automation for welcome emails and reminders in the free plan, but where Benchmark sets itself apart is the impressive Email Automation Pro, a workflow automation system that carries out actions as users go through your sales funnels. There are templates for Facebook ad retargeting, abandoned cart, follow-up emails, and more. It's very easy to create custom automated workflows for any business due to the software's flexibility.
Finally, you can integrate with over 1500 support services such as WordPress, Zapier, Shopify, PayPal, Facebook, Linkedin, and more.
Benchmark offers a free plan to test it out and see for yourself, paid plans start at $13 per month.
---
Superb option for beginners and small business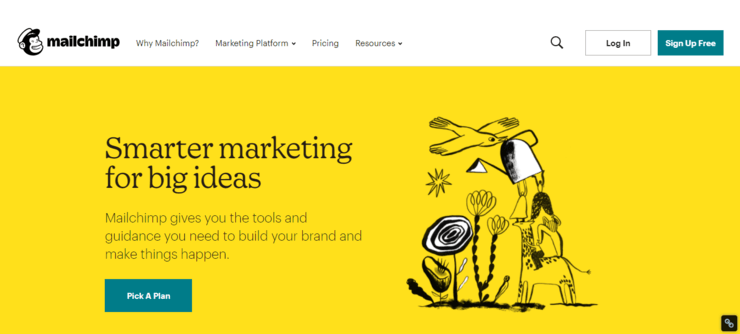 Mailchimp is one of the biggest email marketing service providers in the world, with over 17 million customers and over 1 billion emails sent daily through its platform.
Mailchimp is very popular primarily due to its free plan, which allows users to create and send up to 12,000 professional marketing emails to 2,000 subscribers per month – more than enough for small businesses to get started. The free plan comes with an easy to use drag-and-drop builder, autoresponders, sequence segmentation, analytics, and plenty of third-party integrations plus a free Mailchimp app for Android and iPhone.
The free plan, which is ok to get started, is fairly limited and includes the Mailchimp logo in the footer. You'll need to upgrade for essential features like advanced segmentation, optimization, A/B testing, customer support, and more.
Mailchimp pricing starts at $9.99/month for up to 50,000 contacts and 500,000 emails.
When it comes to automation features, Mailchimp is quite limited compared to other email marketing services such as Constant Contact and Mailerlite. Their support is also slow compared to the quality of service offered by Constant Contact.
---
Superb option for large businesses
Making it to the last spot on our list is iContact. Founded in 2003, it's one of the longest-standing email marketing platforms available today.
iContact has a mobile responsive drag-and-drop editor that's great for designing effective email campaigns. There are over 40 themes you can choose from; each has 12 design layouts.
The software also has powerful automation and list management tools great for creating subsets of email lists based on, for example, when the user signed up or location. There are also thousands of third-party tools you can integrate directly to iContact.
In addition, the platform has plenty of learning materials to help you in every step of the way. If you need any technical support, their FAQ section is packed with lots of help articles explaining every part of the software you need to know. Furthermore, there is phone support and live chat available.
iContact offers two primary plans (Base and pro). The Base plan for less than 2500 subscribers starts at $30.60 per month and the Pro plan for $61.20/month. Prices increase depending on the number of features you need for your business. There is a 15% discount if paid annually and 20% discount for nonprofits.